Found December 24, 2012 on Turn On The Jets:
Jason La Confora is reporting the New York Jets are starting the process of acquiring a new General Manager. Good news, right? Wrong. Woody Johnson apparently wants the new GM to work with Mike Tannenbaum who will be demoted to a salary cap management type position. Not surprisingly, no credible candidates are interested in such a foolish arrangement. I love writing and sometimes that leads me to carry on when writing about this team but let's keep this succinct today, since it is the holidays and this situation is so idiotic it doesn't deserve that many words. Making Mike Tannenbaum strictly a salary cap specialist is like making Mark Sanchez a quarterback coach. He has destroyed our salary cap by giving Sanchez arguably the worst contract in sports right now. He has no merit for this position. No GM that you want running your football team, like Houston's Director of College Scouting Mike Maccagnan, who has been approached is going to have any interest in this type of power sharing arrangement. As our source has stated all season, Woody and Tannenbaum have a close working relationship and no GM who will want Tannnbaum looking over his shoulder on every move. Why can't this organization just flat out fire anybody? Former GM Terry Bradway was just demoted into scouting after an awful tenure, where he could continue to hurt the Jets with his poor personnel decisions. Former Defensive Coordinator Bob Sutton, who was awful at his job was only demoted to linebackers coach. Current quarterback coach Matt Cavanaugh stil hasn't been fired for some ungodly reason. You need to fire ineffective people. Get them completely out of the building. The Jets are a disaster right now. Woody Johnson can't be that blind not to see that. The solution is simple. Fire Mike Tannenbaum. Fire Terry Bradway. Fire Tony Sparano. Fire Matt Cavanaugh. Allow the newly hired GM to make the decision on Rex Ryan and go from there. Happy Holidays everybody!
Original Story:
http://turnonthejets.com/2012/12/new-...
THE BACKYARD
BEST OF MAXIM
RELATED ARTICLES
Sometimes, as a professional sports franchise, it's important to be progressive. And sometimes it's just a terrible idea. We'll chalk this one up to the latter. The Jets are considering stripping Mike Tannenbaum's role in personnel decisions, while still trying to keep him on to manage the salary cap, according to Jason La Canfora of CBS Sports. New York has already started...
Jason La Canfora reports that league sources have informed him that the New York Jets are exploring the idea of replacing current GM Mike Tannenbaum with the intentions of keeping him in a "cap management role." La Canfora adds that Jets are in the process of reaching out to potential GM candidates, but they are reportedly having "significant issues with the parameters...
Wholesale changes are coming to Gang Green and the first to get the axe likely will be its Wildcat wrangler. CBS Sports' Jason La Canfora reports that the Jets plan to fire offensive coordinator Tony Sparano in a move that is "imminent." Sparano, who's in his first -- and probably last -- year with the team, has come under heavy fire for fielding a unit which...
The Jets deserved this. This 27-17 loss to the Chargers was Woody Johnson, Rex Ryan and Mike Tannenbaum's reward for having no plan at all on offense, acquiring Tim Tebow, and failing to improve the Jets skill positions during the offseason. This week's No Huddle is brought to you by, the Jets offensive line.   11 Sacks Greg McElroy was sacked 11 times. In one game. Keep in...
Was Sunday the official start of the Greg McElroy era in New York? Chances are the New York Jets will pursue another option at starting quarterback when the offseason begins, which means there is also a good chance Mark Sanchez may have taken his last snap with the team. Otherwise, it would probably cost you more than $10 for his Jets jersey. As you can see from the photo above...
According to Jason La Canfora of CBS Sports, there's virtually no trade market for either TIm Tebow and Mark Sanchez.  If the Jets want to get rid of either player, they're likely going to have to release them. When Sanchez restructured his contract last year to provide cap relief to the team, the new contract language effectively tied the struggling passer to New York through...
NFL sources said it's a "virtual certainty" that New York Jets backup quarterback Tim Tebow will land a job with the Jacksonville Jaguars next season. ESPN's Chris Mortensen reports that the Jets will probably honor Tebow's forthcoming request to be released after this season and become an unrestricted free agent. Mortensen reports that the Jags want Tebow.
New York Jets Season wrapped up in 4 minutes The entire season for the New York Jets has been nothing more than an blooper reel, but here is their embarrassing season compacted into a four minute video.  This video has everything from Mark Sanchez's classic butt fumble to Santonio Holmes giving the 49ers an early [...]
Much has been made about the Jets' quarterback carousel over the past few weeks, but no amount of change under center will matter unless something changes along that offensive line. Rex Ryan finally made the move away from Mark Sanchez last week, after a five-turnover debacle all but ended his stay in New York. The Jets decided to instead go with second-year quarterback Greg McElroy...
After reports suggested last week that the New York Jets are likely to trade quarterbacks Mark Sanchez and Tim Tebow this offseason, the house cleaning is reportedly not going to stop with the quarterback position. CBS Sports reporter Jason LaCanfora is speculating that the Jets organization is going to part ways with offensive coordinator Tony Sparano on what is known as Black Monday...
With Mark Sanchez struggling greatly, the New York Jets surpassed Tim Tebow in favor of Greg McElroy against the San Diego Chargers on Sunday. Tebow was still active, but the Jets lost 27-17, with many still wondering why he has yet to get a chance. He was brought into town to be used in Wildcat packages to take advantage of his unique skill set as well as serve as the backup quarterback...
BY NICK ST. DENISThe New York Jets' drama play has come full circle, with quarterback Mark Sanchez getting benched for Greg McElroy following a five-turnover performance against the lowly Tennessee Titans that saw Gang Green get eliminated from playoff contention.The sensationalistic media has gotten everything they can out of a team that just wasn't very good to begin with...
Jets News

Delivered to your inbox

You'll also receive Yardbarker's daily Top 10, featuring the best sports stories from around the web. Customize your newsletter to get articles on your favorite sports and teams. And the best part? It's free!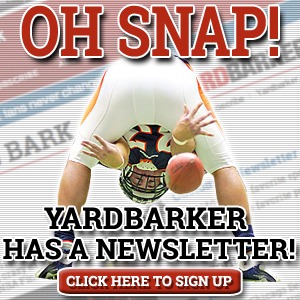 Latest Rumors
Best of Yardbarker

Today's Best Stuff

For Bloggers

Join the Yardbarker Network for more promotion, traffic, and money.

Company Info

Help

What is Yardbarker?

Yardbarker is the largest network of sports blogs and pro athlete blogs on the web. This site is the hub of the Yardbarker Network, where our editors and algorithms curate the best sports content from our network and beyond.