Found November 05, 2012 on Turn On The Jets:
PLAYERS:
Rex Ryan
,
Tom Brady
,
Sam Bradford
,
Brian Schottenheimer
,
John Skelton
,
Ryan Fitzpatrick
,
Philip Rivers
,
Kenrick Ellis
,
Demario Davis
,
Antonio Allen
,
Aaron Berry
,
Marcus Dowtin
,
Joe McKnight
,
Bilal Powell
,
Mark Sanchez
,
Stephen Hill
,
Matt Slauson
,
Austin Howard
,
Vladimir Ducasse
,
Jason Smith
,
Tim Tebow
TEAMS:
New York Jets
,
New England Patriots
,
St. Louis Rams
,
Buffalo Bills
,
San Diego Chargers
Have you seen the standings in the AFC at the halfway point of the season? Even the most pessimistic New York Jets fan can't proclaim their season over yet, particularly when taking the team's schedule into consideration. There is no question the next three games are going to be difficult. The Jets are rightfully 6.5 point underdogs this week and will be underdogs the following two weeks on the road against St. Louis and home against New England. Their final five games are against teams that I would argue the Jets are better than, despite how awful they have looked at times this season. There is no excuse for a 4-12 or 5-11 year. This team should not win less than 7 games unless they completely tank the rest of the way. We are going to learn a ton about Rex Ryan and how his players respond to him these last 8 weeks. Do they quit and embarrass themselves in Seattle, in primetime against New England and against the mediocre slopfest that they play weeks 13-17? Or do they keep themselves relevant in the playoff race into December by scoring an upset or two in the coming three games and handling their business against inferior teams down the stretch? The Jets defense has steadily improved in recent weeks. Outside of facing Tom Brady, they are facing a collection of unproven and inexperienced quarterbacks the rest of the season. You want hope in Seattle? Remember what the Jets defense did to Andrew Luck a couple of weeks ago. Russell Wilson is an impressive rookie but he is still a rookie and a much less talented one than Luck. Sam Bradford and Brian Schottenheimer's offense? You better have a shutdown performance. John Skelton. Blaine Gabbert. Jake Locker. Ryan Fitzpatrick. The ghost of Philip Rivers. How about it, Rex? Kenrick Ellis will be back on the defensive line, more playing time should be given to Demario Davis, Antonio Allen, Aaron Berry and Marcus Dowtin and this defense must round into form to give the Jets a fighting chance. On offense, the situation at running back will improve with a healthier Joe McKnight and Bilal Powell back. But ultimately it will come down to Mark Sanchez finding some measure of consistency. He must protect the football. He must improve his accuracy. The players around him must also elevate their play. No more drops from Stephen Hill. No more matador blocking from Matt Slauson and Austin Howard. If necessary get Vladimir Ducasse and Jason Smith in the starting line-up. If Sanchez is sputtering, give Tim Tebow a full series to run the offense. Yes, even this Sanchez apologist can admit the Jets offense could use a kick in the ass with more Tebow involvement…not as a starting quarterback but as a weapon in the running game and occasional downfield passing game. Rex Ryan needs to show he won't lose this team for the second season in a row. There is no excuse to get blown out in Seattle. There is no excuse not to steal a road game against the Rams or to be right there with the Patriots in the fourth quarter. There is no excuse not to find a way to beat Arizona and San Diego at home or to go on the road and handle Jacksonville or Buffalo. This team is lacking talent in plenty of areas but so are all the teams remaining on their schedule. Sink or swim. What do you think Jets fans?
Original Story:
http://turnonthejets.com/2012/11/new-...
THE BACKYARD
BEST OF MAXIM
RELATED ARTICLES
Rex Ryan and the New York Jets did not play this past weekend. That has not kept him or his team out of the news, however, as Ryan rarely remains silent for more than a day or so at a time. he just can't help himself. But after another disappointing start to the 2012 NFL season that has resulted in a 3-5 start, Ryan admits that his Jets are not really in playoff contention in what...
New York Jets coach Rex Ryan has earned the dubious title as the National Football League's most overrated coach, according to a Sporting News poll. The poll consisted of 103 anonymous responses from 27 teams. Ryan received 35 votes, followed by New England Patriots coach Bill Belichick, who had 16. Philadelphia Eagles Andy Reid was third with nine votes. "His coaching...
Despite all the huffing and puffing from their loud-mouthed head coach, the foundation of this Jets team was built on straw and stick instead of brick. This team was never built to win. They were built to be entertaining, sell tickets, and sweep headlines, but not contend for championships. Awful decision making, no relevant draft picks since the Mangini era, bad personnel moves...
Florham Park, N.J. - Before we delve into the Jets and their bye week along let me say on behalf of everyone here at Jetsinsider.com we'd like to offer our sincere condolences to everyone who was affected by Hurricane Sandy. I myself just got my power back last night, I live in north Jersey 15 minutes from the Jets facilities and we were fortunate enough to only get hit by wind...
I admit that I can often get carried away when it comes to talking about New York Jets head coach, Rex Ryan. I call him a loudmouth. I have said that he has no idea what he is doing. I have referred to him as overrated. As it turns out, I am not alone. The NFL players happen to agree with my comments and feelings toward Ryan. At the midseason point of the 2012 NFL season, the Sporting...
Sporting News recently conducted a poll of 103 NFL players from 27 different teams on a variety of topics including the NFL's most overrated head coach. The results aren't surprising. Rex Ryan won the dubious honor of being selected as the NFL's most overrated head coach with 35 votes, topping Bill Belichick by 19 votes. Andy Reid came in a distant third with just...
The New York Jets have been a Jekyll and Hyde team so far in 2012. While the Green and White sit at a dismal record of 3-5, they've shown flashes of brilliance and promise despite a disappointing campaign.
To no one's surprise (except maybe Andy Reid's), New York Jets head coach Rex Ryan was named the most overrated head coach in the NFL.  The Sporting News conducted a mid-season survey of 103 current NFL players from 27 teams and Rex topped the list. The rest of the list breaks down as follows: Rex Ryan, Jets (35 votes) Bill Belichick, Patriots (16 votes) Andy Reid, Eagles (9...
Really. Reads like Bart Scott wrote that one. That adorably blunt detail and many others pertaining to how the Senators scout are contained in this two-part series Garrioch had over the weekend, embedding on the road with Pierre Dorion. The highlight for my money is the inclusion of Dorion's scouting report on Karlsson from the '08 U-18's in Kazan, Russia (a portion...
NFL News

Delivered to your inbox

You'll also receive Yardbarker's daily Top 10, featuring the best sports stories from around the web. Customize your newsletter to get articles on your favorite sports and teams. And the best part? It's free!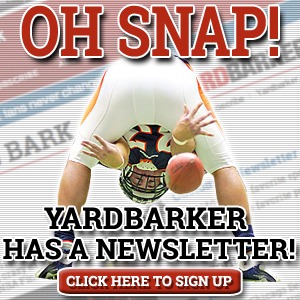 Latest Rumors
Best of Yardbarker

Today's Best Stuff

For Bloggers

Join the Yardbarker Network for more promotion, traffic, and money.

Company Info

Help

What is Yardbarker?

Yardbarker is the largest network of sports blogs and pro athlete blogs on the web. This site is the hub of the Yardbarker Network, where our editors and algorithms curate the best sports content from our network and beyond.