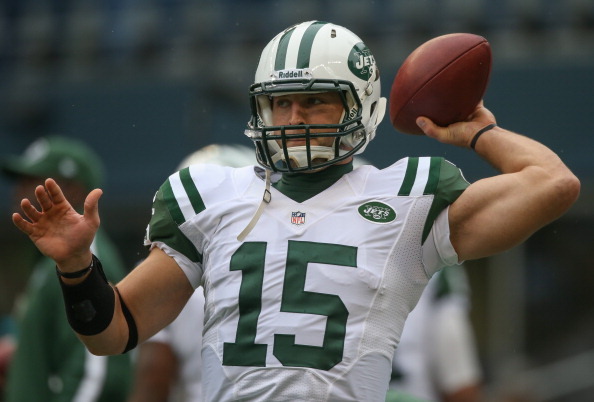 Per a report by Manish Mehta of the New York Daily News, there isn't a Jets player outside of Tim Tebow who wants him to be the New York Jets starting quarterback. Mehta said that more than a dozen Jets players and members of the organization do not think Tebow is very good. A defensive starter characterized Tebow as "terrible." Players on both sides of the ball criticized Tebow's performances in practice, echoing a sentiment that has followed Tebow since he was with the Denver Broncos. The players also stated Tebow has not shown in improvement at the quarterback position since he arrived in March. The fact that the Jets locker room does not show support for Tebow to start at quarterback despite the horrific play of starter Mark Sanchez and a 3-6 Jets record says a lot. It is obvious that head coach Rex Ryan is not being stubborn with his insistence that Tebow will not start over Sanchez. Sanchez has a the league worst completion percentage (52%) and leads the league with four red-zone interceptions. In the Seattle game Sunday, Jets wide receiver Stephen Hill can be seen in the end zone, wide-open and doing jumping jacks while Sanchez threw an interception. (You can see the picture here) A staunch Sanchez supporter, left guard Matt Slauson, made it clear that going with Tebow wasn't even an option: "It's not even close. All the other quarterbacks know it. I have all the confidence in Mark. We don't really have a choice." When pressed about other quarterbacks on the depth chart, Tebow and Greg McElroy, Slauson was even more damning of Tebow's quarterbacking potential: "We have Greg . . . and we have an athlete," Slauson said. Another veteran, when asked if Tebow could win the starting position asked if he really had to answer the question, while shaking his head. Another starter echoed Slauson's sentiments:  "We don't look at him as a quarterback. He's the Wildcat guy." When asked about trying to run the Wildcat Offense more, another starter was emphatic: "Hell, no! You got to keep defenses honest. You just can't line up in the Wildcat all the time. That won't work." To quote Mehta's article directly: "So, who wants Tebow to be the starter? 'Nobody,' a member of the team said." I wonder if Tebow is still "so excited to be a Jet." Follow us on Twitter @DownandDistance Down and Distance Columnist - Shane Richardson @Shaner021The post New York Jets Teammates: "Tebow is Terrible!" appeared first on DOWN & DISTANCE.
Read the rest of this story...
MORE FROM YARDBARKER
NFL News

Delivered to your inbox

You'll also receive Yardbarker's daily Top 10, featuring the best sports stories from around the web. Customize your newsletter to get articles on your favorite sports and teams. And the best part? It's free!
Best of Yardbarker
NFL News
MLB News

Today's Best Stuff

For Bloggers

Join the Yardbarker Network for more promotion, traffic, and money.

Company Info

Help

What is Yardbarker?

Yardbarker is the largest network of sports blogs and pro athlete blogs on the web. This site is the hub of the Yardbarker Network, where our editors and algorithms curate the best sports content from our network and beyond.