Found March 05, 2013 on Turn On The Jets:
PLAYERS:
Jeff Cumberland
,
Dustin Keller
,
Hayden Smith
,
Mark Sanchez
,
Kenrick Ellis
,
Garrett McIntyre
,
Calvin Pace
,
Bryan Thomas
,
Josh Mauga
,
Bart Scott
,
Demario Davis
,
Aaron Berry
,
Darrelle Revis
,
Rex Ryan
,
Ellis Lankster
,
Isaiah Trufant
,
Darrin Walls
,
Josh Bush
,
Eric Smith
,
LaRon Landry
,
Yeremiah Bell
,
Aaron Hernandez
TEAMS:
New York Jets
,
New England Patriots
By now, Jets fans are all familiar with the many holes on this roster and have grand ideas in their heads about how they can all be fixed in one simple offseason. Well, obviously that isn't going to be the case. There are simply too many holes to fill, and with the resources John Idzik has available — both draft picks-wise and money-wise — there is just no way they can all be plugged with new players. Therefore, some guys who are already here in Jets uniforms are going to have to fill those holes themselves. Many players who had smaller roles in 2012 are going to have to step up and contribute in a much bigger way once September roles around. Here are some of the players we can expect to see a whole lot more of in 2013. TE Jeff Cumberland – While I am not a fan of Jeff Cumberland, we are most likely looking here at the 2013 starting tight end. Dustin Keller is a free agent and is almost certainly a goner, which leaves Cumberland to hold down the fort in the top spot, a spot he held much of 2012 as Keller was injured. He did manage to rack up the second most yards on the team with 359 yards, but his play did leave a lot to be desired. The team still has hopes for former rugby player Hayden Smith in a complementary role, and a rookie is likely to be brought in via the draft, but expect Cumberland to be a pretty big part of the offense, especially early in the season as he has a bit of a rapport with Mark Sanchez. And yes, Mark Sanchez is going to be the quarterback, so let's just accept that now and move on. Thanks. DT Kenrick Ellis – Starting nose tackle Sione Po'uha's status is up in the air, especially since cutting him would save nearly $4 million, and that would put Kenrick Ellis into the starting lineup. Even if Po'uha is brought back, Ellis is definitely looking at an increased role heading into next year. The 2011 3rd-round pick was playing very well early in the season last year before a knee injury knocked him out and he struggled to regain that form. We all knew Ellis was a project pick when he was drafted two years ago, and after coming along little by little his first two seasons, now is the time for him to realize his immense potential and become an impact player for the defensive line. OLB Garrett McIntyre – Calvin Pace and Bryan Thomas held down the starting OLB spots the past few seasons, but neither is expected back in 2013. Between injuries to Thomas and general ineffectiveness by both starters last year, McIntyre ended up playing a solid amount in 2012. Surprisingly, he actually played pretty well in his limited role and finished the season with 3.5 sacks. He's far from a star player, but with the position in flux heading into next season, there's a pretty good chance McIntyre is ticketed for a starting role opposite the rookie pass rusher the team undoubtedly drafts in April. MLB Josh Mauga – Mauga's role started to increase in 2011 and he seemed like he was working his way into more defensive packages before an injury knocked him out for the season. With Bart Scott gone and Demario Davis headed for a major role on defense, someone has to do the dirty work in run defense, and Mauga may very well end up being that man. I expect Mauga to provide solid depth at linebacker next year, back up a few positions, and also provide a valuable special teams presence. CB Aaron Berry – After Darrelle Revis tore his ACL, Berry was signed to a 2-year contract to help fill the void. He was seemingly injured while signing his contract, however, and never managed to get on the field to help the defense, and became the forgotten man. Well, he's still under contract, and now that he's healthy and ready to play, I expect him to play a big role on the defense either as a nickel or dime corner to give Rex Ryan some flexibility. He's clearly much more experienced and talented than Ellis Lankster, Isaiah Trufant, and Darrin Walls, and should easily beat them out for a spot in training camp. S Josh Bush – Eric Smith was already released (thankfully) and both starters from last season are free agents. It is unclear if Laron Landry and/or Yeremiah Bell will be back in 2013, but you can definitely expect to see more of the 2012 6th round pick Josh Bush next season. Rex Ryan loved his ability to be a deep coverage safety, and after a year of earning his keep on special teams, 2013 could be the season in which Bush earns a larger role in some defensive packages, especially as the team looks for new ways to cover players like Aaron Hernandez and Rob Gronkowski.
Original Story:
http://turnonthejets.com/2013/03/unde...
THE BACKYARD
BEST OF MAXIM
RELATED ARTICLES
Tim Tebow is coming off the depth chart and the New York Jets are in need of a backup QB for Mark Sanchez. They're reportedly looking to add two QBs in the offseason, with one of them likely being David Garrard. A source, via Rich Cimini of ESPNNewYork.com, says "the Jets have kept open the lines of communication with free-agent QB David Garrard, but no deal is imminent...
According to the New York Post, Jets owner Woody Johnson, head coach Rex Ryan and general manager John Idzik will speak with season ticket holders on a conference call that's scheduled for today. Like any other organization, the Jets want to listen to their fans, the problem is they still seem to have no idea how to end the circus they created last offseason. "I think they did...
NFL free agency kicks off on March 12th, only 8 days from today. The New York Jets are not expected to be overly active considering their salary cap situation. This isn't necessarily a bad thing, considering how the team has been run in previous years, they need to sit out the first wave of overpaid free agents and settle for 2nd and 3rd tier players who they can get at bargain...
Here's a brief synopsis of the Tim Tebow experience in New York: In March of 2011, Tebow was traded to the Jets and boy was he excited to be in New York. He reportedly believed that he could beat out Mark Sanchez for the starting job, but things began to head south pretty early for Tebow. Then, former NFL player after former NFL player began to question why the Jets even traded...
In this video posted to Youtube on Monday, Seahawks fullback Michael Robinson interviews Jets cornerback Darrelle Revis, who says it really 'hit home' when he heard the news that the Jets were trying to shop him at the NFL Combine. "I'm a competitor," Revis said. "I'm always trying to compete, whether it's on or off the field. This hit home. This definitely...
If the only reason the Jets acquired Tim Tebow was to have him be a publicity draw, then it only makes sense that the team would like to get a few more rounds out of the dog and pony show before releasing or trading the backup quarterback. Jets general manager John Idzik left that possibility open this week, saying on a conference call with Jets fans Monday that Tebow will remain...
Heisman Trophy winner Ron Dayne, the late Jerome Brown and LaDainian Tomlinson are on the final ballot for College Football Hall of Fame for the first time. The National Football Foundation on Tuesday announced the 77 former players and five former coaches who will be considered for induction. The ballot is distributed to the more than 12,000 NFF members and current Hall of Famers...
Mike Florio of Pro Football Talk writes that a trade for CB Darrelle Revis may not come until about a week or so before the NFL Draft. Florio mentions that NFL teams would likely consider all of their options in the free agency before deciding to get seriously involved in a trade for Revis. On top of that, Revis would be able to demonstrate that his torn ACL has improving as expected...
Revis Island appears to be moving to a new city in 2013.  One source tells Manish Mehta of the New York Daily News that it's only a matter of time until the New York Jets trade Darrelle Revis. "He's gone," the source said. "This is happening. They're moving him. They can't keep him. They're rebuilding. They're starting fresh." Two or three teams are prepared...
Update: Chris Mortensen spoke with a "high-ranking team source" who informed him that the 49ers' interest is ".001 on a scale of 1-10." —————- Manish Mehta of the New York Daily News reports that a source has informed him that the 49ers are interested in trading for CB Darrelle Revis "sooner rather than later." Mehta adds that the Falcons are also believed...
After hearing Rex Ryan gush year after year about the best cornerback in the league, it's hard to believe he plans on trading Darrelle Revis.But, that's just what he and owner Woody Johnson plan on doing.Revis went down in 2012 with a major ACL injury, and the Jets' season went down the drains with him.No one doubts Revis will make a Peterson-like storm back into the...
NFL News

Delivered to your inbox

You'll also receive Yardbarker's daily Top 10, featuring the best sports stories from around the web. Customize your newsletter to get articles on your favorite sports and teams. And the best part? It's free!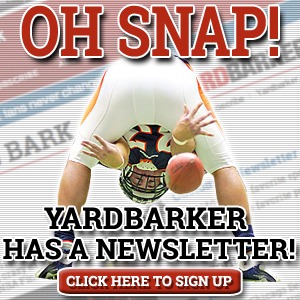 Latest Rumors
Best of Yardbarker

Today's Best Stuff

For Bloggers

Join the Yardbarker Network for more promotion, traffic, and money.

Company Info

Help

What is Yardbarker?

Yardbarker is the largest network of sports blogs and pro athlete blogs on the web. This site is the hub of the Yardbarker Network, where our editors and algorithms curate the best sports content from our network and beyond.