Found August 09, 2012 on Turn On The Jets:
PLAYERS:
Mark Sanchez
,
Tim Tebow
,
Brian Schottenheimer
,
Jerricho Cotchery
,
Braylon Edwards
,
Santonio Holmes
,
Plaxico Burress
,
Derrick Mason
,
Stephen Hill
,
Jeremy Kerley
,
Patrick Turner
,
Chaz Schilens
,
Dustin Keller
,
Josh Baker
,
Austin Howard
,
Wayne Hunter
TEAMS:
New York Jets
Let me preface this article by saying there is no quarterback controversy for the New York Jets. This isn't an article meant to argue what Mark Sanchez needs to do to hold off Tim Tebow from being the starting quarterback because barring injury, Sanchez will be under center week 1 versus Buffalo. This is an article looking at what constitues a productive pre-season for Sanchez as the Jets starting quarterback working in a non-Brian Schottenheimer NFL offense for the first time in his career.
Sanchez is in the difficult situation of working with a makeshift group of receivers while he tries to master this new offense. One of the many mistakes the Jets have made while attempting to develop their young quarterback has been constantly changing his top three wide receivers. Here is who he had the past three years prior to week 1 -
2009 – Jerricho Cotchery, Chansi Stuckey, Brad Smith
2010 – Braylon Edwards, Jerricho Cotchery, Brad Smith (Santonio Holmes was suspended until week 4)
2011 - Santonio Holmes, Plaxico Burress, Derrick Mason (aka grumpy old men)
This year the presumed top three receivers are Santonio Holmes, Stephen Hill and Jeremy Kerley. Unfortunately, Holmes and Kerley are hurt and out for tomorrow night. Kerley also no longer has a stranglehold on the number three position because of a poor off-season. Sanchez will be playing his first pre-season game with a top three of Hill (a rookie), Patrick Turner (8 career receptions), and Chaz Schilens (72 receptions through 4 years).
Look for Sanchez to frequently target tight end Dustin Keller, the pass catcher he has the best chemistry with. Backup tight end/H-Back Josh Baker should also be a big part of the offense while the receivers get their legs under them.
The most important thing always for Sanchez is protecting the football. With the type of style the Jets are playing this year, he must cut down on interceptions and fumbles. If he can get through this pre-season with no turnovers or maybe only one, it would be a success.
However, Sanchez also must press down the field. Tony Sparano will give him his opportunities. Sanchez needs to develop a fast chemistry with Hill and Schilens, both of whom are vertical threats. Despite frequently being criticized for his arm strength, Sanchez has shown good deep ball accuracy throughout his career. It would be nice to see him convert on a few 20+ yard passing plays, which the Jets barely had any of last season.
Finally, the Jets right tackle situation remains a question mark. Austin Howard will start for Wayne Hunter tomorrow night. Whether it is Hunter or Howard, Sanchez is going to see pressure at times and needs to demonstrate pocket awareness. No more keeping the ball at his waist and having it stripped away, no more panicked checkdowns thrown high to his running back that are intercepted.
The Jets won't be airing it out in any of their pre-season games but that doesn't mean Sanchez can't make a strong impression about his improvement this off-season.
Original Story:
http://turnonthejets.com/2012/08/new-...
THE BACKYARD
BEST OF MAXIM
RELATED ARTICLES
The Jets finally get to mix it up with players other than their own tomorrow night in Cincinnati.  Seeing the Bengals should bring positive memories, as the Jets posted back-to-back wins at the end of the 2009 season that allowed a run to the AFC Championship game.  The Jets also won their last regular season meeting against the Bengals in 2010, 26-10.But after a disappointing...
'Tis the season for rookie hazing, and that means lots of bad haircuts have been circulating around the NFL and will continue to do so until the start of the regular season. Horrendous haircuts seem to be one of favorite pastimes of veterans during training camp, and the buzz job Jets rookie Antonio Allen received this week was a hilarious reminder of that. As you can see, the...
CINCINNATI - Tim Tebow's New York Jets preseason debut showed us that The Most Popular Backup Quarterback Ever can run when he needs to and isn't afraid to take a hit or try to stick a pass into traffic. Nothing's changed there. And nothing's changed with the Jets' plans, either. Rex Ryan has been adamant that Mark Sanchez is his starter and Tebow is his backup...
It gets stranger day after day in New York. With each growing day it appears as if the drama is piling on at Jets camp. Jets back to practice now after about 10 laps and another stern lecture from Rex Ryan. Another day another drama with this bunch — Jason La Canfora (@JasonLaCanfora) August 7, 2012 More Woody Johnson on Tebow coverage: "I knew there would be coverage...
Ha. That's awesome. Obviously, it is merely a coincidence that the New York Jets head coach is sporting a shirt bearing the double entendre message when he just so happened to agree to pose for a photo with a lovely young woman at what appears to be a bar. Rex Ryan has been happily married [...]
The New York Jets have to develop a complementary tailback to spell starter Shonn Greene, who has had a solid time-sharing partner (first Thomas Jones and then Tomlinson) all three seasons in the league. With little experience behind Greene on the roster, the choices almost certainly come down to a pair of former fourth-round draft choices, Joe McKnight (2010) and Bilal Powell...
To celebrate the start of the 2012 Jets football season (yeah I know it's only preseason) I'll be giving away one copy of Bryan O'Leary's book "SPYGATE:  The Untold Story". The book is signed by the author "Go Jets!" (Sells for $20 Hardcover and $9.99 Kindle on Amazon) On Sept 9, 2007 the New England Patriots were caught using a sophisticated cheating system...
Fights are becoming a daily occurrence at Jets practice. New York Jets tight end Dustin Keller insists that what happens on the practice field, stays on the practice field.
CINCINNATI (AP) -- Tim Tebow picked up some yards by running around a few times. Other than that, there wasn't much in his Jets debut. Certainly nothing to spark any mania back in New York. Tebow had his best moments while scrambling behind reserves on the Jets' line Friday night. He completed only four passes and threw an interception during the Cincinnati Bengals'...
As preseason games go, we can always find something to construct a plotline. In fact, preseason coverage has an eerily similar feel as Olympic coverage – half of the coverage is spent explaining the background and storyline of an athlete that most have never followed. A short-lived career for one moment of glory, such are the bottom-roster churning NFL preseason games and the...
Of all the rhetoric, hoopla and nauseating coverage over the arrival of quarterback Tim Tebow, the one thing that I rarely hear discussed is what happens if starting Jets quarterback Mark Sanchez gets hurt? The Jets' offense looked putrid in their preseason loss to the Cincinnati Bengals, 17-6.  Yes, we know a legitimate workhorse running back has yet to show his face. Yes...
Jets News

Delivered to your inbox

You'll also receive Yardbarker's daily Top 10, featuring the best sports stories from around the web. Customize your newsletter to get articles on your favorite sports and teams. And the best part? It's free!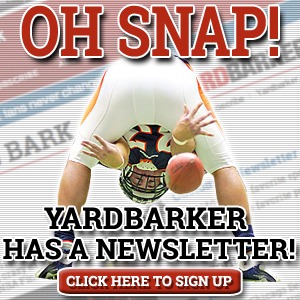 Latest Rumors
The Backyard

Today's Best Stuff

For Bloggers

Join the Yardbarker Network for more promotion, traffic, and money.

Company Info

Help

What is Yardbarker?

Yardbarker is the largest network of sports blogs and pro athlete blogs on the web. This site is the hub of the Yardbarker Network, where our editors and algorithms curate the best sports content from our network and beyond.