Found October 16, 2012 on Turn On The Jets:
We are starting to see a new Jets team branding themselves out there, are we not? It's early in the process we know. After all, Darrelle Revis and Santonio Holmes just left Gang Green for the year only weeks back. Since then however, this no name bunch of young Jets has teamed up with written off starters like Mark Sanchez and Shonn Greene to battle the then undefeated Texans, and take care of business against a Colts team that simply had to be defeated. A task that is never a guarantee if you follow Jets history closely enough. Among this excitable new crop of Jets gaining important playing time is Chaz Schilens. A wide receiver who lately, has spoken with enough pride about his belief in the systems in place and his teammates, that we are beginning to feel as though maybe something is gelling inside of the locker room of a team. A unity among this current and ever changing cast of characters, who may be rallying around the doubt that pervades them outside of Florham Park. We all know what happens when a football team plays together. Even a team built out of a laundry list of stars in this sport can often times run into problems against a committed team that works together, despite a lack of any notable names on the backs of their jerseys. Schilens, a fourth year vet and former Raider who has always owned physical potential and promise has slowly begun to make plays. This after waiting for a shot to contribute. Injuries to Holmes and recently to rookie WR Stephen Hill have allowed for that as Schilens has over the past few games, begun to turn himself into a player who can be counted on in tough yardage situations, with defenders draped on him. His attitude off the field, has been one of a symbolic defiance lately too. Of refusing to be part of a team that is pigeonholed into an also ran so early in the year, even as injuries pile up. Here is what Schilens had to say about all of the talk regarding the Jets being a circus act and doomed for failure given who has been lost so far for the season: "It's so overly exaggerated it's ridiculous. What's not funny is you guys try to tell us maybe we shouldn't even show up for the game or we'll be outclassed or we're not a good football team..When we get to full strength and get clicking on all cylinders with the parts we have right now, it's not going to be funny, especially for other teams." There will be those who will paint Schilens' words as just another example of a Jet sharing his views in an open door culture the team likes to promote. We see it as the voice of an entire team's regrouped mindset. A team that is changing it's approach on the fly. From relying on a few top of the line stars to an entire room full of pieces. All fighting collectively for the same thing. Victories and respect.
Original Story:
http://turnonthejets.com/2012/10/new-...
THE BACKYARD
BEST OF MAXIM
RELATED ARTICLES
Darrelle Revis says there's ''no question'' he will return from a torn knee ligament to be the same dominant player he has been throughout his career with the New York Jets. The star cornerback says Monday in his first public comments since tearing the anterior cruciate ligament in his left knee three weeks ago that it has been hard to watch games since '...
New York Jets cornerback Darrelle Revis will undergo surgery tomorrow in New York City to repair his torn ACL.According to Manish Mehta of the New York Daily News, Revis is doing a documentary as he rehabs from his ACL surgery.Revis is smart to cash in on his ACL injury.  Especially since he didn't get the new contract that he was looking for.Hopefully Revis can return and continue...
Before New York Jets All-Pro cornerback Darrelle Revis can hit the open market, he's headed for the operating table Tuesday to have the torn ligament in his left knee repaired by New York Giants team physician Russell Warren. "It's been hard," Revis said Monday. "Because now you're looking outside in, instead of inside out. "I will want to go...
""The Jets will not want to put the ball in Mark Sanchez's hands too much, regardless of New...
When Tom Brady takes his offense to the field to face off against a beat up but still potentially dangerous Jets defense, it'll be fun to watch.When Mark Sanchez takes the field to face the Patriots defense, it'll be fun to watch too. For a completely different reason.With a quarterback as weak as Sanchez and a defensive secondary as pitiful as the Patriots, it will be the...
Shonn Greene, the fourth year running back, had a career day rushing for 161 yards on 32 carries with three touchdowns as the New York Jets dominated Indianapolis Colts.It was Greene's best day since back in 2009 when he rushed for 144 yards and two touchdowns against the Oakland Raiders.After four straight games with less than a 50 percent completion percentage, Mark Sanchez didn't...
On the special units squad. Mark Sanchez recently stated that "Tebow has been great on special teams and doing some of the Wildcat stuff."Oh has he Mark? That's good to hear. You'll probably be saying the same thing later this season when you've led your team down the *******, except instead of complimenting his special teams play you'll be complimenting...
The New York Jets finally figured out a way to silence the interminable debate about which of their high profile quarterbacks should be throwing the ball on offense. All they had to do was stop throwing the ball so much. It didn't really matter who was under center for New York during the team's 35-9 rout of the Indianapolis Colts on Sunday at MetLife Stadium -- though,...
It was an ugly game, but it's time for some links anyway. Mike Chappell, in his Colts Insider column for The Indianapolis Star, says the Colts had hoped to make the Jets one-dimensional by stopping the run and force the erattic Mark Sanchez to try to beat them.  They just couldn't: "We wanted to put the game in his hands and hopefully get him to make some mistakes...
This is going to be a common theme this week. After Richard Sherman's Twitter antics following Seattle's win this past Sunday and the upcoming game against the ever so lovable New York Jets, expect the Patriots to take a lot of heat.Sexy Rexy has already gone on record today stating that "I want them to know and they know that I think we are going to beat them.&quot...
Mark Sanchez was at dinner with his running backs last week when Shonn Greene's meal arrived at the table. Talk about a heaping helping. ''I think Shonn got the biggest steak you could possibly have,'' the New York Jets quarterback said with a smile. ''He eats like a lineman. He needed it all today, though, so that was good for him.'' Well,...
Indianapolis Star October 15, 2012 Dear Indy Star, Pardon my French, but this really pisses me off.  Road Wimps?  Really?  I know you were just in New York, but let me fill you in on something…you're back in Indiana.  Where Hoosier Hospitality is a thing.  And not just a thing…a real thing. I'm not one of those fans who thinks you can only say or write positive things...
Jets News

Delivered to your inbox

You'll also receive Yardbarker's daily Top 10, featuring the best sports stories from around the web. Customize your newsletter to get articles on your favorite sports and teams. And the best part? It's free!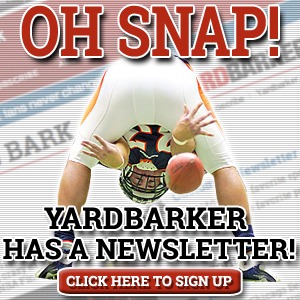 Latest Rumors
Best of Yardbarker

Today's Best Stuff

For Bloggers

Join the Yardbarker Network for more promotion, traffic, and money.

Company Info

Help

What is Yardbarker?

Yardbarker is the largest network of sports blogs and pro athlete blogs on the web. This site is the hub of the Yardbarker Network, where our editors and algorithms curate the best sports content from our network and beyond.