Found October 11, 2012 on 60 Max Power O:
Week five of the 2012 NFL regular season again saw the power rankings in the NFC west division alter from the previous week. With two teams at 4-1 and two teams at 3-2 the ranking between first and worst in the division is getting harder to determine with each passing week. It appears that this trend may continue as each team displays different levels of play from week to week. Especially when each of their perspective schedules only get tougher as the weeks progress. It must be noted that each of the teams in the division has the talent to be the top dog in the race. As a matter of fact, three of the best defenses in the entire league reside in the NFC west. Just playing each other could have a negative effect on where they stand in the division. An in depth look at the current top two ranked teams in the NFC west division sheds light on how and why they are ranked in their perspective positions.
San Francisco 49ers: Back in the pole position in the division for the first time since their week three loss to the Minnesota Vikings, the 49ers look like the only strong candidate to hold onto the spot for an extended amount of time. Though their record at 4-1 is tied with the Arizona Cardinals, they are back on top due to the dominance that they displayed during their last two games. The 49ers offense has scored a total of 79 points in the last two games. And their defense has only given up three points in the last two games, including one shutout. The chasm between those two numbers combined with their record should be enough to put them back on top.
However, for those that doubt their position atop the power rankings, there are other facts and figures to go along with their style of play that support their position.
Offensively, it is a completely different team than last year. They are operating an offensive scheme that is continuously confusing opposing defenses. A testament to their newfound offensive prowess is their tie for third in the league in total points scored at 149. It's a far cry from last year when they relied so heavily on their defense to pull them through to victories. As of this article they have scored more points than the high powered offenses of the New Orleans Saints, the Green Bay Packers, the Atlanta Falcons, the San Diego Chargers, and the Detroit Lions. They are also first in the league in total rushing yards with 979 and first in average rushing yards per play at just over six yards.
Defensively, they prove their case as well, as they are also among the league leaders in a multitude of categories. Their all out and relentless style has them first in the league in total points allowed at 68. They are tied for second in touchdowns allowed with seven. They are second in the league in total yards per game average at 262.6 yards per game. They are second in passing defense, only allowing 182.2 yards of passing per game. And they are tied for second in receiving yards per game at 193.8. They are ranked second overall in total defensive statistics.
Judging by the statistics and winning percentage, there is no question as to who should be atop the rankings right now. But as previously stated, it's a tough division, their rank could change from week to week. This week they have a rematch of the NFC Championship game against the New York Giants. A win versus the Giants might put them out of reach atop the division. A loss and it's anyone's guess as to who will come out on top.
Arizona Cardinals: The Cardinals drop to the second spot after being on top for the past couple of weeks. And judging by their level of play, it would not be surprising to see them drop even further in the coming weeks. At 4-1 on the season, their record gives them the credibility to remain near the top of the power rankings in the division. However, they are easily the worst 4-1 team in the league. Of their four wins they have barely squeaked out three of them, one of which was highly controversial and basically given to them by a replacement official. Last week they lost to their division rival St. Louis Rams 17-3, proving that even though they sport a decent record, there is a host of problems that they need to address.
First and foremost, their offensive is not living up to expectations. Just last week they allowed nine sacks on quarterback Kevin Kolb. And the week before that they allowed eight sacks against the Miami Dolphins. On the year they have allowed 23 sacks to lead the NFL. That's an average of almost five sacks per game. They have also allowed 36 hits to the quarterback for the year, putting them second in the NFL for that category. They have already allowed one of their quarterbacks to be put on injured reserve, and at this rate Kolb will have to be extremely lucky not to find himself in the same position.
The offensive line can also be the cause for the less than admirable running game the Cardinals employ. With no holes to run through, the running backs for the Cardinals have been more or less a bluff at opposing defenses. Their lack of production makes any play action pass ten times more difficult to complete. Last week against the Rams the Cardinals offense was held to just 45 total rushing yards. The week before against the Dolphins they was even worse, garnering only 28 total rushing yards. On the year the Cardinals only have 317 total rushing yards, giving them an average of a mere 63.4 yards per game.
The lack of a cohesive offensive line destroys any chance to keep winning ball games. It hurts the running game, it hurts the passing game, and it hurts the receivers' production. Even though Kolb has been on his back for most of the season, he has played quite well. As have the receivers and tight ends. But if Kolb is not allowed the time to make the passing and receiving game viable, then what chance do they have. The Cardinals are in desperate need of a regrouping before they play themselves out of contention. They have a winning record right now, but that success will only last so long with the problems they have.
This week they take on a Buffalo Bills team that is fighting to get back on track after two blow out losses to the 49ers and New England Patriots. With a team as hungry as the Bills are, this week might be the start of the downward spiral for the Cardinals. 
Check out other great articles at Sports Media 101.
Original Story:
http://www.60maxpowero.com/patriots/c...
THE BACKYARD
BEST OF MAXIM
RELATED ARTICLES
The New York Giants are heading out to California this weekend to take on a familiar foe in the San Francisco 49ers. The 49ers are not just familiar in the sense that the Giants played them twice last season, including a 20-17 victory in the NFC Championship game, but because this offseason, two key members of Big Blue's Super Bowl winning squad packed their bags and took off...
The last time a player disputed San Francisco 49ers coach Jim Harbaugh's judgment about the player's readiness for action, Harbaugh cut him. That was last year, when wide receiver Braylon Edwards never fully came back from knee and shoulder injuries. Edwards suggested he'd miss a game or two, but instead of telling Harbaugh, he told the media. Harbaugh eventually released...
Extended highlights of the 49ers rout against the Bills.
San Francisco 49ers quarterback Alex Smith told the media that he doesn't believe his sprained middle finger will be an issue for Sunday's game against the Giants."It's doing all right. It'll be fine," Smith said, per the San Jose Mercury News. "I might tape it for support."Sounds like Smith will be good to go against the Giants.
The San Francisco 49ers enter this weekend's rematch of last season's NFC Championship Game against the New York Giants healthy. The team had three players listed on their injury report, but all are expected to play. Alex Smith sprained a finger on his throwing hand last weekend against the Buffalo Bills, but it didn't hamper him this week during practice. Smith...
San Francisco 49ers quarterback Alex Smith downplayed his sprained right middle finger after Sunday's rout of the Buffalo Bills, but the injury might be a might more troublesome than he believed. "It's very much of a concern," 49ers coach Jim Harbaugh said Monday. "We'll see how it is. Alex, it's well-documented how tough he is. He talks about it...
WELL THAT'S A RELIEF
49ers cornerback Carlos Rogers has backed off his threat that he would steal Giants wide receiver Victor Cruz's patented salsa dance when the teams meet on Sunday.
San Francisco 49ers coach Jim Harbaugh says the comments Giants offensive coordinator Kevin Gilbride made about All-Pro defensive end Justin Smith are ''outrageous'' and ''incendiary.''
According to Ebenezer Samuel of the New York Daily News, San Francisco 49ers cornerback Carlos Rogers has told him that he "definitely" won't do Victor Cruz's salsa dance if he has the opportunity to.Earlier in the week Rogers was flirting with the idea of doing Cruz's dance and Cruz has already made it clear that it's not something he's very fond of.Rogers says he...
San Francisco 49ers cornerback Carlos Rogers told the New York Daily News that he will stop mimicking the salsa dance of Giants receiver Victor Cruz, according to a Daily News report. Cruz began performing his salsa touchdown celebration as a tribute to his late grandmother, Lucy Molina, who died recently. Molina had taught Cruz the dance when he was a child. Cruz performs the...
New York Giants offensive coordinator Kevin Gilbride, while praising the work of the San Francisco 49ers, also claimed that officials fail to call holding on defensive end Justin Smith. "Smith is a beast on the inside," Gilbride told reporters. "He's strong, he does as good a job of grabbing a hold of offensive linemen and allowing those twists to take place...
Houston Texans defensive end J.J. Watt is drawing comparisons to some of the all-time greatest NFL linemen with his brilliant play. And to think the coaches at Central Michigan University wanted Watt to become the next Joe Staley. Staley began his college career as a CMU tight end but was shifted to left tackle. The move was so successful that San Francisco selected Staley in the...
49ers News

Delivered to your inbox

You'll also receive Yardbarker's daily Top 10, featuring the best sports stories from around the web. Customize your newsletter to get articles on your favorite sports and teams. And the best part? It's free!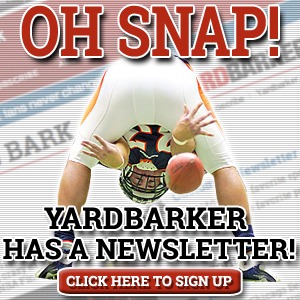 Latest Rumors
Best of Yardbarker

Today's Best Stuff

For Bloggers

Join the Yardbarker Network for more promotion, traffic, and money.

Company Info

Help

What is Yardbarker?

Yardbarker is the largest network of sports blogs and pro athlete blogs on the web. This site is the hub of the Yardbarker Network, where our editors and algorithms curate the best sports content from our network and beyond.