Found November 01, 2012 on Cippin on Sports:
PLAYERS:
Norv Turner
,
Philip Rivers
,
Tim Tebow
,
Ron Rivera
,
Cam Newton
,
Andy Reid
,
Kevin Kolb
,
Michael Vick
,
Jason Garrett
,
Tony Romo
,
Dez Bryant
,
Rex Ryan
,
Mark Sanchez
TEAMS:
San Diego Chargers
,
New York Jets
,
Denver Broncos
,
Carolina Panthers
,
Philadelphia Eagles
,
Arizona Cardinals
,
Dallas Cowboys
,
New York Giants
Now that we are approximately at the midway point in the 2012 NFL season, there are several head coaches that are on the hot seat with his team's respective management and owners. Some coaches have hotter seats than others. Listed below are some of the coaches that are in deep water up to this point in the season. 1 – NORV TURNER, San Diego Chargers Turner may have already lost his job at this point in the season but the Chargers play in a fairly weak division and may still have a shot at the playoffs. Turner and his quarterback in Philip Rivers (who pleaded to keep Turner in San Diego) have had mediocre, sub-par, non-playoff outings the last two seasons, one of which was to the Tim Tebow led Denver Broncos. The Chargers started the season out hot with a 3-1 record but have lost three games in a row. If the Chargers are unable to turn things around and make a deep run into the playoffs, you have to believe that the San Diego management is all but done with Turner and will need to probably think about overhauling the team and begin the rebuilding process. 2 – RON RIVERA, Carolina Panthers They have already fired their general manager in Marty Hurney after Cam Newton's public declarations. Rivera may not be far behind. The Panthers have managed to become worse than last season and certainly have failed to reach any sort of team expectations coming into this season. The Panthers currently sit at the bottom of the league at 1-6 and any playoff aspirations are long gone. When your own players are publicly announcing team issues and coaching problems, means the coaching staff does not have control of its players. Rivera was also brought in to revamp the Panthers defense as a defensive minded coach, which has yet to see any fruition. Rivera needs to do something different, whether that is making a major trade before the deadline, completely re-tooling the offense or simply motivating and leading his players, he needs to do it quick. 3 – ANDY REID, Philadelphia Eagles He is currently the longest tenured head coach in the league however he seems to be unraveling at the seams. We'll give Andy the benefit of doubt having to deal with a plethora of past personal issues in recent years. With these personal issues aside however Reid has managed to make a suitable playoff team become a team at the bottom of the ranks. Many personnel and player acquisition decisions have had Reid's large input and Reid had decided to let go of Donavan McNabb, trade away Kevin Kolb, and have Michael Vick become a "pocket passer" in the last several years. Team management and ownership have stuck by Reid based on his merits but if the Eagles fail to make the playoffs, Andy Reid could be looking for a new team next year or he may decide to retire. 4 – JASON GARRETT, Dallas Cowboys It is no secret that the Dallas Cowboys have communication issues on the field. Tony Romo and Dez Bryant have been seen on multiple occasions blaming each other for not knowing the correct play on the field. Time management and play calling have also been horrific as the Cowboys have managed to lose games to both the Ravens and most recently, the New York Giants due to these two areas of management. Granted that having to deal with high profile and exotic personalities such as Tony and Dez Bryant for one of the iconic franchises in league history is no easy task but Garrett doesn't even seem to be trying. Perhaps Garrett has too much of a laid back personality and the Cowboys are going to need to get a coach that can get the players on the same page as well as deliver what owner Jerry Jones expects out of his Cowboys team. 5 – REX RYAN, New York Jets He has been entertaining, bold, and handful to contain as the Jets' head coach over the last couple of years. Ryan is the king of "guarantees" and believes that his team will win the Super Bowl every year, which is admirable for a head coach to have such confidence but the truth of the matter is that Rex hasn't been able to get the Jets to the Super Bowl and he currently has a circus to manage in New York by deciding to bring Tim Tebow to town. The Jets are currently sitting on a record of 3-5, well below pre-season expectations and Rex's own "Super Bowl" expectation. Rex had to know in the back of his mind that bringing Tebow on the roster, he would eventually have to circum to the pressures of fans and team management to play and/or start him at some point in the season especially with Mark Sanchez's poor play. If Rex doesn't have any more tricks up his sleeve and the Jets fall out of any sort of playoff contention, team management will definitely need to think about clearing the house. About The Author: Paul Jones is the founder of SB-Tickets.com which is a complete hospitality provider of Super Bowl Tickets and Packages.
Original Story:
http://feedproxy.google.com/~r/Cippin...
THE BACKYARD
BEST OF MAXIM
RELATED ARTICLES
Norv Turner is still coaching the Chargers, perhaps to the chagrin of some fans, as San Diego pulled to 4-4 at the season's midpoint. The Chargers were able to call off the dogs howling for Turner's job - at least for now - by beating the Kansas City Chiefs 31-13 Thursday night. San Diego rediscovered the end zone, took advantage of four more turnovers by the sad-sack Chiefs...
Many people are calling last night's Chargers victory a job saver for head coach Norv Turner. If only it were that easy. Sure, the Chargers can still make the playoffs, but the road from this point on is much tougher.Currently, the Fighting Norvs are 4-4. Of course, we have to wait until after Sunday's games to truly get an idea of the playoff picture. The Broncos are 4-3...
The San Diego Chargers laid the tracks on the hapless Kansas City Chiefs last night. That win ended a 3 game losing streak that had most people questioning what sort of info Norv Turner has on the Chargers brass at … Continue reading →
SAN DIEGO -- Following a game featuring two head coaches on the hot seat, San Diego's Norv Turner can breathe a little easier. His Chargers scored three touchdowns in a three-minute span of the fourth quarter en route to a 31-13 victory over the Kansas City Chiefs on Thursday night at Qualcomm Stadium. The Chiefs, meanwhile, did coach Romeo Crennel no favors. "I thought...
The San Diego Chargers defeated the Kansas City Chiefs on Thursday Night Football with a strong performance by the defense. While the offense was a bit shaky at times, the win may have once again postponed the possible firing of head coach Norv Turner and general manager A.J. Smith. Just when they seem to be out, something pulls them right back in again. It shouldn't, but it does...
Mired in a three-game losing streak, the San Diego Chargers are looking for answers while the job security of coach Norv Turner is once again being questioned. With Kansas City stuck in a four-game slide and tied for the worst record in the NFL, Chiefs coach Romeo Crennel might also face an uncertain future if he can't get things turned around. The AFC West foes look to end...
Tweet   Week 9 got underway on Thursday as Philip Rivers and the San Diego Chargers probably kept Norv Turner employed another week with a 31-13 victory over the Kansas City Chiefs . To get you ready for the rest of this week's action our Omar Mills delivers his picks and analysis as only he [...]
Week nine might shape up to be a halfway decent weekend of football. Don't even bother watching tonight's AFC West train-wreck. These two teams are becoming the laughing stock of the NFL and the losing coach literally might get fired on the way out of the stadium. If Norv Turner loses at home to the lowly Chiefs he has to get fired, right? We're taking the Chargers -7. Yes...
Chargers WR Danario Alexander has impressed Norv Turner following a solid performance on Thursday, which should lead to larger role in their offense. "He's going to be a big part of what we do,' said Norv Turner, per Michael Gehlken of the San Diego Union Tribune. "He earned that right last night. It gives us another guy, and we can roll them and keep them fresh and use...
Chargers coach Norv Turner said receiver Danario Alexander is "going to be a big part of what we do," according to the San Diego Union-Tribune.Fantasy Spin:Alexander was signed last week and was forced into action Thursday with Robert Meachem and Eddie Royal both inactive. He finished with three catches for 61 yards. While he might be a part of the receiver rotation going...
(AP) -- Mired in a three-game losing streak, the San Diego Chargers are looking for answers while the job security of coach Norv Turner is once again being questioned. With Kansas City stuck in a four-game slide and tied for the worst record in the NFL, Chiefs coach Romeo Crennel might also face an uncertain future if he can't get things turned around. The AFC West foes look...
The streak has ended as I suspected it would. Last week was a weird week in the NFL and I expect this one to be strange as well. Kansas City at San Diego How the Chargers didn't fire Norv Turner after losing to the Browns is beyond me. They are regressing. They haven't scored a touchdown in 6 quarters. They aren't even capitalizing on turnovers. They are dropping wide open...
NFL News

Delivered to your inbox

You'll also receive Yardbarker's daily Top 10, featuring the best sports stories from around the web. Customize your newsletter to get articles on your favorite sports and teams. And the best part? It's free!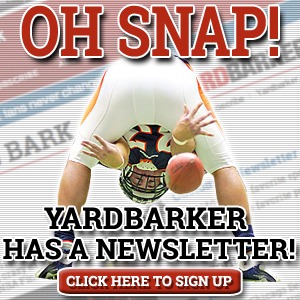 Latest Rumors
Best of Yardbarker

Today's Best Stuff

For Bloggers

Join the Yardbarker Network for more promotion, traffic, and money.

Company Info

Help

What is Yardbarker?

Yardbarker is the largest network of sports blogs and pro athlete blogs on the web. This site is the hub of the Yardbarker Network, where our editors and algorithms curate the best sports content from our network and beyond.