Found July 20, 2012 on Football Nation:
Troy Polamalu appeared on The Dan Patrick show recently and made some startling comments about the number of concussions he sustained in the past, and revealed he lied about a great deal of them.  Polamalu claims, "Any football player at least records 50 to 100 concussions a year" Polamalu went on to explain that in serious cases he simply wasn't coherent enough to lie about the severity of the injury. With impending lawsuits mounting against the NFL, Polamalu's timing is ill at best.  If current players actively admit to concealing concussions or misleading their training staff about the depth of the injuries it could damage the credibility of former players seeking compensation to help off-set medical costs. Not only that, it could lead to harsher restrictions moving forward for active players any time they get shaken up on the field. The NFL has cracked down on every training staff around the league when it comes to concussions and with Polamalu's admissio...
Original Story:
http://www.footballnation.com/content...
THE BACKYARD
BEST OF MAXIM
RELATED ARTICLES
Pittsburgh Steelers safety Troy Polamalu was a busy man on Wednesday. Polamalu made news by admitting to Dan Patrick that he's lied about head injuries in the past in order to remain on the field. Polamalu also had some pretty interesting comments for Colin Cowherd on his Wednesday radio show concerning the power of commissioner Roger Goodell, the bounty situation with the New...
TRUTH TELLER
Troy Polamalu admitted during a radio interview that he has lied in order to hide concussions so he could stay on the field for games.
Full Bodied Protection10) Didn't want people to think that his Tourette's -esque praying was ineffective9) Afraid that this could somehow lead to losing that Head and Shoulders commercial deal8) Knew that even while severely mentally scrambled, knew more of the defensive play calling than anyone else in the Steeler secondary7) Wants a post-football career in broadcasting...
Pittsburgh Steelers safety Troy Plamalu said on the Dan Patrick show said that he had often lied to the Steeler's staff about the seriousness of an injury so that he would be clear to continue playing. He says he's had 8 or 9 concussions in his playing career. "Yes, I have, for sure," he said. He didn't necessary mean that he had a concussion and kept playing...
Pittsburgh Steelers safety Troy Polamalu revealed today on the Dan Patrick Radio Show that he has lied in the past about concussion symptoms so that he'd could be cleared to stay on the field. Polamalu also said that he believes that he has had, eight or nine recorded concussions thus far over the course of his career. "Yes, I have, for sure," Polamalu said, when asked by...
Troy Polamalu says football players suffer an alarming amount of concussions during a typical season and that he's even lied to hide his concussions so he could continue playing. The Steelers safety joined "The Dan Patrick Show" to talk about his experience filming "Dark Knight" and was asked how many concussions he's suffered during his career. "I've had, I believe...
We've heard all sorts of wild speculation about the concussion lawsuits and how they might "bring down" the NFL. I guess anything is possible, but as usual we have a bunch of sportswriters playing lawyer and speculating about the most extreme possible results. I have no idea what is going to happen. I haven't studied the briefs and I certainly haven't seen any of the...
I can't say I disagree with Troy on this one. Recent comments from Pro Football Talk reference Polamalu and statements he made about how he's stretched the truth so to speak about his ability to play when he gets his bell rung. If you talked to any NFL player worth his weight on his team they would tell you the same thing. We view concussions differently than players do many...
It takes more than ringing Troy Polamalu's bell for him to come out of a game. Polamalu admitted on The Dan Patrick Show that he's lied about concussions in order to keep playing. The Steelers safety views concussions differently than team doctors, however. "I've had, I believe, eight or nine recorded concussions. We'll have another conversation after I'm...
Getty Images Pittsburgh Steelers safety Troy Polamalu admitted on the Dan Patrick Show (via ProFootballTalk.com) that he's lied about having concussion symptoms to stay on the field during games. "Yes, I have, for sure," Polamalu said. Polamalu says there are different degrees of lying about injuries. "I wouldn't say I've had any major lies," Polamalu said. "Somebody...
Pittsburgh Steelers safety Troy Polamalu admitted he has lied about head injuries to stay in games. "Yes, I have, for sure," Polamalu told the Dan Patrick Show, noting that he has also chosen to stay in games against the medical staff's wishes. Polamalu didn't tell any "major lies" when it comes to concussions, but said football players see a difference...
When I went to Catholic high school in Philadelphia, we just had one coach for football and basketball. He took all of us who turned out and had us run through a forest. The ones who ran into the trees were on the football team. ~ George Raveling Pittsburgh Steelers safety Troy Polamalu is one of the best regarded players in the NFL. So it comes as a surprise to hear him admit that...
NFL News

Delivered to your inbox

You'll also receive Yardbarker's daily Top 10, featuring the best sports stories from around the web. Customize your newsletter to get articles on your favorite sports and teams. And the best part? It's free!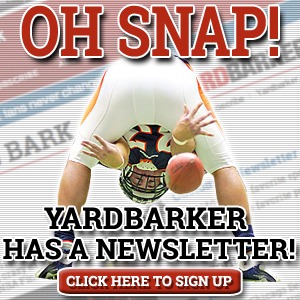 Latest Rumors
Best of Yardbarker

Today's Best Stuff

For Bloggers

Join the Yardbarker Network for more promotion, traffic, and money.

Company Info

Help

What is Yardbarker?

Yardbarker is the largest network of sports blogs and pro athlete blogs on the web. This site is the hub of the Yardbarker Network, where our editors and algorithms curate the best sports content from our network and beyond.