Found January 24, 2013 on Diehardsport:
When some sports writers last year began to refer to the possible matchup between John Harbaugh and Jim Harbaugh as the "Harbowl," Roy Fox of Pendleton, Indiana had an idea.  Fox was a regular football fan that thought if he sold hats and t-shirts with "Harbowl" or "Harbaughbowl" on them he would be able to make some extra cash.  With this idea in mind, he decided to trademark both of these names.Now that the matchup is actually happening, you would think that Fox was printing hats and t-shirts like crazy and was getting ready to sell them.  Unfortunately for him, this is not the case.  NFL Lawyers threatened him with costly legal battles in an effort to get him to drop his copyright, and it worked.According to the Washington Examiner:Mr. Fox, figuring last year that the Harbowl might happen some day, signed up with the online legal services business Legal Zoom, and went through the process of applying for a trademark on both Harbowl and Harbaughbowl.The USPTO processed Fox's trademark application in February. In July, the PTO published the trademark request, as is standard, in order to see if anyone opposed it.Resistance came from the NFL, famous for its zealous protection of its trademarks and its content.Fox said that in August the NFL got the PTO to extend the time allowed for filing an objection and that the NFL told him that they were worried that his trademarks would confuse people and make them think that his apparel was endorsed by the NFL and official gear.The NFL's lawyers pushed Fox to abandon his trademark, but he says that he truly didn't want to abandon it.  The NFL wrote to him and said:"If you are still interested in resolving this matter amicably and abandoning your trademark application, please contact me as soon as possible," NFL Assistant Counsel Delores DiBella wrote to Mr. Fox in October. She warned that otherwise, the NFL "will be forced to file an opposition proceeding and to seek the recoupment of our costs from you.""I was threatened to be taken to court," Fox told me, "and I just assumed I would lose, and I couldn't afford the court costs."Fox said that he didn't know his legal rights and that he didn't want to fight a costly legal battle with the NFL that he was afraid he would lose.  So he told them that he would abandon the trademarks in exchange for Colts tickets, but the NFL told him no.  He did say that the NFL was helpful in helping him abandon his trademarks, and he abandoned them in October.All this proves is that the NFL is a bully and was clearly frustrated that they didn't think of trademarking it first.  It's a shame that they were willing to ruin this guy's life over a trademark, all because he thought of it before them.  The least they could have done was given him some Colts season tickets for him to enjoy.[Washington Examiner]
Original Story:
http://www.diehardsport.com/2013/01/2...
THE BACKYARD
BEST OF MAXIM
RELATED ARTICLES
Jack and Jackie Harbaugh held a conference call on Thursday to speak with the media about their sons coaching against each other in the Super Bowl. The call was going fine and dandy until "John from Baltimore" jumped on the line. "Question from Baltimore – Is it true that both of you like Jim better than John?" the person asked. There was silence on the other end. After...
Jack and Jackie Harbaugh held a conference call on Thursday to speak with the media about their sons playing against each other in the Super Bowl.  When "John from Baltimore" jumped on the line, things hit a bit of a snag."Question from Baltimore–Is it true both of you like Jim better than John?" the mystery caller asked.After a long pause, John and Jim's sister Joanie...
The San Francisco 49ers and Baltimore Ravens trailed at halftime of their respective conference championship games last Sunday. On the road in a hostile Georgia Dome, the 49ers fell behind the Atlanta Falcons 17-0 early in the second quarter and found themselves down 10 points after 30 minutes. The Ravens, outplayed in all three facets of the game in the first half, trailed the...
While most people in America have pledged their allegiance to the San Francisco 49ers or Baltimore Ravens for the upcoming Super Bowl, Jacki and Jack Harbaugh hope for a tie. Naturally. The parents of Ravens head coach John Harbaugh and 49ers head coach Jim Harbaugh refused to pick a favorite for the first Super Bowl matchup to fit brothers against one another as coaches. &quot...
On December 10th the Baltimore Ravens broke up with their former offensive coordinator Cam Cameron. The final straw for the Ravens organization was losing 31-28  to the Washington Redskins. The Ravens were barely squeezing out wins.  Joe Flacco was playing like Joe Fluke-O and concerns started to surface regarding his consistency and effectiveness. Not to mention, fans were not...
What with all the noise about brothers Jim and John Harbaugh facing each other in Super Bowl XLVII, I thought it would be fun to go back and take a look at the some of the top brother combinations throughout baseball history:  Paul and Lloyd Waner – back in the 1930s, some pretty good Pirates [...]
John Harbaugh already prank called his parents during their national conference call on Thursday. On Friday it was his brother Jim making a surprise call of his own. Jim Harbaugh called into John Madden's daily segment on KCBS 740, looking to get advice from the Super Bowl-winning Hall of Fame coach. From Cam Inman: "What advice can you give me as first-time coach going to the...
Ravens general manager Ozzie Newsome says the decision to fire offensive coordinator Cam Cameron in December was orchestrated solely by coach John Harbaugh. Cameron was dismissed the day after Baltimore lost to the Washington Redskins on Dec. 9. There had been speculation either Newsome or owner Steve Bisciotti pushed Harbaugh into making the call. Asked Friday if that was the...
Baltimore Ravens coach John Harbaugh wanted to find out which brother his family would be rooting for in next Sunday's Super Bowl.  So he asked them during a Harbaugh family conference call on Thursday with the media.   Via NFL.com: Question from Baltimore: Is it true that both of you like Jim better than John? (John Harbaugh's question) Joani (sister): "Hey, John, how...
SAN FRANCISCO -- San Francisco 49ers head coach Jim Harbaugh has a long history of seeking advice from people he deems great. If Harbaugh thinks he can become a better coach - or person - from a conversation, he has it. After accepting the head coaching job at Stanford in 2007, Harbaugh made a point to have frequent chats with the late Bill Walsh. As Harbaugh tells it, he would...
With the Super Bowl quickly approaching, be on the lookout for plenty of prognostications from folks. This even includes some picks from animals. Namely, Princess, a 26-year old camel from Popcorn Park Zoo in New Jersey.The prophetic mammal has chosen the correct winner in six of the last seven Super Bowls, according to the zoo's general manager. She correctly tabbed the New...
Ravens News

Delivered to your inbox

You'll also receive Yardbarker's daily Top 10, featuring the best sports stories from around the web. Customize your newsletter to get articles on your favorite sports and teams. And the best part? It's free!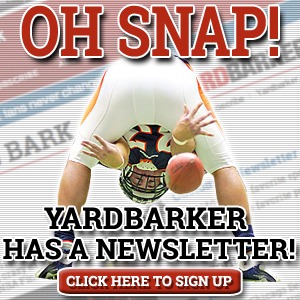 Latest Rumors
Best of Yardbarker

Today's Best Stuff

For Bloggers

Join the Yardbarker Network for more promotion, traffic, and money.

Company Info

Help

What is Yardbarker?

Yardbarker is the largest network of sports blogs and pro athlete blogs on the web. This site is the hub of the Yardbarker Network, where our editors and algorithms curate the best sports content from our network and beyond.