Found June 18, 2012 on Draft Board Insider:
Every NFL Franchise has it's own pantheon of football gods. That group of players who are not only historic in terms of talent, but even more than that, these are the players who you have to talk about when you tell the story of your team. This is part of a 32 article series where I tell you who I would put among that elite group. For this, it's Mt. Rushmore. 4 players only. The 4 heads you would carve on a mountain that would live forever as the greatest in franchise history.
Now, I don't profess to know the history of every franchise in the league. So, I did my research. And part of that was reaching out to you fans. But if you don't agree with the 4 guys I have selected, come find me on Twitter at www.twitter.com/nfldraftboard and let me hear what you think.
 Baltimore/Indianapolis Colts-The franchises that have worn the Colts moniker and the famous horseshoe logo on their helmets have been part of NFL history. They have had Super Bowl success and boast 2 of the greatest quarterbacks of all time in their uniforms. The franchise has been through it's ups and downs but their fanbase has remained loyal even through all the turmoil, and they prepare for a new era to begin this season as well.
 1. Peyton Manning, QB-Not sure there's a franchise with a better debate between who's their best quarterback like the Colts do. I never saw Unitas play like, but I can say that having watched the entirety of Manning's career, I've never seen a quarterback do more on the field in terms of running an offense that Manning has. Probably the smartest player to ever play the position and another guy who has done remarkable things while having a less than remarkable supporting cast.
2. Johnny Unitas, QB-For lost of long time Colts fans, Unitas is the guy. Not the biggest guy, not the strongest arm, not overly flashy, but watching highlights of him, his poise and control of the passing game was 50 years ahead of it's time. 1 Super Bowl and 2 NFL Championships don't hurt either.
3. Marvin Harrison, WR-I decided to go with best weapons to my 2 quarterbacks. Harrison was the best wide out that the league never gave credit to. He always drew double teams, everyone always knew he was the guy Manning was going to, but somehow he just kept making big catch after catch.
4. Raymond Berry, WR-It seems that every highlight I watch of Unitas, it's Berry is on the other end of all the big throws he made. Like Unitas he was a man ahead of his time, but this time is was his size and athleticism that seemed to be from the future when he was on the field.
Original Story:
http://www.draftboardinsider.com/cgi-...
THE BACKYARD
BEST OF MAXIM
RELATED ARTICLES
The 2012 Colts' offensive line is going to be a completely different from the patch-up job the Colts have had over the last few years.  It has been anyone's guess who will man the guard spots, with Anthony Castonzo, Samson Satele, and Winston Justice all seemingly entrenched in their respective spots. According to a new report from the good folks at Pro Football Weekly...
Indianapolis Colts owner Jim Irsay announced the team signed free agent running back Mewelde Moore Tuesday. Moore, 29, is an eight-year NFL veteran who previously played four seasons each for the Minnesota Vikings and Pittsburgh Steelers. In his career, he has accumulated 2,247 rushing yards on 494 carries and six touchdowns, while catching 214 passes for 1,875 yards and seven...
If Indianapolis Colts rookie QB Andrew Luck is a little overwhelmed by his new surroundings in the NFL, he does have one familiar face that he can rely on both before and during his 1st NFL season. With the Colts 34th overall pick in the 2012 NFL Draft, they selected Luck's former Stanford teammate TE Coby Fleener. At 6'6 and 250 lbs, Fleener was the 1st TE taken off the board...
Andrew Luck is keeping his focus on football. He'll let others worry about his new contract. The No. 1 overall draft pick says that even though he cannot attend training camp until he signs a deal, he is not worried about the lack of one becoming an impediment for reporting to training camp. The Colts report to Anderson University, an NCAA Division III school about 30 miles...
This series will take a look at the ever growing perception of the exaggerated "problem" of Colts' fanhood. Specifically that the Colts' fan base is fairweather and weak when compared to similar markets such as Pittsburgh, Green Bay, and Kansas City. While I find the outcry over the slightly lower rate of season ticket renewals to be very exagerrated (and way offbase...
The Indianapolis Colts signed veteran free agent running back Mewelde Moore and cut quarterback David Legree. Moore was with the Pittsburgh Steelers for the past four seasons. He's entering his ninth NFL season.
The Denver Broncos are scheduled to appear on Sunday Night Football twice in 2012, with the possibility of a third appearance after Week 11 due to the NFL's flex scheduling.  With five prime-times games, the Broncos will be buzzed about this season, and NBC may try to capitalize on that. Each year, country music singer Faith Hill opens NBC's production with "Waiting All...
As Peyton Manning begins to reinvent himself at 36 years old, trading a horseshoe on his helmet for an entire horse, it's easy to distinguish Manning the leader from Manning the passer. Through the high walls that separate the Denver Broncos practice fields and facility parking lot, the first voice a visitor hears is Manning's -- firm, familiar, not quite a southern drawl...
Eli Manning was ranked as the No. 31 player in the NFL by his peers. Manning was fifth among quarterbacks (only behind Brady, Rodgers, Brees and Roethlisberger), which isn't far from the truth (should be ahead of Roethlisberger). He passed for nearly 5,000 yards and had the fourth-highest yards-per-attempt average in football during an impressive, yet somewhat inconsistent regular...
One of the biggest questions heading into the 2012 NFL season revolves around QB Peyton Manning and if he will return to form after missing a season with a neck injury. According to fellow teammate, Von Miller, Peyton Manning looks good, looking like the Peyton Manning of old. Appearing on the CBS Sports show, Rome with host Jim Rome, Miller said Manning has looked good this offseason...
HOW SWEET
As if it wasn't already clear that the media loves Tim Tebow, the writers have given him an award to make sure you knew it.
  Peyton Manning is still not quite 100 percent. What does this mean for Dynasty Fantasy Football Owners? Much like us here at DLF, there really is no offseason in the NFL. Even after the dramatic conclusion of the Super Bowl and the MVP's trip to Disney World, the day-to-day business of the league continues. This means you should be paying attention to give yourself every...
Colts News

Delivered to your inbox

You'll also receive Yardbarker's daily Top 10, featuring the best sports stories from around the web. Customize your newsletter to get articles on your favorite sports and teams. And the best part? It's free!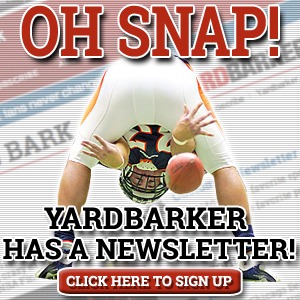 Latest Rumors
Best of Yardbarker

Today's Best Stuff

For Bloggers

Join the Yardbarker Network for more promotion, traffic, and money.

Company Info

Help

What is Yardbarker?

Yardbarker is the largest network of sports blogs and pro athlete blogs on the web. This site is the hub of the Yardbarker Network, where our editors and algorithms curate the best sports content from our network and beyond.