Found August 11, 2012 on MyTeamRivals.com:
In an unusual way, the Seattle Seahawks are a high profile team this year being counted on to make a solid impression. They have an all-time college coach in Pete Caroll trying to lead them with one of the few star running backs left in the league, Marshawn Lynch. The Seattle Seahawks made a run a couple of seasons back in the playoffs of 2011, but fizzled out in the 2011-2012 season.  This year's team brings new players and new expectations. The Matt Flynn-Terrell Owens connection is the most important new connection for the NFL game this year.  In order to keep growing its league, the NFL will need Flynn and T.O. to step up their games. Matt Flynn is a possible breakout star and T.O. is recognizable as the ultimate love-hate character. T.O. is that rare character in sports that divides sports fans, but tends to deliver when it comes to performance.  At 38 years old and out of the league for a while, he is out to prove the skeptics wrong and show he's got both game and a posi...
Original Story:
http://www.mtrmedia.com/2012/08/nfl-n...
THE BACKYARD
BEST OF MAXIM
RELATED ARTICLES
NFL wide receiver Terrell Owens has posted an impressive resume.   In a career that has spanned across 15 seasons, Owens has amassed 1078 receptions for 15,934 yards and 98 touchdowns.  Following an ACL tear in 2010, Owens was absent from the league in 2011 however the 38-year-old remained determined to work his way back in to [...]
The word out of Seattle that recently signed wide receiver Terrell Owens has looked pretty good so far in practices apparently isn't club-produced hyperbole. A few of the Seahawks' defenders who have gone against the veteran in camp suggested that T.O. still has something left in the tank. He is, according to the defenders, in fairly good shape given his time away from...
We all know that Seattle Seahawks head coach Pete Carroll is fan of pranks and his latest one came with the help of newly-acquired wide receiver, Terrell Owens. During the Seahawks first meeting with Owens in attendance, Pete decided to call him up to the middle of the room to tell a story. After a few minutes, Owens decided to go a rant about not being able to wear #81...
AP Photo According to Danny O'Neil of the Seattle Times, the Seahawks violated the new CBA by allowing wide receiver Terrell Owens to wear pads on his first day of practice. "When Terrell Owens took the practice field for the first time on Wednesday, he was wearing shoulder pads. "And while that might seem like it should be expected given the fact — you know — he was going...
Ladies and Gentlemen, please welcome back to the NFL two former Pro Bowl Wide Receivers, Terrell Owens and Randy Moss. Both have been irrelevant in the NFL for the past couple years and both are looking to make a comeback in their mid to late thirties. Moss, 35 was last seen in the NFL during [...]
Why not? That has become the prevailing attitude over the Seahawks' decision to sign Terrell Owens. He's on a one-year deal for the veteran minimum, which constitutes a flier not an investment. He's in great shape, and for all the problems attributed to him, a lack of production has never been among them. Not only that, but receiver is the single biggest bare spot...
Former NFL tight end Christian Fauria .After listening to former NFL tight end Christian Fauria bad-mouth Hall of Fame-caliber wide receiver Terrell Owens by repeatedly saying how he would never give Owens another chance in the NFL, I've got to say, I haven't met many people with a 'holier than thou' attitude as Fauria.Sure, the 13-year veteran earned two Super Bowl titles...
It's Baaaaack! I know it's only the preseason, but real football fans get excited for any chance to see their team.  I can't believe we're only about a month away from the real games! Praise the football gods! Tomorrow the Seattle Seahawks play the Tennessee Titans, and there are some real reasons to get excited about the first chance to see the 2012-13 incarnation of...
Per Liz Matthews this AM on Twitter we've learned that after sustaining a practice injury yesterday that starting Right Guard for the Seattle Seahawks will undergo elbow surgery. HE WILL be ok in time for Week 1. #Seahawks G John Moffitt will have elbow surgery to clean up some foreign bodies in his elbow.Should be OK for season opener. — Liz Mathews 710 ESPN (@Liz_Mathews...
There are two problems with Chad Johnson signing with a new NFL team The first one is because he was cut so early in Dolphins camp, we don't really know what his skill set is right now. Was last season with the Patriots a fluke or has he just lost it? The second problem is that the team that brings him in, has to have a coach as flamboyant as he is. That eliminates a lot of the...
The early performance of Terrell Owens in Seattle, and the solid reports on older wideouts like Randy Moss in San Francisco and Miami's potty-mouthed Chad Ochocinco/Johnson (anyone see the opening episode of "Hard Knocks," in which Dolphins first-year coach Joe Philbin cautioned Johnson for dropping the F-bomb so much during a news conference?), might hasten the return...
NFL News

Delivered to your inbox

You'll also receive Yardbarker's daily Top 10, featuring the best sports stories from around the web. Customize your newsletter to get articles on your favorite sports and teams. And the best part? It's free!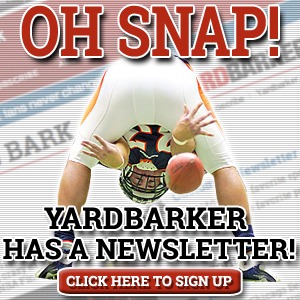 Latest Rumors
Best of Yardbarker

Today's Best Stuff

For Bloggers

Join the Yardbarker Network for more promotion, traffic, and money.

Company Info

Help

What is Yardbarker?

Yardbarker is the largest network of sports blogs and pro athlete blogs on the web. This site is the hub of the Yardbarker Network, where our editors and algorithms curate the best sports content from our network and beyond.