Week 8 is now in the books after Philip Rivers fumbled away a road win in Kansas City, which means we are right around the midway point of the 2011 season. Most teams have played 8 games, a few have played 7, and we can finally start to state with some level of certainty who is good, who is not, and who is too enigmatic to declare. Without question, the story of the first half of the season (other than this) has been the ascent of the Detroit Lions. They went 0-16 three years ago, then 2-14 in Jim Schwartz's first year, then 6-10 last year; and now halfway through their 2011 slate Detroit, sitting at 6-2, is a bona fide contender in the NFC. And the Lions aren't just an empty record either. They have the skill, attitude, reputation, and right now the health (knock on wood) to suggest that they aren't going away. So in honor of the Motor City Mufasas, and their roaring wreakers of wreckage Ndamukong Suh and Calvin Johnson, I give to you my Midseason NFL Power Rankings, with each team presented alongside a Motown classic that sums up the first half of its season.
The great Berry Gordy and Ndamukong Suh 1. Green Bay Packers (7-0) – "Higher Ground" by Stevie Wonder After an uneven regular season in 2010, the Packers caught fire all the way to the Super Bowl. Along the way, Aaron Rodgers nudged his way into the Manning-Brady-Brees stratosphere of NFL quarterbacks. Through seven games in 2011, the Packers haven't missed a beat, and Rodgers has catapulted himself into the rarest of air: the undisputed #1 quarterback in football, and he's on pace to complete the most efficient statistical season a quarterback has ever had. As Stevie sings:
Lovers keep on lovin'
Believers keep on believin'
Sleepers just stop sleepin' … Gonna keep on tryin'
Till I reach my highest ground
Indeed, the Packers/Rodgers lovers and believers need to keep doing what they're doing, and any remaining sleepers need to wake up to the reality that Rodgers is the best player in football. If he hasn't already reached the highest ground, it's going to be amazing to see just how deadly the Packers' offense is once he's there. 2. San Francisco 49ers (6-1) – "Reach Out, I'll Be There" by The Four Tops Know this about the resurgent 49ers and their badass first year head coach Jim Harbaugh: at the end of the game, reach out and he'll be the there…ready to shake your head after kicking your team's butt. (Just try not to take it personally.) And in case you needed any more reason why this is the perfect song choice for the 2011 take-no-prisoners 49ers, pay attention to the lyrics. Replace "girl" and "darling" with "Alex" (for Alex Smith), "I'll" with "We'll", plus a few other subtle changes, and it might as well be a pregame Harbaugh speech to his much-maligned but improving QB.
Now if you feel that you can't go on,
Because all of your hope is gone,
And your life is filled with much confusion,
Until happiness is just an illusion,
And your world around is crumbling down, Alex,
(Reach out) Come on Alex reach on out for me,
(Reach out) Reach out for me,
We'll be there with a running game that will shelter you,
We'll be there with a defense that will see you through,
See what I mean? 3. Pittsburgh Steelers (6-2) – "Ain't Nothing Like the Real Thing" by Marvin Gaye and Tammi Terrell I'm not sure what that was from Pittsburgh in Week 1, but it was most certainly not the real Steelers that we've come to know and appreciate. Over the Steelers' last four games though, we've started to see the real Steelers emerge again, just with a little more passing than running, and it's been a good reminder that in the NFL there ain't nothing like the real thing; and it doesn't get much more real in professional football than the Steelers. 4. Detroit Lions (6-2) – "Just My Imagination" by The Temptations For years, decades really, Lions fans have had to watch the success of other franchises and pretend it was their own. Losing season after losing season, all the Lions had was their imagination if they wanted to cheer for a winner. Not anymore. Now all Lions fans need to do is use their imaginations to conjure up a future in which Matthew Stafford plays 16 games, because if he does, this team is ready to make its long-awaited return to the postseason. And they won't be an easy out. 5. Baltimore Ravens (5-2) – "I Second That Emotion" by Smokey Robinson and The Miracles
After the Ravens' offense sputtered against the Jags, Terrell Suggs publicly questioned the offensive gameplan. Surprisingly, Ravens coach John Harbaugh seconded Suggs' emotion, agreeing that Ray Rice and Anquan Boldin needed to get the ball more. One week later Cam Cameron and Joe Flacco got the notion, and the Ravens are back to their winning ways after Rice scored three TDs and Boldin topped 100 yards receiving. 6. New England Patriots (5-2) – "It's The Same Old Song" by The Four Tops
An offense built around their statuesque quarterback who throws 40+ times every game, without much of a running game to speak of? Check. A defense that gives up tons of yards, hopes to be "bend but don't break" as a best case scenario, and is undeniably poor in the secondary and at rushing the passer? Check. Sound familiar? That's pretty much what the Patriots have been for the last three seasons, and for the last three seasons they've underwhelmed fans and pundits alike once January has rolled around. I'm struggling to find any reason to think this season will end any differently. 7. New Orleans Saints (5-3) – "What's Going On" by Marvin Gaye I don't really feel like New Orleans deserves to be ranked this high, especially after what we witnessed from them last week and in their recent loss to Tampa Bay. Sandwiched in between those two defeats, however, was a thorough ass-kicking of the Indianapolis Colts; and anytime you beat another NFL team 62-7 it means, well, something. The Saints still have Drew Brees, they still have weapons galore on offense, and they still have Sean Payton calling the shots. This outfit won a Super Bowl not too long ago, and they deserve the benefit of the doubt…for now. But they need to figure out what's going on before far too many mothers, brothers, and fathers in The Bayou are left crying from another debacle like that loss to the Rams. 8. New York Giants (5-2) – "Ball of Confusion" by The Temptations Is any good team more of a ball of confusion from year to year, week to week, and even quarter to quarter than the New York Giants? No. Yet despite the ups and downs, here are the Giants sitting atop the NFC East with Eli Manning playing the best football of his career. Go figure. 9. Houston Texas (5-3) – "It Takes Two" by Marvin Gaye and Kim Weston The song choice for the Texans is obvious from the first two lines:
One can have a dream, baby
Two can make that dream so real
For a while now, the Texans and their fans have had dreams of going to the playoffs, but unfortunately they only had one side of the ball that functioned competently. Not anymore. Wade Phillips has taken a defense that was an embarrassment last year and made it respectable, even weathering the loss of Mario Williams. It does indeed take two – an offense and a defense – to make playoff dreams real. Could this be the season it finally happens in Houston? 10. Buffalo Bills (5-2) – "Papa Was a Rolling Stone" by The Temptations The "papa" of these young Bills is head coach Chan Gailey, and he has indeed been a rolling stone during his coaching career. Buffalo is the 19th different coaching job Gailey has had since 1974. I know how transient of a profession coaching can be, but that is a lot of moving around. Regardless, he has these Bills on the right track, sitting atop the AFC East. 11. New York Jets (4-3) – "Sugar Pie, Honey Bunch" by The Four Tops I'll be the first to admit that I'm not sure the Jets have earned this high a spot in the rankings. They are on a two game winning streak, but beating the Dolphins and the apparently hapless Chargers isn't all that impressive. Still, the Jets and their bombastic head coach cannot seem to help themselves: they always talk, they always struggle for parts of seasons, yet they always get it going when the weather gets cold. They've made two straight AFC Championship Games, so we can't count them out yet. (Note: there are also plenty of jokes that could be made in reference to Rex Ryan enjoying slices of sugar pie and handfuls of honey bunch, but I'll refrain. Who do I look like…Joe Namath?) 12. Philadelphia Eagles (3-4) – "Uptight (Everything's Alright)" by Steve Wonder I know that fans in Cincinnati and all over the AFC West and NFC South are going to be apoplectic at the under-.500 Eagles being 12th above their favorite teams, but what can I say? This team is loaded with talent, and I think they'd beat all of the teams below them (including more than a few above them) if they played right now. So, Philly fans, what are you so uptight about? As long as you've got Andy Reid, everything is all right. Until the playoffs at least… 13. Atlanta Falcons (4-3) – "Shotgun" by Jr. Walker and the All Stars I predicted that the Falcons would miss the playoffs before the season started, and I'm not backing off that prediction at all, though I have been impressed by their last two victories. During the offseason, the Falcons tried to remake their offense from a tank into a shotgun with the hyperathletic Julio Jones added to the team at a high cost. It appeared early on that Ryan and the Falcons were trying to justify the cost while forgetting about their bread and butter: Michael Turner. Things have changed. Turner is back leading the offense and the Falcons are winning. The question is how long can Turner withstand another season of pounding. We'll see. 14. Cincinnati Bengals (5-2) – "Ain't No Mountain High Enough" by Marvin Gaye and Tammi Terrell The Bengals had to deal with QB turmoil all offseason, limped into the regular season with rookies leading them at QB and WR, have had to deal with Cedric Benson's continued legal troubles, and they lost corner Jonathan Joseph in the offseason. Also, certain Midwestern sports bloggers predicted the Bengals would finish with the worst record in the league. Yet all Marvin Lewis and the Bengals have shown is that there ain't no football mountain high enough to keep this underrated team down this season. At least so far. Cincy's wins are against Cleveland, Jacksonville, Buffalo, Seattle, and Indianapolis, and they still have four games coming up against Pittsburgh and Baltimore. This is why I'm not sold on the Bengals and have them at 14th. But if they can keep climbing mountains, this could be the most unlikely playoff team of 2011. 15. Kansas City Chiefs (4-3) – "Since I Lost My Baby" by The Temptations The Chiefs have reeled off four straight wins since I ranked them #1 in my inaugural Suck 4 Luck Power Rankings, a winning streak that has moved them all the way into a first place tie in the AFC West. This has Chiefs fans seeing sun shining (yes, plenty of light), a new day dawning (so sunny and bright), and even birds signing and children playing. But the reality is that without young stars Jamaal Charles, Eric Berry, and Tony Moeaki, all of whom the Chiefs lost early in the year to season-ending injuries, the Chiefs' chances of going any further than they did last year – a first round playoff blowout – are slim to none. 16. San Diego Chargers (4-3) – "Hello" by Lionel Richie
It's fitting that the Chargers are one spot behind the Chiefs, because they were one successful QB-center exchange away from beating them last night. If I had time, I would create a YouTube video with the ball Rivers' fumbled away singing this Lionel Richie ballad to him. It's the kind of thing the Internet was invented for. Can't you just see the ball rolling around on the ground plaintively singing these words to Rivers while the QB laments his "worst day ever":
Hello!
Is it me you're looking for?
'cause I wonder where you are
And I wonder what you do
Are you somewhere feeling lonely?
Or is someone loving you?
17. Oakland Raiders (4-3) – "Ain't Too Proud To Beg" by The Temptations The Raiders are a hard team to figure out right now since we have no idea a) what they will get from Carson Palmer and b) if their offensive workhorse Darren McFadden can stay healthy enough all year to keep the pressure off of Palmer. But we do know one thing: the Raiders were not begging nor pleading for anyone's sympathy once Jason Campbell went down. They slept on Mike Brown's doorstep and even let everyone laugh, because they wanted Carson Palmer any way they could get him. Now they have him, and we'll see if they can just keep winning, baby. 18. Dallas Cowboys (3-4) – "Let's Get It On" by Marvin Gaye Did the Cowboys even have a Week 8 game? They did? Really? Because the only time I saw a Cowboy show up last week is Tony Romo when he announced that he and his new wife are expecting. So since I have nothing constructive to say about Dallas' no show on Sunday night, let's honor the soon-to-be parents. Take it away Marvin. 19. Chicago Bears (4-3) – "You Keep Me Hanging On" by The Supremes I tend not to trust teams that have severe offensive line issues, which is why the Bears fall towards the back of the teams bunched at 3-4 wins. I also wouldn't trust the Bears if I were Matt Forte, who I think is much closer to Adrian Peterson than Chris Johnson in terms of being deserving of a new contract. Can anyone blame Forte for feeling like the Bears are just keeping him hanging on? I mean really Jerry Angelo. If you're not going to #paytheman, set him free why don't ya? 20. Tampa Bay Buccaneers (4-3) – "Brick House" by The Commodores Tampa Bay was another supposedly up-and-coming team that I didn't trust heading into the season. They've scratched together four wins, but they have looked pretty bad along the way at times. So in honor of the bricks they've thrown up against San Francisco and the first half of the Chicago game in London, not to mention Josh Freeman's 10 interceptions, here are The Commodores singing about bricks in a much different context. 21. Minnesota Vikings (2-6) – "All Night Long" by Lionel Richie You know that Adrian Peterson is called "AD" because he can run all day long. Now that Minnesota has handed the reins of its offense over to rookie Christian Ponder, Peterson may have to run all day and all night long to help ease the rook's transition. Peterson is more than capable, and the Vikings – who have played better than their record – are more than capable of winning 4-5 of their remaining games if Ponder can just provide adequate play under center. 22. St. Louis Rams (1-6) – "You Can't Hurry Love" by The Supremes No, I'm not insane. I'm well aware that before last weekend's trouncing of the Saints, the Rams hadn't beaten anyone and hadn't even really come close. Just consider me to be buying low on the Rams, and when they finish with 5-6 wins, remember that you heard it here first. You can't hurry a connection between a new offensive coordinator, an offensive line, and a young QB, but Sam Bradford and Josh McDaniels will get everyone on the same page. Having Brandon Lloyd will help, and having a leader like Steven Jackson to make sure no one mails it in will also keep these Rams on a forward trajectory all season. object<object width="420" height="315" classid="clsid:d27cdb6e-ae6d-11cf-96b8-444553540000" codebase="http://download.macromedia.com/pub/shockwave/cabs/flash/swflash.cab#version
Original Story:
http://www.midwestsportsfans.com/2011...
PLAYERS:
Philip Rivers
,
Jim Schwartz
,
Ndamukong Suh
,
Calvin Johnson
,
Stevie Wonder
,
Aaron Rodgers
,
Jim Harbaugh
,
Alex Smith
,
Matthew Stafford
,
Terrell Suggs
,
John Harbaugh
,
Ray Rice
,
Anquan Boldin
,
Cam Cameron
,
Joe Flacco
,
Drew Brees
,
Sean Payton
,
Eli Manning
,
Wade Phillips
,
Mario Williams
,
Chan Gailey
,
Rex Ryan
,
Joe Namath
,
Andy Reid
,
Julio Jones
,
Michael Turner
,
Cedric Benson
,
Marvin Lewis
,
Jamaal Charles
,
Eric Berry
,
Tony Moeaki
,
Lionel Richie
,
Carson Palmer
,
Darren McFadden
,
Jason Campbell
,
Mike Brown
,
Tony Romo
,
Matt Forte
,
Adrian Peterson
,
Chris Johnson
,
Jerry Angelo
,
Josh Freeman
,
Christian Ponder
,
Sam Bradford
,
Josh Mcdaniels
,
Brandon Lloyd
,
Steven Jackson
,
Cam Newton
,
Kenny Britt
,
Peyton Hillis
,
Rex Grossman
,
John Beck
,
Mike Shanahan
,
Blaine Gabbert
,
Pete Carroll
,
Matt Hasselbeck
,
Ben Roethlisberger
,
Santonio Holmes
,
Tim Tebow
,
Stephen Ross
,
Curtis Painter
,
Matt Moore
,
Peyton Manning
TEAMS:
San Diego Chargers
,
Detroit Lions
,
Green Bay Packers
,
San Francisco 49ers
,
Pittsburgh Steelers
,
Baltimore Ravens
,
Indianapolis Colts
,
New Orleans Saints
,
New York Giants
,
Houston Texans
,
Buffalo Bills
,
Philadelphia Eagles
,
Atlanta Falcons
,
Cincinnati Bengals
,
Kansas City Chiefs
,
Oakland Raiders
,
Dallas Cowboys
,
Chicago Bears
,
Minnesota Vikings
,
Tennessee Titans
,
Tampa Bay Buccaneers
,
St. Louis Rams
,
Carolina Panthers
,
Cleveland Browns
,
Washington Redskins
,
Jacksonville Jaguars
,
Seattle Seahawks
,
Arizona Cardinals
,
New York Jets
,
Denver Broncos
,
Miami Dolphins
,
New England Patriots
,
Pittsburgh Panthers
MORE FROM YARDBARKER
NFL News

Delivered to your inbox

You'll also receive Yardbarker's daily Top 10, featuring the best sports stories from around the web. Customize your newsletter to get articles on your favorite sports and teams. And the best part? It's free!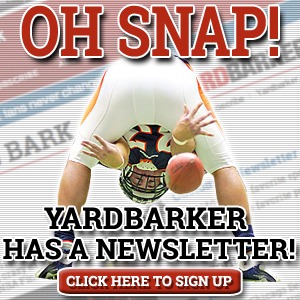 Latest Rumors
Best of Yardbarker

Today's Best Stuff

For Bloggers

Join the Yardbarker Network for more promotion, traffic, and money.

Company Info

Help

What is Yardbarker?

Yardbarker is the largest network of sports blogs and pro athlete blogs on the web. This site is the hub of the Yardbarker Network, where our editors and algorithms curate the best sports content from our network and beyond.