Found July 23, 2012 on Player Perspective:
Aaron Berry was cut from the Lions today for breaking the golden rule–a man's talent must outweigh his foolishness. Berry was popped for simple assault but drug abuse offenses are far more common than violent ones. Berry received his own DUI charge last month.
In a show of something akin to transparency the NFL has released a list of NFL players arrested thus far in 2012. I have mixed feelings about the list being released with the biggest gripe being that no context was given. I think when you release a list like this you should mention how the NFL stacks up vs. other leagues and the general public, and whether there has been an increase or decrease in arrests compared to this time last year. On the other hand, I suppose you can argue for information to be "posted without comment" to allow folks to draw their own conclusions. 
The Detroit Lions have already been the talk of the off season so this list will reveal nothing new.  The biggest thing I took away from the list is the number of DUI/DWIs (11) which were by far the most common offense with marijuana possession being second. I've blogged about this before but athletes who suffer from substance abuse are not uncommon. 
First of all, there are too many people in this country driving under the influence. We all know people who do that stuff on a regular basis. They may not be "drunk" but their blood alcohol level is certainly over the legal limit. People may not realize that it takes a lot less alcohol than you would think to be considered under the influence as far as the law is concerned. So in this respect players are committing a crime that is just way too common across the board. 
But to speak specifically to athletes they often have more pressure to contend with in addition to having been provided painkillers and other "therapeutic" drugs from a young age. I worry that the propensity to reduce getting caught with drugs or a DUI is getting in the way of helping players realize they may have a problem.
I'm not suggesting every DUI is indicative of a problem but enough athletes have ruined their careers by using drugs (alcohol is a drug) or succumbed completely to drugs post-career to give this thing a little thought beyond "x,y,z is so dumb." I see a lot of people questioning why someone with so much money or so much to lose would get caught with a DUI. It's a valid question but a logical conclusion could be in some cases they just can't help themselves. The next move is to figure out why. 
Just for context: the Substance Abuse and Mental Health Administration says that 28-30% of the population will suffer from some mental health OR substance abuse issue. The cycle of punishing players or even cutting them to "make an example" only for them to continue to struggle with the same issue (on another team) is alarming when you think about it. 
View the complete arrest chart on NFL.com.
Original Story:
http://feedproxy.google.com/~r/Player...
THE BACKYARD
BEST OF MAXIM
RELATED ARTICLES
It's time for the Detroit Lions to make a statement and release cornerback Aaron Berry. That's provided, of course, that the latest reports are accurate and that Berry has been arrested for the second time in less than a month. This time, Berry, 24, reportedly was charged with three counts of simple assault for allegedly brandishing a firearm after being arrested early...
This time, the Detroit Lions really didn't have much of a choice. The police reports kept piling up this offseason to where the NFL club simply had to make an example of someone. You can only threaten for so long. At some point, you need to follow through with action. Otherwise, the threats of discipline have no meaning. The Lions took that type of harsh action Monday with...
Many have speculated about the future of Aaron Berry with the Detroit Lions following his 2nd arrest of the offseason this past weekend, and the Lions have made their move, cutting the troubled cornerback due to personal conduct. While the move to cut Berry is likely met with little to no resistance from fans, it can't be ignored that such a move weakens an already deplorable...
I've written all offseason about the knuckleheaded, entitled and invincible attitude of NFL players during their time off. It seems every day there is a new report about a player being arrested and what, if any, discipline the league will bring down upon them. In the case of cornerback Aaron Berry, it can't be worse than what the Lions did to him. Apparently fed up with Berry's...
English: Aaron Berry, a player on the National Football League. (Photo credit: Wikipedia) Here we go again, the season can't get here soon enough.  Roger Godell will need to restructure the off-season to give the players less free time.  It seems that the NFL players these days have too much free time on their hands.  This has been the theme of the 2012 pre-season and this...
The Detroit Lions released cornerback Aaron Berry today after he was arrested for the second time this off-season (Credit: AP Photo/Carlos Osorio) Yesterday, the Lions released a statement saying "We are extremely disappointed by the reports involving Aaron Berry". Today, they took action. The Detroit Lions released cornerback Aaron Berry after his second off-season arrest. Dave...
Detroit Lions cornerback Aaron Berry was arrested Saturday morning in Harrisburg, Pa., and charged with three counts of simple assault. The arrest, which was first reported by Pro Football Talk.com, was the second of the off-season for Berry and sixth among Lions players. The undrafted free agent from Pitt was no longer in custody, according to Harrisburg police. Officials did...
This piece is also featured on Lions101.com Another offseason weekend brought yet another Detroit Lions arrest. This time, it was another repeat offender. Aaron Berry, he of the recent DUI troubles, was busted in Pennsylvania for assault and brandishing a … Continue reading →
The Detroit Lions have cut cornerback Aaron Berry, two days after he was arrested for the second time this offseason.
The Lions' off-the-field run-ins with police this offseason have been so abundant that they probably could fill an entire season of "Cops." The latest incident resulted in the team releasing cornerback Aaron Berry, who was arrested for the second time in less than a month after allegedly pointing a loaded gun at three people in Pennsylvania over the weekend. All the arrests...
Detroit Lions fans- Welcome to training camp! Today, rookies and injured players report to the Detroit Lions Training Facility in Allen Park, Michigan, with the rest of the team reporting Tuesday.  We have waited all through our Super Bowl hangover, the combine, the NFL Draft, and of course endless police blotter to lead up to [...]
Lions News

Delivered to your inbox

You'll also receive Yardbarker's daily Top 10, featuring the best sports stories from around the web. Customize your newsletter to get articles on your favorite sports and teams. And the best part? It's free!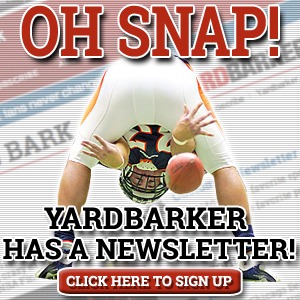 Latest Rumors
The Backyard

Today's Best Stuff

For Bloggers

Join the Yardbarker Network for more promotion, traffic, and money.

Company Info

Help

What is Yardbarker?

Yardbarker is the largest network of sports blogs and pro athlete blogs on the web. This site is the hub of the Yardbarker Network, where our editors and algorithms curate the best sports content from our network and beyond.