Found April 25, 2013 on The Other Paper:
It looks like rumors that an NFL player(s) publicly coming out as gay has already prepped players for the possibility that they could be sharing a locker room together but, if they didn't get the implied message of tolerance from the league, the NFL announced that it will be putting their anti-discrimination policies in writing and on the walls of every one of those locker rooms. At the urging of New York State Attorney General Eric Schneiderman, the NFL has written a new game plan to fight discrimination against gays.  The league said it will hang posters in the locker rooms of all 32 teams detailing the by-laws of its anti-discriminatory policies. The groundbreaking blitz to step up awareness against discrimination will be reinforced by special training sessions with rookies and with team staffers involved with recruiting and signing players. Schneiderman got involved in March after at least three college football players said they had reportedly been asked about their sexual orientation during recruitment interviews at the NFL Scouting Combines earlier in the year. The questions came after Notre Dame star linebacker Manti Te'o was revealed to have had an online relationship with a man pretending to be a woman. Te'o claims he was not questioned about his own sexual orientation. The attorney general warned NFL Commissioner Roger Goodell in a letter that New York State laws make it illegal for an employer to base a hiring decision on sexual orientation. And as a business based on New York, the NFL must comply with the law, he said. This led to the two parties getting together and coming to a resolution. Goodell said he believes the NFL proved to Schneiderman that it has had a longstanding anti-discrimination policy and is taking the issue seriously. "I think they felt that we were doing the right things," he said. The NFL said it soon will "reiterate and reinforce" its policy in writing to the players, teams and staff. "This is something that is very important to us and we have the right policies in place to support it," Goodell said.
Original Story:
http://ihatelupica.blogspot.com/2013/...
THE BACKYARD
BEST OF MAXIM
RELATED ARTICLES
The NFL Draft is a time for players to dress up, head to New York City, and soak in a fun evening that's all about them. It's a time when they can embrace Roger Goodell before spending the rest of their careers cursing him. The NFL Draft is also a time when players are shown on TV with their family members by their side. That means the draft is a time when wives and/or girlfriends...
The NFL will hold a moment of silence at Thursday's draft for the victims of the Boston Marathon attacks and Texas fertilizer plant explosion. Commissioner Roger Goodell said at a pre-draft event Wednesday that the league would recognize the two tragedies that took place last week. The three-day draft begins Thursday night with the first round. The NFL said Tuesday that it...
No. 5-overall NFL Draft pick Ezekiel Ansah was definitely sporting lens-free 3-D glasses on stage with commissioner Roger Goodell.
The fine print on NFL commissioner Roger Goodell's invitation to elite players for a free trip to New York City strongly encourages them to stay as long as it takes to go. Or in other words, stay until you hear your name. In rare instances, this leads to the NFL version of the walk of shame, green room attendees not taken on Day 1 trudging back in their rumpled suits for Day...
BYU defensive end Ezekiel "Ziggy" Ansah went from obscurity and never having played football to becoming the #5 overall pick in the 2013 NFL Draft. As we reported a few weeks ago, Ansah was also scheduled to graduate from BYU last night, but instead chose to attend the NFL Draft and shake Roger Goodell's hand. Ansah's mother traveled here all the way from Ghana expecting...
I'll admit it, when it comes to the NFL, I am a pretty casual fan.  Being a Minnesota Vikings fan will do that to a person.  It wasn't always this way, I remember as a kid re-enacting spin moves out in the yard and diving to catch passes I threw to myself all while wearing my #20 Darrin Nelson jersey.  But this isn't about how the Vikings have torn my heart out so many times...
11) Roger Goodell brought out Joe Namath, Phil Simms, Barry Sanders, Joe Andruzzi and wounded members of the nation's military in a transparent attempt to not be constantly booed10) The only guy drafted from a small school in the first round went first overall9) If you'd like to make fun of Geno Smith still being in the green room, you've got the overnight to keep working...
This year's NFL Draft isn't loaded with big-time names, but it will still make for tons of good television. Here are some things to watch out for: Roger Goodell hugs. The New York Times had a great explanation on how the tradition of picks hugging the commish came to be. I'm really hoping for an Obama-Pizza Guy hug moment. Or maybe one of these handshakes. Keep your eyes...
photo via cbssports.com Twitter is usually the perfect companion while watching live events — sports, award shows, political debates, whatever.  However, there are occasions when Twitter can become a nuisance for broadcast partners, and the NFL Draft ranks among the top. ESPN and the NFL Network produce months of programming and content about the many potential outcomes of the...
The Browns traded up for Trent Richardson in the 2012 Draft, will they trade down in the 2013 Draft? We are finally on the eve of the NFL draft.  The 2013 NFL Draft is set to get underway tomorrow night at 8pm in New York City at the Radio City Music Hall.  There will be no kick lines to be seen, but nervous twenty-somethings, and bear hugs by NFL Commissioner Roger Goodell will...
NFL News

Delivered to your inbox

You'll also receive Yardbarker's daily Top 10, featuring the best sports stories from around the web. Customize your newsletter to get articles on your favorite sports and teams. And the best part? It's free!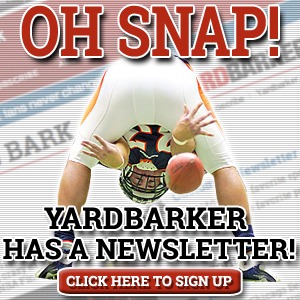 Latest Rumors
Best of Yardbarker

Today's Best Stuff

For Bloggers

Join the Yardbarker Network for more promotion, traffic, and money.

Company Info

Help

What is Yardbarker?

Yardbarker is the largest network of sports blogs and pro athlete blogs on the web. This site is the hub of the Yardbarker Network, where our editors and algorithms curate the best sports content from our network and beyond.