Posted August 17, 2012 on AP on Fox
PLAYERS:
Roger Goodell
,
Scott Fujita
,
Demaurice Smith
,
Mickey Loomis
,
Sean Payton
,
Gregg Williams
,
Jonathan Vilma
,
Kurt Warner
,
Brett Favre
,
Will Smith
,
Anthony Hargrove
TEAMS:
Cleveland Browns
,
New Orleans Saints
,
Minnesota Vikings
The NFL Players Association filed documents in federal court disputing Commissioner Roger Goodell's sworn statement that he was prepared to discipline players for their involvement in the Saints bounty pool back in March but waited until May as a courtesy to the union. Attorneys for four players suspended in the bounty investigation have argued the punishment handed down by Goodell should be overturned, in part because the commissioner's public statements last spring showed he had improperly pre-judged the players' actions. The documents filed Friday include sworn declarations by sanctioned linebacker Scott Fujita and union chief DeMaurice Smith. Fujita reiterated comments he made in an interview with The Associated Press in June in which he described a phone conversation he had with Goodell in March. ''During our phone conversation on or about March 20, Mr. Goodell told me that he would be coming down hard with punishments on Saints coaches, but that with respect to Saints players, he was not quite sure what he had on them, and that player punishments would therefore take some time,'' Fujita's declaration said. U.S. District Judge Ginger Berrigan had asked for the league and union to file evidence this week related to the NFL's contention that Goodell delayed ruling on the players only because he was asked to do so by the union while it conducted its own bounty probe. In a declaration filed Thursday, Goodell stated he agreed in a phone conversation with Smith ''to address discipline of the club and non-player employees and then to afford the NFLPA a reasonable opportunity to conduct its own investigation and express its views before I imposed discipline on the players.'' Smith, however, stated in his Friday declaration that while a phone conversation with the commissioner took place, he and Goodell never reached the agreement the commissioner described. The NFLPA also noted in its filing that as late as April 24, Goodell was quoted in media reports saying he and league investigators ''have been continuing our work'' investigating player conduct, and ''I hope to reach those decisions very soon.'' Goodell disciplined the Saints, coaches and general manager Mickey Loomis on March 21. Head coach Sean Payton was suspended for the entire season, while Loomis was docked half a season and assistant head coach Joe Vitt six games. Former Saints defensive coordinator Gregg Williams was suspended indefinitely for running the bounty program, which the NFL said paid defensive players improper cash bonuses for hits that injured opponents from 2009 through 2011. During the following weeks leading up to May 2, Goodell made public comments describing player involvement in the Saints bounty pool, including statements that Saints linebacker Jonathan Vilma had offered $10,000 bounties on quarterbacks Kurt Warner and Brett Favre during the 2009-10 playoffs. NFL attorneys have argued that Goodell was performing his duty to keep the public informed on what league investigators had uncovered - information he had used to make his judgment in the matter as the league's labor agreement allows. Goodell later suspended Vilma for the entire season, and he is currently barred from Saints headquarters, where he was hoping to rehabilitate from offseason knee surgery. Saints defensive end Will Smith has been suspended for the first four regular-season games and is currently participating in the preseason. Two former Saints who are still active also were suspended: Green Bay defensive end Anthony Hargrove was penalized eight games and Fujita, now with Cleveland, got three games. Vilma has asked Berrigan to grant a temporary restraining order that would allow him to return to the Saints while his case proceeds, and the judge has said she would be inclined to rule in his favor because she found the NFL's disciplinary process in the bounty matter unfair and the punishment excessive. However, she has held off while trying to determine if she has jurisdiction to intervene in the NFL's collectively bargained disciplinary process and has urged all sides to try to settle out of court.
Original Story:
http://msn.foxsports.com/nfl/story/nf...
THE BACKYARD
BEST OF MAXIM
RELATED ARTICLES
The New Orleans Saints and the organization's vehement supporters may crack a smile this week. After months of bounty banter, the courts now seem to question the legitimacy of the commissioner's claims against the Saints' current and former defensive players and coaches. On Wednesday, Judge Helen G. Berrigan issued an order that the NFL furnish evidence of the specific date...
Federal judge Ginger Berrigan requested more information from NFL commissioner Roger Goodell regarding the league's timeline for handing down discipline to players, coaches and executives in the Saints' bounty scandal. The NFL responded Thursday by submitting a letter from the NFLPA along with a sworn statement from Goodell, according to NBCSports.com. The NFL submitted...
SAVE SEAN
On Wednesday, a plane with a banner trailing behind it with the message "Free Payton" made an appearance in the skies above Saints practice.
Patrick Robinson says he's eager to fulfill the promise that motivated the New Orleans Saints to make him their first-round draft choice in 2010. Now in his third season, Robinson says he's ready to take over the starting job that opened up when Tracy Porter left for Denver in free agency. Robinson has not been able to practice much in training camp because of a sprained...
The great thing about the NFL is that there are so many positions that every year, there is almost always at least one player who has a breakout year on every team, no matter how good or bad the team is. This is one part in a 32 part segment detailing one potential breakout player for the 2012 NFL season on each NFL team. For the New Orleans Saints, that player is cornerback Patrick...
Sean Payton is still hovering over Saint's practice. I wonder how much this person paid the pilot to pull this thing behind his plane?  S/O to SBNation for the awesome GIF Shane Vereen Rising Does Turner Fit In?
Devery Henderson stinks Juan… Joe Morgan has had an inconsistent camp, but he has flashed big play potential in both preseason games thus far.  If you want inconsistent play, think about Devery Henderson and Robert Meachem.  Joe Vitt has already compared Morgan to a young Robert Meachem, so he has the potential and the Saints like him.  Drew Brees can make WRs stars and Morgan...
METAIRIE, La. (AP) -- New Orleans Saints reserve linebacker Chris Chamberlain says he is out for the season after injuring his left knee Friday night in an exhibition game against the Jacksonville Jaguars. Chamberlain confirms in postings on his Twitter page that MRI results from Saturday show he has torn his anterior cruciate ligament. The linebacker says his knee buckled as he...
NEW ORLEANS (AP) -- Jordan Palmer hit Kevin Elliott with an 11-yard touchdown pass on fourth down with 13 seconds left, lifting the Jacksonville Jaguars to a 27-24 preseason victory over the New Orleans Saints on Friday night. Even before that score, Jacksonville (No. 31 in the AP Pro 32) saw continued progress from second-year quarterback Blaine Gabbert, who outperformed Drew Brees...
If you are looking for some of the best young talent in the NFL, well look no further than the NFC South. Yes, Drew Brees, Michael Turner, Roddy White, and Steve Smith are all getting older (30+), but it doesn't take long to notice that the next wave of fantasy stars are also located in this up and coming division. Cam Newton, Jimmy Graham, Darren Sproles, and Julio Jones are just...
He heard fans yelling ''fear the beard,'' when he has caused havoc in the New Orleans Saints' backfield during training camp...
NFL News

Delivered to your inbox

You'll also receive Yardbarker's daily Top 10, featuring the best sports stories from around the web. Customize your newsletter to get articles on your favorite sports and teams. And the best part? It's free!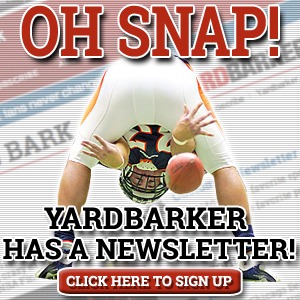 Latest Rumors
The Backyard

Today's Best Stuff

For Bloggers

Join the Yardbarker Network for more promotion, traffic, and money.

Company Info

Help

What is Yardbarker?

Yardbarker is the largest network of sports blogs and pro athlete blogs on the web. This site is the hub of the Yardbarker Network, where our editors and algorithms curate the best sports content from our network and beyond.