Found December 31, 2012 on Taking Bad Schotz:
PLAYERS:
Romeo Crennel
,
Scott Pioli
,
Matt Cassel
,
Charlie Weis
,
Norv Turner
,
Marty Schottenheimer
,
LaDainian Tomlinson
,
Vincent Jackson
,
Antonio Gates
,
Mike Tannenbaum
,
Rex Ryan
,
Woody Johnson
,
Santonio Holmes
,
Dustin Keller
,
Mark Sanchez
,
Peyton Manning
,
Ken Whisenhunt
TEAMS:
Kansas City Chiefs
,
San Diego Chargers
,
New York Jets
,
Tampa Bay Buccaneers
,
Arizona Cardinals
Disclaimer: Coaches and General Managers were fired over the course of this article and are acknowledged at the end Every year on the Monday after the last Sunday of the NFL Regular Season, there is a ritual of sorts. As of noon December 31, 5 coaches have already been fired and there are more who could be fired. But this so called "Black Monday" is not only a bad day for coaches. Multiple General Managers (GMs) are also fired every year. This year there have already been 4 GMs fired with the possibility of a few more being fired in KC, San Diego, Arizona and Detroit still evaluating the position. Photo Credit: AP Photo/Reed Hoffmann Every year the moves puzzle me. I feel like a coach like Romeo Crennel should not be fired. The Chiefs had a terrible season, but Crennel is not to blame for the team's struggles. On the other hand, the team's GM, Scott Pioli, has not yet been fired. Pioli was hired by Kansas City after being a part of the front office that built the dynasty in New England and the Chiefs ownership had hoped that he would be able to have similar success. Pioli brought QB Matt Cassel, former Patriots backup, with him from New England. Needless to say, Cassel has not panned out as planned. Pioli also tried to rebuild the coaching staff from the early New England days by hiring Charlie Weis and Romeo Crennel as offensive and defensive coordinators, respectively. In Kansas City, Pioli has not been overly successful in the draft, recently focusing a lot of attention on defense and particularly the defensive line. As of now, Crennel will be fired because he could not get the team that Pioli put together to perform well. (US Presswire) On the other hand, a coach like Norv Turner deserved to be fired. Turner took over a team that went 14-2 in Marty Schottenheimer's final season before he was fired (ridiculous in its own right). The team Turner took over was a great team with enormous amounts of talent such as LaDainian Tomlinson, Phillip Rivers, Vincent Jackson, and Antonio Gates. Norv was unable to make the most of this talent as he could win just 1 playoff game after his first season in San Diego. Norv has not been successful as a head coach with any team that he has coached, and he deserved to be fired. With that being said, the Chargers made the decision to fire their GM as well, a very smart move because AJ Smith has shown that he could not make the moves necessary to have a successful team. Yes, Norv Turner still had plenty of weapons to use and should have done much better than he did, but Smith constantly allowed star players to leave such as Tomlinson, Jackson and Michael Turner to name a few. The Chargers ownership made a decision to start over with a new GM and new Head Coach, a move that will most likely be very helpful in the long run. Photo Credit: M. Ebenhack/AP Photo And now the most puzzling scenario of "Black Monday", the New York Jets fired their GM Mike Tannenbaum, but will keep Head Coach Rex Ryan. Maybe Woody Johnson figured that Rex was hurt by losing his 2 best players (Darelle Revis and Santonio Holmes) early in the season. I am not a fan of Ryan, mostly because I really did not like how Rex started running his mouth and bragging at his introductory press conference as a head coach, but I do think that most of the Jets problems were caused by Mike Tannenbaum because this team simply was not built well. They had just 2 solid skill players on offense in Santonio Holmes and Dustin Keller and both got hurt this year. The offensive line was porous and the quarterback was bad. On top of that, he handed out the most ridiculous contract extension that I can remember; he gave QB Mark Sanchez an extension because they might have talked to Peyton Manning last offseason. The extension was basically saying "Sorry for talking to the best quarterback to play in the NFL in the last 25 years. How about we give you more money and you pretend it didn't happen. Would that make it all better?" So I completely understand firing Mike Tannenbaum, but I do not understand what the Jets did. Why in any situation would a team fire the GM and not the Head Coach? Most of the time, a GM will go into a situation and that person will want to hire a new coach that fits the model of what the GM wants to do. Instead the Jets will hire a new GM, and then when they realize that Rex does not fit into what the GM wants to do, they will fire Rex too. Why not just get everything done in one offseason rather than basically waste a year? This is "Black Monday". These are 3 basic situations that can happen. It is now just about 3 pm on December 31. Since I have started writing this article, Arizona fired their coach Ken Whisenhunt and GM Rod Graves, and the Chargers finally officially fired coach Norv Turner and GM AJ Smith. These firings bring the coach count to 7 and the GM count to 6. In total, 13 firings and I would not be surprised to see more in the coming days. -Goldberg
Original Story:
http://www.takingbadschotz.com/?p=11166
THE BACKYARD
BEST OF MAXIM
RELATED ARTICLES
According to Steve Wyche of the NFL Network (via NFL.com) the Kansas City Chiefs plan on keeping general manager Scott Pioli. According to NFL.com's Steve Wyche, the Kansas City Chiefs are expected to retain general manager Scott Pioli despite a disastrous season, according to a source briefed on the situation. Coach Romeo Crennel won't be as fortunate. The source said...
  "Save our Chiefs", a group that was established to try to put pressure on the Kansas City Chiefs owner Clark Hunt to make drastic changes, has issued a statement on their Facebook and Twitter account that might be very interesting to Kansas City fans and all potential head coaching candidates regarding the status of [...]
According to Jason La Canfora of CBS Sports, Chiefs general manager Scott Pioli is still under review and could still end up being fired. Also, Chiefs formalize what I pointed out earlier – GM Scott Pioli under review. could still be let go pending coaching search — Jason La Canfora (@JasonLaCanfora) December 31, 2012 It sounds like whoever becomes the new head coach of the...
Here's what Clark Hunt does not understand about his general manager, Scott Pioli: His massive ego is born of insecurity and most effectively used as a shield for his deceit. Pioli is a swindler. Pride and vanity will not push Pioli into forfeiting the millions of dollars he apparently suckered Hunt into promising him in the form of a contract extension. Pioli can't be shamed...
The Kansas City Chiefs have parted ways with their head coach Romeo Crennel after perhaps the most gut-wrenching season in team history. The Belcher tragedy is only one  reason why the Chiefs were more miserable than good in 2012. Players did not play up to their potential. Crennel was frankly out-coached in many of their losses. The Chiefs proved to be more Bad News Bears than...
Steve Wyche of NFL.com reports that a source who has been briefed on the situation has informed him that the Kansas City Chiefs are expected to retain GM Scott Pioli even after what has been a disastrous 2012 season to say the least. Head coach Romeo Crennel is expected to be fired in the coming days and there's been some speculation that the Chiefs could target Iowa head coach Kirk...
The Kansas City Chiefs have officially fired head coach Romeo Crennel.  General manager Scott Pioli's job seems to be safe for now. Chiefs fired Romeo Crennel. Scott Pioli safe for now. — Adam Schefter (@AdamSchefter) December 31, 2012 I think the Chiefs should start over and move on from Pioli, but it doesn't look like that will happen.   Need NFL Tickets? var _CI =...
The Kansas City Chiefs will fire coach Romeo Crennel on Monday, but retain general manager Scott Pioli, according to ESPN.com. The Chiefs finished tied for a league-worst 2-14 and will have the No. 1 pick in the NFL draft next year. Kansas City was forecast by many to win the AFC West, but faced significant adversity during the season, including the murder-suicide by starting...
The Kansas City Chiefs have fired head coach Romeo Crennel after just one season. The Chiefs finished with a 2-14 overall record and secured the first overall pick of the 2013 NFL Draft, a franchise first. The Chiefs struggled all season long and finished the season ranked 32nd in passing offense, a mark achieved through poor quarterback play. In his career, Crennel has posted a...
The Kansas City Chiefs have had a disastrous season but team owner Clark Hunt is not ready to pull the plug on general manager Scott Pioli. Head coach Romeo Crennel is expected to be fired at seasons end. Kirk Ferentz of Iowa is one name that has been closely associated with the head coaching position in Kansas City. There is no buyout on his contract with Iowa and NFL.com's Ian...
I need to begin by saying that I am not a Kansas City Chiefs fan. However, I am from Kansas and my girlfriend lives about 5 miles away from Arrowhead. When I turn on sports radio, I am forced to hear shock jocks complain about Scott Pioli and Brady Quinn and Matt Cassel and every [...]
NFL News

Delivered to your inbox

You'll also receive Yardbarker's daily Top 10, featuring the best sports stories from around the web. Customize your newsletter to get articles on your favorite sports and teams. And the best part? It's free!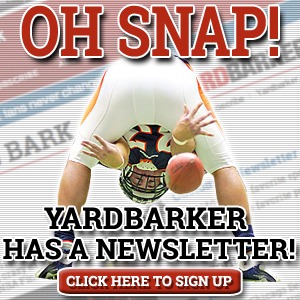 Latest Rumors
The Backyard

Today's Best Stuff

For Bloggers

Join the Yardbarker Network for more promotion, traffic, and money.

Company Info

Help

What is Yardbarker?

Yardbarker is the largest network of sports blogs and pro athlete blogs on the web. This site is the hub of the Yardbarker Network, where our editors and algorithms curate the best sports content from our network and beyond.