Found December 02, 2011 on Fox Sports Kansas City:
PLAYERS:
Kyle Orton
,
Tim Tebow
,
Jay Cutler
,
Todd Haley
,
Tyler Palko
,
Lance Briggs
,
Israel Idonije
,
Matt Schaub
,
Matt Leinart
,
Scott Pioli
TEAMS:
Kansas City Chiefs
,
Denver Broncos
,
Chicago Bears
,
Houston Texans
The NFL has a problem with its trading deadline. It occurs too early in the season. If you'd care to see a poster child for this dilemma, look no further than Kyle Orton. It's not that Orton has done anything controversial or really, anything at all to put himself in this odd spotlight. Just about a month ago, he was a struggling starting quarterback in Denver. But then the Broncos caved in to fan pressure created by a 1-4 start, and replaced Orton with one-of-a-kind QB Tim Tebow. With Tebow at the wheel for the immediate future, the Broncos had little desire to keep a seven-year pro like Orton hanging around as a third-stringer with a pretty decent resume. Denver wanted all the arguments to go away. So on Nov. 22, the Broncos waived Orton. That move started a chain of events which will reach a figurative -- and perhaps literal -- banging of heads Sunday in Chicago. The slumping Kansas City Chiefs (4-7) face the playoff-hungry Bears, who are 7-4 but may be edging closer to that proverbial cliff. This bout finds both teams with crossed fingers and reserve quarterbacks. The Chiefs lost starter Matt Cassell for the season to a hand injury, and the Bears are missing Jay Cutler following surgery on a fractured thumb. Chicago is stuck with Caleb Hainie, who had a thrilling few minutes as an emergency relief pitcher in last season's NFC title game against Green Bay. Hainie has played well below average since taking over for Cutler this time around, however. Ah, but that's just a sideshow to the real drama. Kansas City coach Todd Haley insists he will go with Tyler Palko against the Bears. The 28-year-old Palko would be almost completely unknown, except for getting his first NFL starts the past two weeks and committing an eye-popping seven turnovers. Even creating that one-man blooper reel hasn't exactly made Palko a household name. Just ask the Bears. "We're going to see Tyler Palko. It's Tyler, right?" linebacker Lance Briggs said. "The lefty -- we're getting the lefty." Defensive end Israel Idonije, when asked to name the Chiefs quarterback, came up with this: "Uh, Plank-something. How do you pronounce his name? Plako? Palko? Planko? You don't even know." All of this nonsense brings us back around to Orton, who played for the Bears from 2005 through 2008. Beginning to see some serendipity here? When the Broncos waived Orton, naturally the Bears jumped in to grab him. In fact, so did the Houston Texans, a playoff-level team with two injured quarterbacks Matt Schaub and Matt Leinart. Orton clearly planned on a return to Chicago. His agent, David Dunn, went so far as warning teams other than the Bears not to put in a claim on his client. Then suddenly, the Chiefs jumped into the circus. Kansas City was 4-6 at the time, but general manager Scott Pioli reasoned that his troops were still part of the race in the weak AFC West. Kansas City put in a claim on Orton, and landed him by virtue of having the worst record of those teams willing to pay the 2.6 million remaining on Orton's 2011 salary. It seemed like a strange addition at the time, because Orton will be a free agent after this year and, even in a fantasy scenario, he only would be available to the Chiefs for five games. Orton arrived in Kansas City on a Friday, so obviously he couldn't play in last Sunday night's 13-9 loss to Pittsburgh but now he's had a full week of practice. Haley has been bombarded with calls to use Orton against the Bears. The coach insists that if uses Orton, it will be only in an extreme situation. Even Orton admits that he's not really settled with his new teammates and the Chiefs' offensive schemes. "It's not a perfect world," Orton said. "You just try to do the best you can and prepare as hard as you can." Orton's philosophy is admirable enough, and he's certainly right about the world lacking perfection. It could be argued, however, that the NFL might make situations like quarterbacking musical chairs a little less imperfect. How? Well, why not adopt a slightly more sensible trading deadline? All of North America's other major sports use two-thirds of a season as their basic guideline for non-waiver trading. Major League Baseball's witching hour is midnight on July 31, giving both buyers and sellers time to adjust rosters for potential pennant runs. It's been just about the same for the NBA exact dates to come once the new labor agreement is completed and also the NHL, which halts open trading 40 days prior to the final regular-season game. The NFL's deadline this year was Oct. 18. In terms of where that falls within the season schedule, the league cuts off trades far sooner than any other sport. The Chiefs had played five of their 16 games before the trade deadline. Teams with a later bye week could have played six, but that's it. There's an irony about all this, too. The league has made a crusade of protecting quarterbacks, considering them such valuable assets, and yet it's inevitable that some of these guys are going to get hurt. Very good teams will need to replace quarterbacks in the heat of battle every season and it takes any player more time to blend into a football offense than it would in any other sport. That period of acclimation is even more intense and time-consuming for a quarterback. If the NFL trading deadline were roughly two-thirds of the way through the regular season let's say Thanksgiving Day, for instance then some of this chaos could be avoided. Certainly fans wouldn't be preparing for the "Backup Bowl" this week in Chicago with quite so many jokes -- because once Cutler went down, the Bears likely would have worked out a trade with the Broncos and been reunited with Orton. Assuming, of course, they outbid Houston. Given the physical nature of pro football, the NFL ought to be more concerned about keeping injuries from upsetting its competitive balance. Not less. And yet that's the net result of an October trade deadline. Kyle Orton will be on wrong sideline Sunday, which isn't a huge deal until you look at things from a wider perspective. In the big picture, the league itself contributes to some of these goofy situations. Wouldn't a more sensible trading deadline seem to help everyone?
Original Story:
http://www.foxsportskansascity.com/12...
THE BACKYARD
BEST OF MAXIM
RELATED ARTICLES
Kyle Orton returns to Soldier Field in unexpected fashion, as a Kansas City Chief.
Having spent his first four years in Chicago, Chiefs QB Kyle Orton has an intimate understanding of Chicago's defensive system, around which Kansas City will likely devise their game plan.
Somehow, neither the team's acquisition of Kyle Orton nor a terrible performance against the Steelers last Sunday will cause Tyler Palko to lose his spot atop the depth chart for the Chiefs. He's safe under center, at least temporarily, according to his coach. During a conference call Wednesday, Kansas City coach Todd Haley announced that Palko will start at quarterback against...
While Chicago sticks with Caleb Hanie, the Chiefs might start former Bear Kyle Orton over a struggling Tyler Palko on Sunday at Soldier Field.
Kyle Orton's first play as a Kansas City Chief was one to forget. Orton, the quarterback acquired off waivers from the Broncos, came in to try to give the Chiefs a spark after starter Tyler Palko could do absolutely nothing. But on Orton's first play, the Chiefs ran a flea-flicker, the Bears weren't fooled, and…
If recently signed quarterback Kyle Orton gets a start for the Chiefs this season, something most observers expect sooner rather than later, he will be the team's ninth starting QB since the 2000 season. (That's Elvis Grbac above.)
Kyle Orton replaced Tyler Palko as the Kansas City Chiefs' quarterback for the first play of the second quarter, injured a finger on his right hand and had to leave the game. His return was questionable.
Donovan McNabb must have shaken his head as watched he watched contending NFL team vie for Kyle Orton. The Chicago Bears, Houston Texans and possibly the Dallas Cowboys put in claims for Orton when the Denver Broncos waived him as a victim of Tebow-mania. Those are the very teams on McNabb's Christmas wish list in his hoped to revive his dead-end career. In a surprise to absolutely...
It's a pretty lackluster slate of early games. Ordinarily, Pats-Colts is a delightful late-season hatefest; this year, the Pats are three-touchdown favorites, the first 20+ point favorites in an NFL game since 2007. Denver-Minnesota might have been interesting if Von Miller and Adrian Peterson were playing (they're not). And depending on Tyler Palko's performance against the...
The Chicago Bears indicated they still have faith in their No. 2 quarterback despite a difficult performance last week. Their next opponent doesn't appear to feel the same way. While Chicago sticks with Caleb Hanie, the Kansas City Chiefs might start former Bear Kyle Orton over a struggling Tyler Palko on Sunday at Soldier Field. The Bears remain in position for a wild-card...
NFL News

Delivered to your inbox

You'll also receive Yardbarker's daily Top 10, featuring the best sports stories from around the web. Customize your newsletter to get articles on your favorite sports and teams. And the best part? It's free!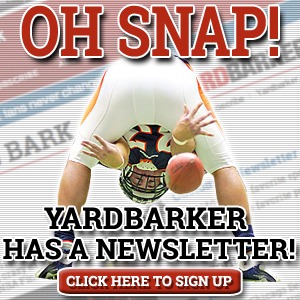 Latest Rumors
The Backyard

Today's Best Stuff

For Bloggers

Join the Yardbarker Network for more promotion, traffic, and money.

Company Info

Help

What is Yardbarker?

Yardbarker is the largest network of sports blogs and pro athlete blogs on the web. This site is the hub of the Yardbarker Network, where our editors and algorithms curate the best sports content from our network and beyond.