Found January 20, 2013 on Fox Sports:
As the San Francisco 49ers lurched back Sunday in the second half of a jaw-dropping NFC Championship Game revival to an almost surreal 28-24 victory, the DeBartolo York clan -- uncle, sister, nephew ... heck, the entire huge, loving, united family -- transformed another precious Super Bowl opportunity for this hallowed NFL franchise into a Norman Rockwell portrait. This is what Jed York wanted on the makeshift stage inside the raucous visiting locker room: The NFC's George Halas trophy first went to his colorful uncle, Eddie DeBartolo Jr. Eddie then handed it to his sister, Denise DeBartolo York. Jed, the franchise's innovative young CEO and president, took the trophy last, and the next step toward Super Bowl XLVII was officially under way. "How can you NOT just love that?" bellowed 49ers tight end Vernon Davis, who caught five Colin Kaepernick passes for 106 yards, one of those the quarterback's only TD throw. "This is really a big family and we did this as a family." The passing of the Halas Trophy became the bridge from DeBartolo's unprecedented five Super Bowl championships as the 49ers colorful owner, directly to his sister and nephew, the 49ers' current matriarch and the team's daily curator. A new Lombardi Trophy, they hope, is on its way. "It's just ... it's family," said Jed York, his eyes red with tears of pride, and joy. "We wanted to make sure we showed that Eddie won five Super Bowls, and that's unheard of. He was the best owner from the time he started (1977) until the time he finished (23 years later)." "The 49ers are a family, whether it's the DeBartolo York family, whether it's the entire organization. We take care of each other, and this was a special day." Eddie DeBartolo, who is a Pro Football Hall of Fame finalist for the second consecutive year, has had a direct role in guiding his nephew's path , both as a hands-on owner and an NFL mover and shaker at age 31. A new 49ers stadium is being built in Santa Clara, and that is testament to York's business acumen. But Eddie's presence also keeps Jed's mind focused on the franchise's storied heritage. Who were Sunday's honorary team captains for San Francisco? DeBartolo, Charles Haley -- another Hall of Fame finalist -- and beloved longtime defensive end Bryant Young. "Thank God for my son," said Denise DeBartolo York, who admitted she nearly went mad in the fourth quarter, as the game swung wildly back in the 49ers' favor amid Atlanta's deafening roar inside the Georgia Dome. "He asked me, 'Is it OK, can we have Eddie, Bryant Young and Charles Haley?'" Denise said of Jed's request last week. "Of course! It brought it full circle. It really did. It's extremely emotional." And Eddie D? Always emotional and prone to grandiose gestures, DeBartolo huddled with Jed privately on Saturday night in Atlanta. He had some important things he needed to pass on to his nephew. 1. A pair of gold, football-shaped cufflinks, a gift originally given to Eddie in 1981 -- the season the Joe Montana-led team beat Cincinnati in Super Bowl XVI. Those cufflinks came from the 49ers' founding family, the Morabitos. "Think of that connection, that tradition," Jed said, showing them off with pride. "These are just amazing." 2. An 8x10 framed photo Eddie has kept on his wall since that inaugural Super Bowl run. In it, five-year-old Jed is standing alongside Eddie DeBartolo Sr. Jed is holding a sign. "Dear Uncle Eddie, We love you. Congratulations and we love the 49ers." "It's been on my wall 30 years. My dad and Jed are in that picture," said DeBartolo, choking back his own tears. "And I gave it to Jed, and I put my own note with it. Eddie's note read, "Dear Jed, Now it's your turn. Love, Uncle Eddie" With that, Eddie began to cry. Said Kaepernick, "To see that family extend their love to all of us, that just makes all of this seem really special. I feel like they love me." This is how the DeBartolo Yorks do it. "It's tradition. Everyone throws the word 'dynasty' out there, but I don't know about dynasties," DeBartolo said. "But you know what it is? It's a tradition that (Jed) worked so hard to get." Jed York hired general manager Trent Baalke and coach Jim Harbaugh, and together they kept this team largely intact. The surprise group that made it to the 2011 NFC Championship Game but fell to the New York Giants got another crack at it. They also had the guts to hand the ball to Kaepernick in Week 11, and let the high-octane read-option offense explode into playoff lore. DeBartolo stood off to the side as the 49ers' locker room celebrated, and he gushed in awe of what he saw from the front office on down. "Jed stays in the background," Eddie D said proudly. "He's done that all year and he did that tonight." Sort of. York was front and center as 49ers' players hugged and congratulated him afterward because, well, this win was -- yes -- a family affair. As the 49ers clawed out of their 17-0 first half deficit, York cradled his infant son, Jax, for comfort. "I wasn't feeling great," confessed York, "so I picked up Jax and held him, the whole way down, until we scored. He just put me at ease. I just felt good. I felt then we could come back and win." Oh yes, they did. "This is the culmination of many, many years," DeBartolo said, wiping his eyes. "They're my family. And they've done a really good job. It's one more game, but so what? "It's just the Super Bowl." And that's one game this family knows very, very well.
Original Story:
http://msn.foxsports.com/nfl/story/Sa...
THE BACKYARD
BEST OF MAXIM
RELATED ARTICLES
WSB-TV in Atlanta has reported an Atlanta Falcons fan was involved in an argument with a San Francisco 49ers fan and ended up getting stabbed in the throat after the NFC Championship game. The 49ers erased a 17-0 deficit to eliminate the Falcons as things became violent in the crowd at the Georgia Dome. According to @rachelstockman the Falcons fan punched the 49ers fan and then the...
Randy Moss is certain to have a bust in Canton someday, but a Super Bowl ring is needed to truly cement his legacy. Some great players in the NFL go an entire career without ever playing in a Super Bowl. Others get there only to find the road to glory and immortality paved with disappointment. All goes quiet from the mouths of NFL Hall of Famers such as Boomer Esiason, Chris Carter...
San Francisco 49ers source doesn't believe 49ers wide receiver Michael Crabtree will be charged in the events that led to a sexual assault investigation, saying he "highly, highly doubted." A second female witness backed up 
Heading into the playoffs, the San Francisco 49ers brought in free agent kicker Billy Cundiff to battle struggling placekicker David Akers. Cundiff was eventually released, but one has to wonder after last night's game against the Atlanta Falcons, if the Niners will bring Cundiff back as the team prepares for the Super Bowl. Akers has struggled this season. After leading all kickers...
Peace Juan. Two of the biggest reasons the 49ers are in the Super Bowl are Michael Crabtree and Patrick Willis.  Willis was his normal beastly self, but it was Crabtree who really stepped up and emerged when Kaepernick took over.  They will both have to come up big if the 49ers are going to take care of the red hot Ravens. Crabtree Gets Video Bombed By 2 Chainz Patrick Willis Mic'd Up 
Frank Gore of the San Francisco 49ers scored a TD in the fourth quarter of the NFC Championship game to give the Niners their first lead of the day. Gore then proceeded to twist the knife deeper into the Atlanta Falcons' thigh by doing his rendition of the 'Dirty Bird' touchdown celebration. For those of you who have lived under a rock for the past 30 years, the Dirty Bird...
The game started off rough. 17-0, but the 49ers hung in there and did what they needed to, to come back and win 28-24. The defense didn't make it easy from the beginning, but when they needed to they stepped up and stopped Matty Ice and the Falcons receivers. I'm off to celebrate, let's enjoy these two weeks.
After going into the second half down by ten with a score of 24-14 and recovering from a once 17-0 deficit in the second quarter, the San Francisco 49ers rallied to the occasion and advanced to Super Bowl XLVII. For the second week in a row the Atlanta Falcons surrendered a major lead but have come up short this time to execute a last minute, game winning drive. Colin Kaepernick...
San Francisco receiver Michael Crabtree is starting in the NFC championship game against the Atlanta Falcons after he was interviewed in connection with an alleged sexual assault. The alleged assault occurred in a San Francisco hotel room last Sunday. Atlanta defensive end John Abraham is starting Sunday after he was limited through the practice week with a sore left ankle. Defensive...
Get ready for the Brother Bowl. It'll be Harbaugh vs. Harbaugh when Big Bro John's Baltimore Ravens (13-6) play Little Bro Jim's San Francisco 49ers (13-4-1) in the Super Bowl at New Orleans in two weeks. As much chatter as there will be about the players involved - from Ravens linebacker Ray Lewis and his impending retirement to 49ers quarterback Colin Kaepernick&...
NFL News

Delivered to your inbox

You'll also receive Yardbarker's daily Top 10, featuring the best sports stories from around the web. Customize your newsletter to get articles on your favorite sports and teams. And the best part? It's free!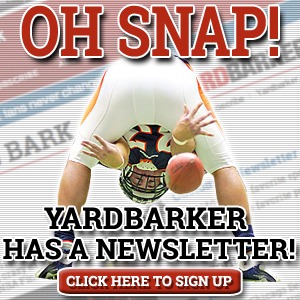 Latest Rumors
The Backyard

Today's Best Stuff

For Bloggers

Join the Yardbarker Network for more promotion, traffic, and money.

Company Info

Help

What is Yardbarker?

Yardbarker is the largest network of sports blogs and pro athlete blogs on the web. This site is the hub of the Yardbarker Network, where our editors and algorithms curate the best sports content from our network and beyond.