Found November 19, 2012 on Turn On The Jets:
PLAYERS:
Mark Sanchez
,
Bart Scott
,
Mike Tannenbaum
,
Joe McKnight
,
Bilal Powell
,
Shonn Greene
,
Rob Gronkowski
,
Bill Belichick
,
Wes Welker
,
Tom Brady
,
Rex Ryan
TEAMS:
New York Jets
,
New England Patriots
4-6 is not the type of record to go celebrating in the Meatpacking District over. The way New York athletes often do after big victories. Ending a three game skid and moving beyond a "Terrible Tim" storm that threatened to derail focus on the Rams is. The Jets win over St Louis has seemingly calmed the Florham Park madness down for the time being but more importantly, has moved Gang Green to within two games of a wildcard spot with six games remaining. The hated Pats minus Gronk are next, but a season on the brink was given a breath of life yesterday. Let's at least be thankful for that at the start of this holiday week. 1 – Unraveling the Mystery That Is Mark Sanchez Give Mark Sanchez an effective run game, a defense that gets stops, some screen passes with proper spacing, a few roll outs, and receivers who hold onto the ball, and you get a 118 rating. The entire team has to be functioning well in order for Sanchez to manage a game with confidence but when they do, the Jets starting QB can do his job well. We wonder what minimizing the Tebow substitutions did to his rythym too as well. Should plays or packages that call for 15 more often reappear this season, it will be worth keeping an eye on how the production of Sanchez changes. Hopefully the staff monitors any differences should they arise, as well. 2 – Bart Scott's Brief Boycott The Jets animated veteran LB gave his defense post game orders to use the catch phrase "both teams played hard"  with the press. The boycott failed after a brief stand, but it's intent, to combat a media that used unnamed sources to try and splinter a team already struggling with a three game losing streak and an undermanned roster, is understandable. It's hard to blame the longtime veteran for being angry about the purposeful disruption. The players though, should all know by now, that the Jets are painted as a circus tent who at times, bring the cartoonish characterization upon themselves. For a colorful team with an open door media policy like the Jets,  the all or nothing Big Apple coverage is heightened to the utmost degree. On the flip side, there is nothing like winning in New York. An upset over the Patriots Thursday will change the storyline from "implosion" to "another Rex late season charge" towards the playoffs. 3 – Three Headed Monster: A Wish Finally Granted We asked for GM Mike Tannenbaum to acquire one more veteran RB this offseason in order to bolster the ground and pound concept that Tony Sparano was hoping to reinvigorate this year. We didn't get our wish. Finally in week 11, we got the next best thing. A three pronged attack that included speedy Joe McKnight and shifty Bilal Powell into the mix. Shonn Greene has been effective as of late, and the help he got Sunday proved that the Jets can aid Mark Sanchez by moving the chains on the ground while setting up play action. Let's hope this approach continues. There ought to be no going back to the "Greene as Bell Cow Back" daydream ever again. 4 – Gronk's Injury  Rob Gronkowski got injured in the waning moments of a 59-24 Patriot blowout win against the Colts Sunday. The great TE's broken forearm was an unnecessary one, especially when you consider that it happened on the extra point blocking team in a 35 point game. On the one hand we respect Bill Belichick for working on his offense's playbook and crispness with his starters, even when a victory is in the bag. On the other hand, the mindset comes at a great risk to the health of key starters. New England lost Wes Welker in a meaningless final game three years back, and could have used him during their first round playoff exit at the hands of the Ravens at home weeks later. Team history was there for Belichick to lean on before deciding to take that type of chance again. What Gronk's injury means for the Jets is two fold heading into their must win matchup on Thanksgiving night. First, that the only unguardable player in one on one coverage will be out . A reality that will help the Jets at times. Second, that Belichick has often been able to offset an injury in the short term by utilizing backups and other positions anyway. The Patriots are still the Patriots as long as Tom Brady is the QB and Belichick is the HC. Don't let any one injury, even to the league's best player at his position, allow you to think otherwise. 5 – Other Jets/Pats Thoughts The Jets will take this win over the Rams to believe in themselves again. Rex Ryan told them prior to Sunday, that it was the "Jets against the world" again and the often used tool in Ryan kit worked. As it has on many other occasions. The players' confidence in Ryan and the coaches game planning, will have a huge effect in how the Jets prepare mentally for Thursday night. Ryan will now also remind his team that they had the last meeting between the two clubs won, were it not for one failed stop on the game's final regulation drive. BEFORE Rob Gronkowski, the unguardable one, was lost due to his work on XPT team blocking duties, while up 35 points with seconds left against the Colts. Rex should also make the team aware that in the short term, Bill Belichick is a master at covering up a key loss by making weapons out of anyone and everyone at his disposal. That keeping a peddle down on the gas is the only to continue climbing out of the big hole Gang Green has made for themselves.
Original Story:
http://turnonthejets.com/2012/11/no-h...
THE BACKYARD
BEST OF MAXIM
RELATED ARTICLES
Stat line: 15/20, 178 yards, 1 TD, 0 INT; 75% completion pct., 118.3 QB Rating Season Stats: 168/314, 2,038 yards, 11 TD, 9 INT; 53.5 completion pct., 73.4 QB Rating We've gotten to a point – and maybe rightfully so – where Mark Sanchez can do no right in the eyes of some Jets fans. Yesterday, Sanchez played a smart, effective, efficient, well-rounded game. He was sharp, confident...
The Jets and Patriots play two football games a year. They also play another game, where Jets coach Rex Ryan says something stupid and the Patriots shove it back in his face. But not this time, apparently. As the Jets and Patriots deal with a short turnaround before their Thanksgiving evening matchup, Ryan has decided to zip the lip and just make sure his 4-6 Jets come out to play...
For at least one day, the New York Jets halted the downward spiral. Mark Sanchez was solid for the first time in several weeks, the unquestioned No. 1 quarterback presiding over a turnover-free offense in a 27-13 victory over the St. Louis Rams on Sunday. The beleaguered Sanchez was an efficient 15 of 20 passing for 178 yards and a touchdown, while Tim Tebow was merely a footnote...
The New York Jets may have saved their season. For now. And may have saved their head coach his job also. For now. In coming to St. Louis and slapping the Rams around the Edward Jones Dome 27-13, the Jets have given themselves a reason to celebrate and keep the New York media off their backs. For now.Here are five things we learned from the game on Sunday:1. New York quarterback...
Rex Ryan has no message for Bill Belichick and the New England Patriots this week. Nope, no fightin' words this time around. After all, the way the usually brash coach sees it, the New York Jets (4-6) need to focus on themselves and ''punch our way out'' of the hole they got into with three straight losses before a 27-13 win Sunday at St. Louis. The victory...
The New York Jets season received a shot of life with a 27-13 win over the St. Louis Rams. However, it will take an upset over the New England Patriots this Thursday night to truly make them relevant in the AFC playoff picture again. Here is a collection of early thoughts - 1. The big injury news this week is that Patriots tight end Rob Grokowski will not play because of a broken...
Rex Ryan says it's an ''ideal scenario'' for the New York Jets to have all three of their running backs - Shonn Greene, Bilal Powell and Joe McKnight - in the mix for playing time the rest of this season. It has been rare for all three to be healthy and effective in the same game, as they were in the Jets' 27-13 win over the St. Louis Rams on Sunday. Ryan...
Dallas defensive coordinator Rob Ryan doesn't pretend to ignore that the Cowboys are playing Cleveland for the first since the Browns dumped him when they fired Eric Mangini two years ago. Even when he's pretending. ''Honestly, I'm going to say no,'' Ryan said when asked if he had discussed this week's personal motivation with his players. '...
IRVING, Texas (AP) -- Dallas defensive coordinator Rob Ryan doesn't pretend to ignore that the Cowboys are playing Cleveland for the first since the Browns dumped him when they fired Eric Mangini two years ago. Even when he's pretending. "Honestly, I'm going to say no," Ryan said when asked if he had discussed this week's personal motivation with his players...
Rex Ryan and Bill Belichick are supposed to be archenemies. They're not supposed to exchange Christmas cards, compliment one another on their interesting clothing choices or even swap pleasantries, at least as far as Patriots and/or Jets fans are concerned. But on Tuesday, Ryan broke that code. The Jets head coach actually backed up Belichick on his decision to play Rob Gronkowski...
There were no sighs of relief, no jumps for joy when the New York Jets found out they wouldn't have to worry about Rob Gronkowski this week. Sure, the New England Patriots lost perhaps the league's top playmaking tight end for a few weeks with a broken forearm. But Rex Ryan's team knew better than to celebrate. ''I don't know,'' Ryan said, shaking...
Lead writer Nick St. Denis and AFC East Daily contributors Dan Begnoche and Sean Donovan pick the New York Jets' inter-conference contest with the St. Louis Rams. Nick's take: When Jets coach Rex Ryan and Rams offensive coordinator Brian Schottenheimer shared the field during Schotty's time with the Jets, Rex's defense ran the show. I think that holds true when the...
NFL News

Delivered to your inbox

You'll also receive Yardbarker's daily Top 10, featuring the best sports stories from around the web. Customize your newsletter to get articles on your favorite sports and teams. And the best part? It's free!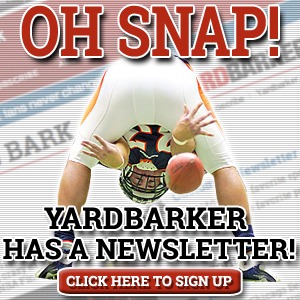 Latest Rumors
Best of Yardbarker

Today's Best Stuff

For Bloggers

Join the Yardbarker Network for more promotion, traffic, and money.

Company Info

Help

What is Yardbarker?

Yardbarker is the largest network of sports blogs and pro athlete blogs on the web. This site is the hub of the Yardbarker Network, where our editors and algorithms curate the best sports content from our network and beyond.