Found August 06, 2012 on Turn On The Jets:
TJ Rosenthal is back with his weekly No Huddle, talking on a number of different issues surrounding the New York Jets as they prepare for their first pre-season game. Make sure to follow on TJ on Twitter -
As we head into week one of the preseason schedule we take a look back on the past seven days in Jets nation. Never a dull moment around here -
Curtis Martin: 
What a Hollywood movie Curtis Martin's life has been. From his tragic youth to redemption through the love for his mom and family, football and the coaches who become role models.
After making us all cry in the early part of his story, Curtis offered that even though he never grew up a football fan, the sport taught him about life. His speech taught us a few things too about perseverance, and the value of what's truly important in this world.
Few Hall Of Fame acceptance speeches have been better.
A Week in The Life Of Antonio Cromartie:
Cro is a character. He's up, he's down, he's athletic, he's a game changer yet wears a bullseye on his back when he struggles. He's quotable and he's always honest.
That said, calling himself the second best WR on the Jets, even if it was taken out of context of it being a smack talk joke, was not what the Jets needed most regarding the passing game. What they needed and still need more, is for a true WR2 to emerge. And fast.
Later last week, Cro then of course goes ahead and almost breaks QB1′s rib during a Saturday night scrimmage. Figures. Only the Jets, right?. Luckily Mr. Holmes is OK.
Now Cro, make the same noise you made last week on the field and off, at your actual position. Be consistent. Lock down WR2. Jump some routes. Be that playmaker week in week out, that we envisioned you would be when you arrived.
As for wideout, if you streak downfield every so often on offense, we won't complain either.
The Holmes scare:
Taking the Cromartie hit on Santonio during Saturdays intrasquad scrimmage a step further, sometimes a little doomsday fear is a good thing. Do the Jets REALLY feel safe if Tone were to go down? The answer is, depending on how they reacted for those few hours whoever awaiting X-Rays. Depth with experience still an issue.. Relying on potential for a win now team is a dangerous proposition.
Our suggestion? Pick up a vet who has made a few plays in this league before week one. This player can always be cut as time goes on. Be smart, not stubborn. Kids are kids. Give them time to develop and when the time is right, then allow them centerstage. Don't just hand a young player a big job because there is no other choice.
Obama Chimes In On Jets QB situation:
First off, we truly believe Rex when he says as he did last week that Mark Sanchez is the clear cut QB and Tim Tebow is a special weapon who poses unique problems for opponents. We disagree with the Prez that fans should fear a controversy. We also wonder, 'Mr President shouldn't you be focused more on that 1970′s game show host that you will be facing in November?'
Then again, the NFL is alot more fun to banter about than any wonk talk about the economy is. Another diversion from the real issues, by some Commander in Chief.
We get it.
Boomer Esiason Says Jets Should Cut Tebow:
The former Jet QB now turned WFAN radio host offered this opinion this morning, mostly due to how Tebow throws the ball. Enough already with this people.
Tim Tebow is a runner who CAN throw at times, got it? The Jets do. As his role develops into something of a hybrid playmaker based on the potential to line up in many places, maybe everyone will finally believe Gang Green when they say they have a clear cut starter in Sanchez.
Now in defense of Boomer, the Jets will have to slide somebody up to the QB2 role at some point. No backup should be taking and delivering the hits that Tebow will this season. If the McElroy-Simms battle for the QB3 spot doesn't develop one of those players into a viable 2 right now, the Jets might want to hit the market for a veteran.
Even if the move becomes a trick play on Tebow, who thought he was signing on here to be the backup. Hey, whatever is best for the team isn't that true 15? You've said it yourself, that this is your goal in New York.
On more than one occasion.
Well what's best may soon mean a slight change in plans. Tanny, Move Tebow to QB3 in time. This way, there will be a viable option if 6 goes down for a period of time. It's still a passers league right now. The Jets have to prepare for the worst and be able to take part in an aerial show to some degree, if the worst does happen.
Original Story:
http://turnonthejets.com/2012/08/no-h...
THE BACKYARD
BEST OF MAXIM
RELATED ARTICLES
TIMMAY!
The Jets quarterback took Boomer Esiason's harsh critique, where he said Tim Tebow should be cut, in stride, saying, "I wish him nothing but the best in his announcing."
After receiving some criticism for saying he'd cut Tim Tebow, Boomer Esaison has decided to do what any rational human being would do: Find people that agree with his position on Tim Tebow. And that's what he did on Wednesday when Howie Long joined Esaison and co-host Craig Carton on WFAN. In the typical way the subject of Tim Tebow is handled these days, Long begins by praising...
(Eds: APNewsNow. Will be updated. With AP Photos.) By DENNIS WASZAK Jr. AP Sports Writer Welcome to Tebow Town, USA. That's what one of the handful of T-shirts devoted to Tim Tebow proclaims in this quaint city in central New York. It's a sentiment that's hard to argue with. It's been all Tebow, all the time at New York Jets camp and local business owners are cashing...
Tim Tebow is a pretty mediocre quarterback, but he's a hell of a football player. I thought Denver was nuts to draft him in the first round, as he wasn't a good investment as a traditional drop back passer. Even so, his competitiveness and athletic ability helped him lead the Broncos to some incredible victories. That said, few teams wanted him after the Broncos jumped on the...
When has there ever been a backup that gets more attention than a starter does? I don't know if there has ever been such a thing happening as it is in New York. The Jets acquired quarterback Tim Tebow from the Denver Broncos earlier this year, and has received more attention than starting quarterback, Mark [...] [[ This is a content summary only. Visit my website for full links...
  I don't think Tim Tebow is a very good quarterback, but I do think he is a good football player. It is just finding a role that suits him the best. His quarterbacking skills are unorthodox, but he finds ways to win games even if they are ugly wins. Here is what Boomer Esiason had to say. Boomer Esiason thinks the Jets are making a "major mistake" with Tim Tebow as the team's...
Boomer And Carton In The Morning host and ex-New York Jets quarterback Boomer Esiason can reference his five years as a radio host, 14 years as a pro football player or 15 years as a television analyist when telling you what he thinks about current Jets back-up handsome Christian Tim Tebow, but why bother? He can cut to the chase and drop the only two Tebow talking points that matter...
AP Photo Earlier today, former New York Jets quarterback Boomer Esiason said the Jets should cut quarterback Tim Tebow, during an airing of his show on WFAN in New York. Tebow was asked what he thought about Esiason's comments. "I've heard nothing but great things about Mr. Esiason," Tebow said, per NFL.com. "I wish him nothing but the best in his announcing. God bless...
AP Photo Former New York Jets quarterback Boomer Esiason said that it was a big mistake for the Jets to trade for Tim Tebow and that he would get rid of him. "I'm just telling you right now, I would (cut him), and I'll tell you why I would," Esiason said alongside Boomer & Carton radio partner Craig Carton, per WFAN. "It's not in any way, shape or form — I think...
Getty Images On Monday morning, former New York Jets quarterback Boomer Esiason said that the Jets should cut Tim Tebow, while on his daily radio show with Chris Carton on WFAN New York. Manish Mehta of the New York Daily News took a small swipe at Esiason on his Twitter feed this afternoon. Tim Tebow is already the best left-handed quarterback the Jets have ever had. #nyj — Manish...
TJ Rosenthal checks in with another strong take about the current state of the New York Jets. Make sure to follow TJ on Twitter. Jets/Bengals is only two days away…watch the game in style. Check back later this afternoon for TOJ's weekly beat writer rankings.   They brawl with each other, when they aren't busy saying whatever they feel like, whenever they they feel like...
For the second day in a row, the New Jersey Jets training camp had to be stopped multiple times to break up scuffles between players. Yesterday, it was that underachiever Joe McKnight throwing balls at people after plays. Today, TE Dustin Keller and CB Antonio Cromartie went at it causing Rex Ryan to stop practice
Jets News

Delivered to your inbox

You'll also receive Yardbarker's daily Top 10, featuring the best sports stories from around the web. Customize your newsletter to get articles on your favorite sports and teams. And the best part? It's free!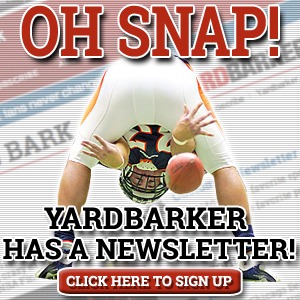 Latest Rumors
The Backyard

Today's Best Stuff

For Bloggers

Join the Yardbarker Network for more promotion, traffic, and money.

Company Info

Help

What is Yardbarker?

Yardbarker is the largest network of sports blogs and pro athlete blogs on the web. This site is the hub of the Yardbarker Network, where our editors and algorithms curate the best sports content from our network and beyond.