Found December 10, 2012 on Turn On The Jets:
Are the Jets 6-7 and still alive in the AFC Wildcard race? Yes, if you can believe it. Rex Ryan pulled out some late 2009 magic dust and sprinkled it on Pittsburgh and Cincinnati, after yet another must win over the Jags and an exhausting week playing "Who Is My Quarterback?" The fact that this current roster is in the postseason hunt with three games left is a testimony to someone. Or something. We just can't pinpoint what. Logic has never been a strong suit for this franchise. A Win Is A Win You are what your record says you are. Right? Well the Jets are 6-7. Okay, we know they've had a bit of a JV schedule lately. However, you can only play the next team up on the docket. Yesterday's 17-10 win over a depleted 2-11 Jacksonville club will not be passed around on DVD as a "How To Play Offense" guide for the youth of America. Winning ugly is part of the Ryan philosophy though. 166 yards were gained by Shonn Greene and Bilal Powell, who ran downhill for the entire fourth quarter. Take this win and run right Rex? Literally. Sanchez Is Back, As The Handoff Machine When the Jets trailed 3-0 at halftime, many wondered "how long does Mark Sanchez have" until Tim "Cracked Ribs" Tebow gets a shot at achieving successive first downs. After all, the inactive third stringer Greg McElory came off the pine last week to life the Jets to a 7-3 comeback win over a Cards team (that lost 58-0 yesterday to Seattle). Surely Tebow in the city that loves him was poised to take the reigns. It seemed so scripted. Of course the Jets don't follow scripts. They light them on fire. To start the third, Rex Ryan did decide to make a switch. Turning Sanchez into a handoff machine. The move worked to perfection. As it did when the "Sanchise" threw for less than 125 yards in eight wins during his rookie season. A victory strategy that was employed two other times already this year as well. Sanchez threw two passes in the fourth quarter. Two. He totaled 111 yards on the day. Against the 31st pass defense in the NFL. In the end, the Jets came out on top and Sanchez avoided a season ending mistake. How long this 100 yard business can last all depends on whether the defense can average giving up 6.5 points per game like it has averaged over the past two weeks. In other words, there will be a shelf life to this madness folks. Hilliard, Reuland, and Gilyard Lex Hilliard, Konrad Reuland and Mardy Gilyard were three consecutive targets during one three and out series on Sunday. A point worth adding into the equation when pondering over the question of how a quarterback in 2012 can only amass 100 yards in a 60 minute game. Wilkerson and Coples Shine The Jets defensive line is finally making an impact. Mo Wilkerson is playing like an All Pro. Rookie Quinton Coples is making his presence felt now too. When the big boys up front make plays, life is easier for the entire defense. This duo can carry the Jets down the stretch in their attempt to run the table and hope that out of town help arrives. Stranger things have happened. Remember Curtis Painter? The QB Carousel Has Been A Dizzying Ride How did Greg McElroy go from relief pitching hero to a guy in a running suit in the final moments before kickoff? Explain to us how Tim Tebow didn't see the field for one play in his hometown even as the Jets were being shutout for thirty minutes. Did Mark Sanchez show any signs that he is worthy of long term security in New York? The answers are: we have no idea, we have no idea, and no. Now it's time to pop some advils. What a dizzying ride it's been on the QB Carousel these past seven days. Ryan got lucky, again, that QB1 stayed healthy because once if Tebow was not 100 percent like he was while sititng a hearbeat away against New England weeks back, the move would have instantly replaced last week's "Three Ring QB Circus" as controversy for the week. Faster than Tebow gets tackled on a Wildcat dive up the middle. The Jets Return To National TV The last time the Jets played in front of the entire nation, they gave up three touchdowns in 52 seconds and helped add the "Butt Fumble," to future NFL Films blooper reels. The Titans and Jets meet next Monday night for no apparent reason, but the Jets can use the undeserved opportunity erase the taste of their last moment under the big lights. The "hide our quarterback" gameplan with the ground and pound and defense will be in full swing on December 17th in Nashville. Should Sunday's games open the door to January, Gang Green will look to achieve those dastardly archaic designs with more than just pride or job saving goals on their minds. One can only imagine what developing story out of Florham Park will hit us next. As we get set for what may actually be a big game, since the Jets to their credit, refused to quit, and are now in business. Despite the fact their two best players have been out all year. That their special teams unit is a ticking time bomb. That eternally emerging tight end is constantly hurt, and there are no receivers, or top notch running backs. While the starting quarterback has the entire coaching staff and fan base scared to death when he drops back to throw.
Original Story:
http://turnonthejets.com/2012/12/no-h...
THE BACKYARD
BEST OF MAXIM
RELATED ARTICLES
Those big, bold playoff guarantees from Rex Ryan and the New York Jets are a thing of the past. Despite his team winning two straight games and putting itself right in the postseason mix, the Jets coach refuses to speak about anything except for New York's next opponent: the Tennessee Titans next Monday night. Ryan says Monday that he has learned from previous seasons to tone...
What was hinted at a few weeks ago has been all but confirmed: Tim Tebow is largely unhappy with the Jets. Following a Week 14 contest in which Tebow received zero snaps, head coach Rex Ryan admitted that the backup quarterback likely is disappointed he came to New York this offseason. "That's probably a true statement, as a competitor you want to have success, you want...
New York Jets quarterback Mark Sanchez isn't going anywhere in 2013. Sanchez is due to make $12.8 million for next season.  If the Jets were to cut Sanchez it would cost them Click Link below to read more! Tim Tebow
Per multiple sources including Jason LaCanfora on twitter Tim Tebow is active today for the Jets. Tebow has been the second man on the Jets depth chart all year; so, maybe it was a 'can't lose your spot due to injury' piece; maybe Rex Ryan thinks he's their best backup quarterback; or maybe it was a marketing ploy by Woody Johnson and/or NFL higherups; either way, McElroy...
Will Braylon Edwards make Rex Ryan and Mike Tannenbaum look like idiots or geniuses after claiming him off waivers on Tuesday afternoon?
The New York Jets have found themselves in a rather familiar situation throughout the 2012 season.  They are making headlines.  The Rex Ryan era has been full of promises, successes, disappointments, and turmoil.  The last three plus years in New York have been nothing short of a media frenzy, and it doesn't seem to be stopping any time soon. Last Sunday, Rex Ryan chose to...
In another ugly game, the Jets maintain their wildcard hopes. Bills lose at home to the Rams. Dolphins fall to the 49ers.
The Pittsburgh Steelers were dominated by the San Diego Chargers today, but the Bengals, who were tied with the Steelers for the last playoff spot coming into the game, couldn't capitalize, losing to the Cowboys after leading most of the game. With the losses by the Steelers and the Bengals, the Jets are suddenly right back in the wildcard race, just a game back with three...
In the midst of an easy final stretch of the schedule, the New York Jets are facing their usual late-season do-or-die situation. A win improves them to 6-7 and maintains their minuscule hope in attaining a Wildcard beth for at least one more week. A loss could mean a plethora of depth chart adjustments next week.The good thing is, the Jets are in Jacksonville to face an absolutely...
It has been far from pretty but the New York Jets have won two games in a row and three of their last four after today's 17-10 win over the Jacksonville Jaguars. Somehow they remain relevant in the AFC Playoff picture for the final wild-card spot, thanks to losses from both the Pittsburgh Steelers and Cincinnati Bengals today. The Jets have fully embraced their 2009 style of...
Jets News

Delivered to your inbox

You'll also receive Yardbarker's daily Top 10, featuring the best sports stories from around the web. Customize your newsletter to get articles on your favorite sports and teams. And the best part? It's free!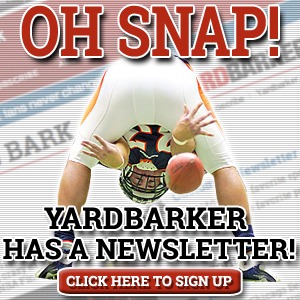 Latest Rumors
Best of Yardbarker

Today's Best Stuff

For Bloggers

Join the Yardbarker Network for more promotion, traffic, and money.

Company Info

Help

What is Yardbarker?

Yardbarker is the largest network of sports blogs and pro athlete blogs on the web. This site is the hub of the Yardbarker Network, where our editors and algorithms curate the best sports content from our network and beyond.