Found January 07, 2013 on Turn On The Jets:
The 6-10 New York Jets have clearly flown off course. The new Jets GM, whoever finally ends up with the job, will be walking into a laundry list of issues the minute those Florham Park doors open. Steering the overall product on the field back to Super Bowl contender status won't be easy. The following are the keys to the foundation. Questions that the new head honcho upstairs must answer correctly and swiftly before the rest of the cracks are filled in. If Rex stays, which Rex should it be? Big Rex was loud, boastful, cocky, and successful for two out of his first three seasons. Little Rex in 2012, was not. Ryan has to be given the green light on optimizing his own abilities but the immediate question is which Rex best fits the new 2013 Jets. Mark Sanchez "The Sanchise" is an even bigger uncertainty. Can #6 find his confidence again in New York, and still have room to grow out of a game manager's role? Or is he just a career backup at best elsewhere? Sanchez's contract, one that awards him 8 Million in 2013 makes his case a tricky one. The Jets could bring in a viable vet to compete for the job, or follow the advice from one Wall Street Journal piece written last week that broke winning formulas for NFL teams. One that included eating "dead money" in the name of turning the page. The Jets have to get the QB situation settled here once and for all. Forget Rex's tattoo'd faith in Sanchez. Too many games have been lost, and not enough have been won at the position over the past two seasons. Revis, Keller and Greene Sorry Jets fans but it's true and you all know it. Revis Island may have enough trade value to aid the Jets need for fast growth on offense all by himself. Dustin Keller was useless all year and Shonn Greene can't be any better than he was in 2012. The new GM's overall opinion regarding how much roster-gutting is warranted will provide clues into how these key Jet vets may be treated. Coordinators: Rex's Friends or Foes From Shotty to Sparano, playcalling has been a source of irritation for the Jets under Ryan. Mike Pettine opted not to re-up on his deal. The next set of coordinators are either going to be guys that Ryan wants to go down fighting with, or handpicked choices by the GM. Perhaps to be HC's in waiting. After all, it will be tough to sell a potential coordinator on a "win or else" one year scenario. Enticing candidates with the possibility about becoming the next HC, should Ryan struggle in 2013, may be a better sell in order to get them into the building. Much of these soon to be top priorities will be determined by what the purpose of 2013 will be for the new Jets general manager. Ryan must win now, but the incoming folks who will call the shots upstairs, don't necessarily have to.
Original Story:
http://turnonthejets.com/2013/01/no-h...
THE BACKYARD
BEST OF MAXIM
RELATED ARTICLES
Listen up Mark Sanchez. If you do not start playing better, Rex Ryan will be changing the number on the New York Jets' jersey depicted upon his wife in a tattoo located on his arm. Speaking at his press conference (finally), Rex immediately addressed the concerns from the media: "There's a question – is that a real tattoo or not?" he said. "I'll keep you guessing. It...
Rex Ryan continues to make news — odd news at that — away from the football field, as we found out last week. Vacationing in the Bahamas, the New York Jets head coach was spotted by the tabloids sporting an interesting tattoo on his right arm. Quickly, the tattoo — featuring Ryan's wife wearing a Mark Sanchez jersey — became a viral sensation and the butt of jokes across...
Welcome to our off-season review of the New York Jets roster at Turn On The Jets. Each week we are going to attack a different position. We will have a roundtable discussion on it, Steve Bateman will submit a film breakdown examining it and our draft staff will look at potential prospects the Jets could add. This week, we start at quarterback… How should the New York Jets handle...
ANDREW THEODORAKIS/NEW YORK DAILY NEWSNew York Jets head coach Rex Ryan  told the media today that if quarterback Mark Sanchez doesn't improve next season, he'll probably have to change the tattoo he has of his wife wearing Sanchez's jersey."Obviously, if Sanchez doesn't play better, that number's changing," said Ryan per Manish Mehta of the NY Daily News.If I were...
Mark Sanchez's 2012 New York Jets season was full of interceptions and fumbles—and he even threw in an unprecedented buttfumble for good measure. Week after week, Jets Nation watched in horror as our starting quarterback severely underperformed, and even more alarmingly, was not benched. Rex Ryan stuck by his guy, saying that "Mark gives us the best chance to win." We all...
Last week Rex Ryan took a quick vacation to the Bahamas to escape the Jets mess as I like to proclaim it.  During the quiet vacation, things got really noisy again for Rex when he was photographed on the beach, and on his right arm was a tattoo of his wife wearing nothing but a Mark Sanchez jersey.   Ryan took it all in stride like he does everything, and knew he would have to...
Rex Ryan covered up his tacky tattoo of his wife clad only in a Mark Sanchez jersey with an even less subtle "I heart me" T-shirt. Yesterday, the New York Jets head coach was spotted at the same Bahamas resort wearing the faded black tee shielding the public from the infamous ink on his right arm. At least this fashion miscue can be removed without a laser. It's...
We could've sworn this already happened. It was such a no-brainer that Jets offensive coordinator Tony Sparano would be fired, that we thought it had already happened along with GM Mike Tannenbaum getting the ax. But it actually happened this morning, ESPN's Chris Mortensen reported. Eight days into 2013. So head coach Rex Ryan conveniently goes on vacation while the...
Several teams had worse years than the Jets, but I don't think anyone had a weirder year. Turned into a circus in the offseason by the media, the Jets lived up to the hype. Neither Mark Sanchez nor Tim Tebow led a touchdown drive all pre-season, but after a blowout win over the Bills week 1 and another win against the Dolphins week 3, this time in overtime, the Jets stood at 2...
The New York Jets have informed quarterbacks coach Matt Cavanaugh he will not be retained when his contract expires later this month. Head coach Rex Ryan informed Cavanaugh of the move Monday, as first reported by The Daily News. Jets quarterback Mark Sanchez has 52 turnovers over the past two seasons and was benched in favor of Greg McElroy late in the season. Sanchez started...
Matt Cavanaugh will not return as the New York Jets' quarterbacks coach after four seasons with the team. Cavanaugh's contract was due to expire in a few weeks and he was told Monday he would not be part of Rex Ryan's staff next season. Cavanaugh was responsible for the development of Mark Sanchez, who took a step back in his fourth season and was benched late in the...
Jets coach Rex Ryan said the team's starting quarterback job is "wide open" for 2013. SOURCE: Rich Cimini, ESPNNewYork.comFantasy Spin:The Jets can't release Mark Sanchez without taking a major cap hit, so he's almost certain to be back. However, it's unclear who Sanchez will be competing against since Tim Tebow is expected to be cut loose and Greg McElroy...
Jets News

Delivered to your inbox

You'll also receive Yardbarker's daily Top 10, featuring the best sports stories from around the web. Customize your newsletter to get articles on your favorite sports and teams. And the best part? It's free!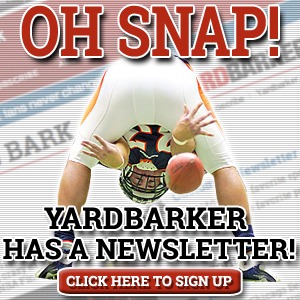 Latest Rumors
Best of Yardbarker

Today's Best Stuff

For Bloggers

Join the Yardbarker Network for more promotion, traffic, and money.

Company Info

Help

What is Yardbarker?

Yardbarker is the largest network of sports blogs and pro athlete blogs on the web. This site is the hub of the Yardbarker Network, where our editors and algorithms curate the best sports content from our network and beyond.