Found August 15, 2012 on Fox Sports Florida:
DENVER It might not conjure up memories of Tim Tebow, whose No. 15 jersey was worn by legions of fans in Denver. Still, Andre Caldwell was swarmed for autographs after a recent Broncos scrimmage. One man asked Andre Caldwell to hold his baby before pulling out his cell phone for a quick shot of the two. That was something new for me, the wide receiver said of the request. The Broncos may no longer have Tebow, the quarterback they traded earlier this year to the New York Jets. But at least they now have Caldwell, who starred at the University of Florida and was Tebows favorite target during his Heisman Trophy season of 2007. Its my time in the city now, Caldwell said with a laugh. Im the Gator in (Denver). Hes another Gator that Broncos fans could grow to love. Caldwell, a fifth-year man who signed during the offseason after four seasons with Cincinnati, could be a pivotal target in Peyton Mannings first Denver season. Caldwell, a Tampa native known as Bubba, caught 51 passes in his second season of 2009 and looked bound for impressive things. But then he was bothered by an injury to his midsection for two seasons, and nobody could figure out exactly what it was. Caldwell slumped to seasons of 25 catches in 2010 and 37 last season. Caldwell missed the final two games of 2011 but the good news was a specialist had discovered during that time he had a sports hernia after he previously had been diagnosed with an abdominal strain. I went in and got a second opinion, Caldwell said. I had had a sports hernia for two years, so I finally got that corrected and this offseason I was finally healthy and running fast and just being able to be my old self and make plays. With Caldwell doing much better, the Broncos figured he would be an ideal deep threat to pair with Manning after they signed the legendary quarterback in March as a free agent. So they soon dialed up Caldwell, who said the Bengals had told him pretty much see you later in free agency. After they contacted me, it was, Who wouldnt want to play here? " said Caldwell, who chose Denver over Atlanta and the defending Super Bowl champion New York Giants. Its great playing with (Manning). He makes the game a lot easier. He always puts you in the best position to be successful. Hes going to put the ball on the money, so I just got to get to the spot and get open. Its every receivers dream to play with him. Caldwell is the Broncos No. 3 receiver after starters Demaryius Thomas and Eric Decker. Caldwell said he ran the 40-yard dash in 4.32 seconds before training camp, the best time hes ever had. Bubba Caldwell has excellent speed, Manning said. Its a rare speed to get deep on corners. You can tell when theyre covering him, if you miss one step, he can run right by you . I like working with Bubba, and I think he has a lot of explosive plays in him. Its good news for a ball catcher to be Mannings teammate and be liked by him. Four times in Manning star-studded 13 seasons (not including missing 2011 due to injury) with Indianapolis, he had four receivers catch 50 or more balls and another four times had three guys catch 49 or more. Im definitely making up for lost time, Caldwell, Floridas all-time leading receiver with 185 catches, said about finally being healthy. I think Ill be a big playmaker. Caldwell might have been used mostly as an inside slot receiver in Cincinnati when the now-named Chad Johnson was his teammate from 2008-10 and when Caldwell wasnt healthy. But hes getting no argument from Denver coach John Fox about his prediction. Hes got great downfield speed, Fox said. I think hes worked very hard to learn our system . We have high hopes for him, and well see how it works out. If it works out well, there might be another Gator favorite in Denver. Then start looking for his No. 17 jersey in the stands. Chris Tomasson can be reached at christomasson@hotmail.com or on Twitter @christomasson
Original Story:
http://www.foxsportsflorida.com/08/15...
THE BACKYARD
BEST OF MAXIM
RELATED ARTICLES
Anyone who has ever had any interactions with children is well aware of the fact that if a baby does not want to be held by a particular person, they most certainly will let you know just how unhappy they are about being put in an uncomfortable position. Still, it is shocking to see that [...]
Tim Tebow's shirtless body is featured in GQ's September cover story to kick off the 2012 NFL season.  But that's not such a surprise. In an article titled "Have You Accepted Tim Tebow as Your QB and Sunday Savior," a photo spread of the New York Jets quarterback features a shot of the devout Christian with his arms outstretched and legs crossed— similar...
Tim Tebow is on the cover of GQ Magazine for the September issue.  You can no longer call Mark Sanchez the GQ QB.  They both are, but there is a buzz about the article.  Read it here.  In the spread, there is a photo of Tim in the Jesus Pose and it's probably going to cause a stir.  GQ knows what they are doing, don't they?   Cha-Ching.  Craiq Carton, on his show this...
Yesterday, after we wished New York Jets backup quarterback Tim Tebow a very happy 25th birthday, ESPN apparently turned the volume up to 11 and threw the Teebster a birthday party for the ages. Sadly, I missed that, so I just imagine that it was the complete opposite of Kirk Cameron's birthday party. But a lot of the Tweeps that I follow on Twitter were none too pleased with it...
This week we are crushing on New York Jets Quarterback Tim Tebow, who flaunts his assets in GQ's 2012 NFL Kickoff issue.  The magazine hit stands on August 14th, which was also Tim's 25th birthday.  And apparently, this is his gift … Continue reading →
ESPN has a love affair with Tim Tebow and the New York Jets.  As a Jets fan, I should be really happy about all this coverage, but I'm going to tell you, I would IF the coverage was about football. What's the new cheer in CT these days?  E-S-P-N JETS JETS JETS!! Other than Jets fans, do you think the sports world cares about what movies the Jets saw on their off days...
Chad Pennington thinks the New York Jets, Tim Tebow and the wildcat are a perfect fit. The former NFL quarterback would certainly know. He was part of the tricky offensive scheme in Miami, when he played with the Dolphins under current Jets offensive coordinator Tony Sparano. ''If the wildcat allows you to win and be more successful,'' Pennington said Tuesday, ...
The New York Jets are going to have an extremely tough upcoming season. From a quarterback battle, no receivers you can count on, a poor defense, and a tough schedule The Jets are in store for a long rough season. Now I know they only played one pre-season game so far against the Cincinnati Bengals, but they didn't really impress me at all in that game. Let's start off with the...
For yet another season, Razzball will be interviewing local NFL beat writers for some in-depth actual football knowledge to sway some insight in our fantasy football knowledge.  Keep your eye out for an interview for every NFL team through the summer and check out each one on the "2012 Fantasy Football Team Previews" link.  This installment comes courtesy of David Wyatt from...
We welcome Mr. Timm Bates back to the program this week. Timm was fortunate enough to get some good seats at last Friday night's preseason opener vs the Jets and tells us a bit about his experience. In this week's show: Timm tells us about his Friday night at PBS Timm says that Tim Tebow, NOT Mark Sanchez, is the better quarterback of the two Injuries plagued the Bengals win...
NFL News

Delivered to your inbox

You'll also receive Yardbarker's daily Top 10, featuring the best sports stories from around the web. Customize your newsletter to get articles on your favorite sports and teams. And the best part? It's free!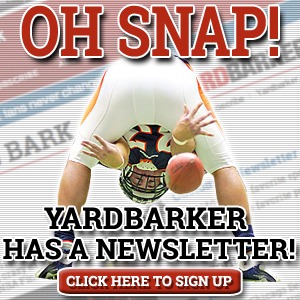 Latest Rumors
The Backyard

Today's Best Stuff

For Bloggers

Join the Yardbarker Network for more promotion, traffic, and money.

Company Info

Help

What is Yardbarker?

Yardbarker is the largest network of sports blogs and pro athlete blogs on the web. This site is the hub of the Yardbarker Network, where our editors and algorithms curate the best sports content from our network and beyond.