Found August 11, 2012 on 60 Max Power O:
PLAYERS:
Aaron Curry
,
Mike Mitchell
,
Tyvon Branch
,
Brandon Myers
,
Zach Hurd
,
Darrius Heyward-Bey
,
Shane Lechler
,
Mike Goodson
,
Jack Crawford
,
Taiwan Jones
,
Richard Seymour
,
Denarius Moore
,
Eddie McGee
,
Carson Palmer
,
Jacoby Ford
TEAMS:
Oakland Raiders
,
Dallas Cowboys
The Oakland Raiders went back to practice in pads after a shell session on Wednesday and a day off yesterday. As the team gets closer to the preseason opener Monday against the Dallas Cowboys, injuries continue to be an issue as well as focus and execution.
"No, it wasn't what we expected," Raiders head coach Dennis Allen said on Friday's practice. "I thought our focus wasn't there. I didn't think the tempo was there. I thought the guys tried to battle through, but we have to practice better with less mistakes than we did today. I think the guys are trying but that's all part of that mental toughness that we talk about and our ability to focus in and block out the distractions, whether it be the heat, whether it be the fact that you're tired, whatever the case may be. We have a job to do and we have to execute better when we come out here tomorrow." 
Four more players were added to the injury list during today's practice. Strong Safety Tyvon Branch was a no go with back spasms. Tight end Brandon Myers, who was just announced to be number one on the depth chart, left practice with a shoulder, offensive tackle Zach Hurd left with a head injury, and wide receiver Darrius Heyward-Bey left with a knee.
"Well I don't think any of them are real serious injuries but we'll see as we go along," Allen said. "Brandon Myers was probably the one that we'll see."
Those players joined linebacker Aaron Curry, who will see a specialist for his knee injury, punter Shane Lechler (knee), running back Mike Goodson (neck), defensive end Jack Crawford (foot), running back Taiwan Jones (hamstring), defensive lineman Richard Seymour (knee), and wide receivers Denarius Moore and Eddie McGee with hamstring issues.
"Aaron Curry went to see a specialist in L.A.," Allen said. "He's just not quite where we want him to be. We're going to go down and basically let him get a second opinion and see if we can't do something to get him better."
Strong safety Mike Mitchell, who was seeing first team reps as he filled in for Branch, is showing energy and effort. While covering the tight end on a pass route, Mitchell stepped in front of a Carson Palmer pass for an interception. He is also capable of delivering so big hits while playing the run and to receivers in space.
"He's competing," Allen said of Mitchell. "At the end of the day you look for guys when you walk off the practice field or look at the practice tape you see something and say, hey the guy made a play today. He's done that a couple times this camp. I think I'm pleased where he's at. I want to continue to see progress from him. I'm looking forward to watching him play against somebody else and see how he does."
With Denarius Moore's hamstring injury, the Raiders have been trying out punt returners in camp. Jacoby Ford is the primary replacement for Moore now and has proved he has the explosiveness and ability to make plays as a kickoff returner with four career touchdowns, but hasn't fielded punts since his senior year at Clemson.
"Totally different," Allen said of returning punts as opposed to kickoffs. "The flight of the ball, you have got to be able to tell whether the ball is going to turn over or if it is going to go end over end. It is a lot more difficult to catch punts than it is to catch kickoffs. He's getting better. Obviously with Denarius' hamstring he hasn't been able to be out there. But I see Denarius fielding punts for us; I see Jacoby fielding punts for us."
When it comes to playing time in the first preseason games, Allen will not tell the players how many snaps they will be on the field.
"I won't tell them until they play the game and I tell them they are coming out," Allen said. "Because there is only one way you can play the game and that's getting your mind right to go out and compete. That's what I want those guys to do regardless if they are ones, twos, or threes. I think a lot of times when you tell them, 'hey you are going to play one quarter or 10 snaps,' there's a little bit of a mental let down and I don't want that."
Be sure to check out other great articles at Sports Media 101.
Original Story:
http://www.60maxpowero.com/patriots/c...
THE BACKYARD
BEST OF MAXIM
RELATED ARTICLES
It's the time many Raiders fans have been waiting for since January. Yes, football is coming to Oakland on Monday.  While it may only be a preseason game, there are some developing positional battles that will have a huge effect on how the Raiders go about business during the preseason waiver wire, as well as [...]
Next monday night, the Raider Nation will have its first opportunity to see quarterback Terrelle Pryor in action. Unless you want to consider his meaningless QB sneak nullified by a false start against the Chiefs in october 2011, the upcoming pre-season game against the Cowboys will probably be remembered as the proper NFL debut of [...]
Oakland Raiders linebacker Aaron Curry has not yet returned from Los Angeles, where he was getting a second opinion on his injured knees. Curry told CSN Bay Area on Aug. 5 that he received stem cell treatments after injuring his knees during offseason workouts. His knees were not improving so he left camp at the end of the week to have them re-examined. He has been on the physically...
The Oakland Raiders have decided to take advantage of the league's newly eased blackout rules.  According to Paul Gutierrez of CSN Bay Area the team has decided to lower the threshold for the local blackout to be lifted to 85% of capacity.  The announcement comes just a year after selling out all 8 home games [...]
Oakland Raiders running back Mike Goodson says his neck is still sore after taking a hard hit that sent him to the hospital earlier in the week but is relieved there is nothing more serious wrong with him. Goodson was back out at the practice field for the Raiders (tied for No. 23 in the AP Pro32) for the first time Friday since being taken by ambulance to the hospital three days...
Terrelle Pryor has been waiting a long time to actually get to play in a football game. After an aborted rookie season with the Oakland Raiders that included no preseason games and a penalty before his only snap in the regular season, Pryor is more than ready for this season's exhibition opener. Pryor will get that chance on Monday night when the Raiders (tied for No. 23 in...
As the Oakland Raiders finished their last full practice before their Monday Night Football preseason opener against the Dallas Cowboys, a familiar face was in Napa. Former head coach Jon Gruden, who now announces for ESPN's Monday Night Football, was on hand to see the team practice before he calls the game. The Raiders went without pads as they prepare to see their first...
The offseason moves that brought Ron Bartell and Shawntae Spencer to the Oakland Raiders on the surface seemed to be a perfect a union. A team looking to go in a new direction at cornerback brought in two veterans sorely in need of fresh starts. Bartell and Spencer have brought sage leadership skills to a young secondary in Oakland that is adapting to a brand new defensive system...
AP Photo Oakland Raiders defensive end Richard Seymour is afraid the NFL's replacement officials are going to only hurt the game of football. "I think the integrity of the game is at stake," Seymour told USA Today. "You never know who they know and who they're connected to. And who are their favorite teams. To just say we've got some new guys coming in, who knows? They...
This is not what you want to hear. Aaron Curry, who is currently on the active/PUP list, will get a 2nd opinion on his ailing knees as they are not responding to stem cell treatment, according to the Contra Costa Times. They also go to say that he won't make the roster "unless his knee responds to treatment soon." Owed a non-guaranteed 3.5 million this season, the Raiders seem...
Last night, two AFC teams took to the field in their first preseason contests of 2012. Both games were fairly high profile, as the Chargers took on the Packers in a game that featured two on the NFL's best quarterbacks, while the Broncos took on the Bears, highlighted by the return of Peyton Manning. Here [...]
With just a handful of preseason games played, it seems that a common theme has already arisen. Injuries. In Ryan Mathews' short stint versus the Packers on Thursday night, he suffered a broken collarbone that will see him on the bench for the next 6 weeks. The Eagles' signal caller. Michael Vick, has shown once again that he is no stranger to the training table, as he...
NFL News

Delivered to your inbox

You'll also receive Yardbarker's daily Top 10, featuring the best sports stories from around the web. Customize your newsletter to get articles on your favorite sports and teams. And the best part? It's free!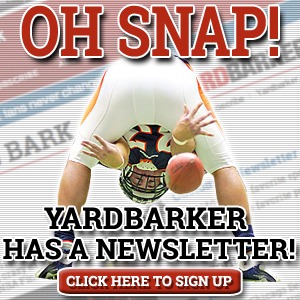 Latest Rumors
Best of Yardbarker

Today's Best Stuff

For Bloggers

Join the Yardbarker Network for more promotion, traffic, and money.

Company Info

Help

What is Yardbarker?

Yardbarker is the largest network of sports blogs and pro athlete blogs on the web. This site is the hub of the Yardbarker Network, where our editors and algorithms curate the best sports content from our network and beyond.