Found October 19, 2012 on The Sports Headquarters:
PLAYERS:
Carson Palmer
,
Rolando McClain
,
Richard Seymour
,
LaMarr Houston
,
Stefen Wisniewski
,
Jared Veldheer
,
Al Davis
,
Terrelle Pryor
,
Tony Bergstrom
,
Jacoby Ford
,
Chimdi Chekwa
,
Taiwan Jones
,
Miles Burris
,
Denarius Moore
,
Jack Crawford
,
Juron Criner
,
Travis Goethel
,
Richard Gordon
,
Christo Bilukidi
,
Stevie Brown
,
David Ausberry
,
Nathan Stupar
TEAMS:
Oakland Raiders
,
New York Giants
,
Arizona State Sun Devils
Last year seems so long ago.  The Raiders made a move to put them over the top in a very winnable decision, giving up draft picks for the chance at a franchise quarterback, and then Carson Palmer showed up and was a shell of what he used to be. The Raiders now sit at 1-4 and are in prime position to be in the sweepstakes for the one and only Geno Smith, but how did they get here? Well I am here to hopefully answer some of those questions with my Oakland Raiders Rookies Report, as we look at the last three draft classes, the ones that were supposed to shape the future of the Raiders, and why things have gotten so bad. Let's first start with the grades: Round 1 Picks- 2010: Rolando McClain, MLB Alabama- What they said: McClain was a dynamic, play making linebacker who looked to be the perfect fit in a 34 defense, and allow the Raiders to fluctuate between their traditional 43 and their new hybrid 34 in 2010. The Grade: C The Reason: McClain came in and played exactly like a top 10 selection at MLB should, having a huge impact against the run, and doing enough against the pass to warrant staying on the field as a three down LB. In 2011 McClain was given more responsibility and with that came sophmore struggles.  He regressed as a run stopper and he continued to being only mediocre against the pass, not necessarily the way to go. Then there is this season, and with it has come the shocking revelation of this game against the Falcons, where he only played in 18 snaps on defense. EIGHTEEN! He continues to not be useless against the run, and average against the pass, but that was ok as a rookie, now in his third year in the league he needed to take the next step from being a middle of the road. 2011: None (Traded for Richard Seymour) 2012: None (Traded for Carson Palmer) Overall: C- I can't knock them too far down for not having any first round picks the last two seasons, but they should take some punishment for it. Round 2 Picks- 2010: Lamarr Houston, DE Texas What they said: Powerful, athletic and versatile enough to work anywhere, in any kind of defense. The Grade: B+ The reason: Solid rookie season, lead to an even better sophmore season that saw him become one of the better, and more complete defensive lineman that no one was talking about. He hasn't exactly exploded in the pass rushing department like was expected of him, but he is one of the best run stopping defensive ends in the league and that makes this an easy grade. 2011: Stefen Wisniewski, C Penn St What they said: Hard working, agile, tactician that will never stop. The Grade: C The reason: Hasn't exactly been a fantastic overall player, but was out of position in year one playing guard while Samson Satele played a very average center. They let Satele walk and Wisniewski has done only average replacing him.  While he continues to grow into the position I see flashes of goodness and ability there, but he hasn't shown the ability to sustain it play to play, little alone week to week. 2012: NA Overall: B The good of Houston outweighs the average play of Wisniewski to make this grade a solid B. Round 3 Picks- 2010: Jared Veldheer, T Hillsdale What they said: An outstanding developmental prospect with amazing athletic ability, but question marks about his short arms. The Grade: B+ The reason: Raise your hand if your team has a better left tackle than Veldheer… Well in 2010 that would have been almost everyone.  He was a turnstile at the position, giving up 8 sacks and 7 QB hits on the season, who's only passable attribute seemed to be his average ability in the run game. Well then 2011 happened and Veldheer only allowed 4 sacks and 3 QB hits and it seemed as though he had arrived. So far in 2012 he has been excellent in pass protection, but his run blocking has actually regressed, as seen most obviously on Sunday when he was controlled at the line all day by the Falcons defenders. 2011: DeMarcus Van ****, DB Miami (Fl) What they said: Perfect fit for the Al Davis Raiders. The Grade: F The reason: Yeah, this was a terrible pick, and if you want a detailed explanation then you don't follow football.  HE WAS CUT ALREADY BY THE RAIDERS. 2011: Joe Barksdale, OT LSU What they said: College underachiever who has unlimited upside. The Grade: F The reason: Played in 156 snaps in 2011, was so bad he was waived, and has since moved onto play with the Rams, and by play I mean sit on the bench. 2011 Supplemental Draft: Terrelle Pryor, QB Ohio St The Grade: D The Reason: When you lack talent on your roster you can't add suspect talent that doesn't really have an NFL ready position and THEN trade for another QB.  This is the type of decision that gets people fired and puts teams deep in holes that are hard to come back from. 2012: Tony Bergstrom, G Utah What I said: Good agility, excellent quickness, but a bit of a finesse blocker. The Grade: NA The Reason: Hasn't played yet, but he hasn't been released yet, so there is that. Overall: C- This really should be lower, but Veldheer has been good enough to give them a slight pass at this point, and it may show my overall weakness for strong offensive line play. Round 4 Picks- 2010: Bruce Campbell, OT Maryland What they said: Athletic freak with first round potential. The Grade: D The reason:  Why not another F for a guy who saw only 19 offensive snaps for a team in need of an offensive line upgrade? Because I am ok with day three picks being of the risk/reward variety, and that is exactly what Campbell was. It didn't work, and that's fine, the problem really is that other picks in the draft didn't work either, and that caused another miss in the 2010 class. 2010: Jacoby Ford, WR Clemson What they said: Dynamic playmaker, with speed to burn that could vault him as high as round 2. The Grade: C The reason: Simple, he has been average in every sense of the word. Sure he has displayed that ability to be a big play threat all over the field, at any time during the game, but he isn't on the field enough, and he hasn't done it enough. Add in the fact that his 2012 season reads as an incomplete, and a C may be a bit gracious at this time. 2011: Chimdi Chekwa, DB Ohio St What they said: Needs to be picked up in a zone scheme, and could hang on if he is. The Grade: F The reason: Ineffective when he played, then cut. 2011: Taiwan Jones, RB Eastern Washington What they said: Explosive runner that was better than his competition at the FCS level, but injuries area  concern. The Grade: C The reason: Extremely effective at times, but hasn't seen the field enough to warrant more than an average grade based on some potential going forward. His 2012 season has been very disappointing because of a rib injury, but there is more than enough time for that to turn around, and I am hopeful. 2012: Miles Burris, LB San Diego St What I said: Rangy OLB prospect that would be best suited for a 34 defense so he can get after the passer. The Grade: C+ The reason: Has played well for a fourth rounder in his first year of action.  Has been steady against the run and in coverage, but hasn't been as good getting after the passer as I would have hoped. Overall: C The Raiders have found some good players in round 4, but the skill position players need to get healthy and Burris needs to continue his upward trend of playing well. Round 5 Picks 2010: Walter McFadden, CB Auburn The Grade: C- The reason: Saw some time on the field, couldn't hold up.  I grade up whenever a pick in round 5-7 gets time on the field, even if they failed. 2011: Denarius Moore, WR Tennessee The Grade: A The reason: When you find a guy who flashes number one WR potential in round 5 you hit a home run.  Even if he never lives up to the potential, he is still a more than solid WR at the NFL level, and someone who you can rely on week to week to make plays. 2012: Jack Crawford, DE Penn St The Grade: C+ The reason:  Rotational defensive player that has shown some ability to be a nice, consistent depth guy as he grows. 2012: Juron Criner, WR Arizona The Grade: C This is why I grade up, because realistically this is a pick that hasn't done everything that was expected, especially after how he showed in the pre season, but he has a lot of talent, and with some time I see a nice role player at WR. Overall: B With Moore as good as he is, and with the potential he has, this grade will go even higher. Especially if Crawford and Criner can develop into the strong role players I see them as. Round 6 Picks- 2010: Travis Goethel, LB Arizona State University The Grade: C The reason: Another case of grading up, as Goethel is nothing more than a depth player, but he has stuck on the roster, which if you ask 90% of guys drafted on day 3, they would be happy with being on a roster for three years. 2011: Richard Gordon, TE Miami (Fl) The Grade: C The reason: Good depth TE that has hung on the roster by being versatile enough to play some FB in 2011. 2012: Christo Bilukidi, DT Georgia St The Grade: C The reason: Are you kidding me with this draft class?  Every player but Bergstrom has seen the field? Overall: C Depth is built in the later rounds, and while it isn't game changing depth, or maybe even impactful depth, it is relevant depth because they are all still on the roster and contributing. Round 7 Picks- 2010: Jeremy Ware, CB Michigan St The Grade: C- The reason: Played 118 meaningful snaps in 2010, and didn't play bad in those snaps, then never made another appearance in the league. 2010: Stevie Brown, DB Michigan The Grade: C+ The reason: Only played one season with the Raiders, and saw 160 snaps, but has hung around for two additional seasons getting good time with the New York Giants this season. I went back and watched the Giants v Eagles game, and he played in 62 snaps possible, and really was ok.  He isn't flashy, he is just a solid safety that stays in position, and makes plays that are there to be made. 2011: David Ausberry, TE USC The Grade: C The reason: Still on the roster, and still garnering snaps and still doing an adequate job when getting those snaps. 2012: Nathan Stupar, LB The Grade: NA The reason: A 7th rounder cut… Moving on. Overall: C What can we say about the Raiders drafts from 2010-2012? Al Davis ran things from 2010-2011 and things weren't great.  The 2010 draft yielded a nice haul of prospects leading with Lamarr Houston and Jared Veldheer, both exciting young players at their positions and guys who you can build around to be successful. The problem is neither one of them are franchise changers and that was available in the 2010 draft and instead they took Rolando McClain, who while he was a solid prospect at a position of need, he was over drafted and put into the wrong system. 2010 Draft Grade: B- In 2011 they just flat out didn't get it early, and ended up salvaging their draft with the pick of Denarius Moore, who has special talent, and finding that in round 5 earns them a higher grade than normal, because Wisniewski hasn't been as good as he should have been, but he is growing, and the rest of the draft list looks like a who's who of terrible draft day decisions. 2011 Draft Grade: C- Meanwhile, Reggie McKenzie has started to build something the right way, and while they are still short on draft picks, not the fault of McKenzie at all, you can't make chicken salad out of chicken… well you get the point. 2012 Draft Grade: C The Raiders are a prime example of what bad drafts can do to a franchise, and what trading away high drafts picks will do as well.
Original Story:
http://feedproxy.google.com/~r/TheSpo...
THE BACKYARD
BEST OF MAXIM
RELATED ARTICLES
The Oakland Raiders received a welcome addition to Wednesday's practice, with the return of linebacker Aaron Curry. The former fourth overall pick in the 2009 NFL Draft was on the physically unable to perform list all season dealing with a knee injury. "He looked good," Raiders head coach Dennis Allen said. "He moved around well, so I think the key is to see how he responds...
What up RaiderNation? Welcome to this week's edition of My Two Cents, with your favorite over-the-hill Raider fan, Old Timer. I want to give a shout out to my friend Andy Webster, who has been working in partnership with the Oakland Raiders, and is promoting a new app that has been developed for your PC, or Windows based tablet. The [...]
As the Oakland Raiders prepare for their home game against the Jacksonville Jaguars Sunday, quarterback Carson Palmer knows that it is a must win. With both teams entering the game with a 1-4 record and the Raiders only one and a half games back in the AFC West, they must string together wins starting this week.     "It's a must win game for us," Palmer said. "We had...
On Sunday, the Oakland Raiders will host the Jacksonville Jaguars in an AFC match-up. Both teams enter this week with identical 1-4 records. For the Raiders, this is an opportunity to begin to string together wins and claw back into the AFC West division race. The key on offense for Oakland is running back Darren McFadden. When he gets his touches and carries the offensive load...
When the Oakland Raiders host the Jacksonville Jaguars on Sunday, the defense will have their hands full against running back Maurice Jones-Drew. The plan will be to limit Jones-Drew and the rushing attack. If the Raiders can accomplish that, they will put themselves in a position to win. This season the Raiders have done a nice job against the run. They rank 18th in the NFL, giving...
(Eds: APNewsNow. Will be updated. With AP Photos.) By JOSH DUBOW AP Sports Writer Mike Goodson is making the most of his limited opportunities as Darren McFadden's backup in Oakland. Goodson has shown a propensity for big plays off the bench so far this season for the Raiders and has filled a void at backup running back. Despite only 18 touches on offense, Goodson has gained...
(Eds: APNewsNow. Will be updated. With AP Photos.) By JOSH DUBOW AP Sports Writer Rolando McClain arrived in Oakland two years ago amid expectations that he would be the impact middle linebacker who could transform a Raiders defense that had struggled to stop the run. Less than halfway through his third season with the Raiders, McClain has been relegated to spot duty. McClain is...
The Oakland Raiders showed improvement on both sides of the ball last week, but they still couldn't get back into the win column after their bye. The Jacksonville Jaguars can't fare much worse as they return to the field. Oakland tries to build on a near-upset of the NFL's lone unbeaten team Sunday when it hosts a Jaguars team that's had plenty of time to stew over...
Sam Greenwood/Getty Images Follow @Dan Vasta and like Gridiron Grit on Facebook  O, boy o boy is this matchup the one to keep a close eye on! I kid because I care, but seriously these teams practically draw zero interest by the entire nation. After all, two of these quarterbacks have been brutal albeit one a bit more than the other. Jacksonville's Blaine Gabbert could shock...
I admit I have an unhealthy reverence for teams coming off a bye week. I want to believe they are a better team off the bye week. I want to believe they have righted their wrongs during the bye week. I want to believe their wide receivers will stop dropping a league high 12.8 percent  of their passes. But most importantly, I want to believe the coaching staff understands they...
NFL News

Delivered to your inbox

You'll also receive Yardbarker's daily Top 10, featuring the best sports stories from around the web. Customize your newsletter to get articles on your favorite sports and teams. And the best part? It's free!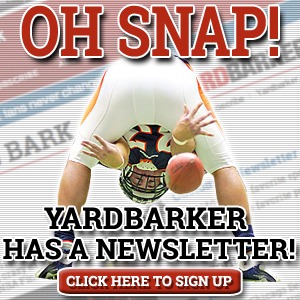 Latest Rumors
Best of Yardbarker

Today's Best Stuff

For Bloggers

Join the Yardbarker Network for more promotion, traffic, and money.

Company Info

Help

What is Yardbarker?

Yardbarker is the largest network of sports blogs and pro athlete blogs on the web. This site is the hub of the Yardbarker Network, where our editors and algorithms curate the best sports content from our network and beyond.