Found September 01, 2012 on The Sports Headquarters:
PLAYERS:
Raheem Morris
,
Josh Freeman
,
Donald Penn
,
Carl Nicks
,
Jeremy Zuttah
,
Ted Larsen
,
Jeremy Trueblood
,
Chad Clifton
,
Jeff Faine
,
Davin Joseph
,
LeGarrette Blount
,
Earnest Graham
,
Doug Martin
,
Vincent Jackson
,
Mike Williams
,
Arrelious Benn
,
Dallas Clark
,
Luke Stocker
,
Kellen Winslow
TEAMS:
Tampa Bay Buccaneers
,
Minnesota Vikings
,
Green Bay Packers
,
Cincinnati Bengals
,
Seattle Seahawks
,
Tennessee Titans
,
New Orleans Saints
The Buccaneers have experienced the highs and lows of NFL Football in just the past three years.  They were a dismal 3-13 in 2009, then in 2010 exuberant Coach Raheem Morris brought them to 10-6 and on the cusp of the playoffs, and in 2011 they crashed back to earth losing 9 of their last 10 to finish 4-12.  The end result was that after being hailed as one of the "young bucs" pardon the pun of the new NFL coaching regime, Morris was fired and the reins of the team have been turned over to ex Rutgers Head Coach Greg Schiano.  Schiano's offense has the making of being more old school when it comes to the philosophy that they will need to run to set up the pass.  This is the antithesis to what most coaches are doing today.  Most coaches realize that the NFL is morphing into a passing league, but Schiano wants to control the ball and the clock via a strong running game with some vertical passing sprinkled in.  In order for him to turn this franchise back into a contender they have to play better on both sides of the ball.  Quarterback Josh Freeman threw for more yards than in 2010 but he had 77 more passing attempts.  He also had 6 interceptions in 2010 and had 22 last year.  He must evolve into the guy the franchise envisioned soon or the management team will look at other options.  Trying to keep Freeman upright in 2012 will be LT Donald Penn, LG Carl Nicks, C Jeremy Zuttah, RG Ted Larsen and RT Jeremy Trueblood.
Left Tackle Donald Penn was taken by the Minnesota Vikings as an undrafted Free Agent in 2006.  He was only on the practice squad for the Vikings and was plucked off it by the Buccaneers later that year.  He was selected to his first Pro Bowl as an alternate and got to play after Green Bay's Chad Clifton made it to the Super Bowl. This was a shock because he did not have a strong season last year as he gave up 9 sacks.  He is listed at 305 pounds but he looks much larger than that.
Left Guard Carl Nicks was a 5th round selection of the New Orleans Saints in 2008.  Nicks is highly regarded as one of the best Guards, if not the best Guard in the NFL and was rewarded handsomely in Free Agency by the Bucs.  He has it all, size, strength, agility and a mean streak.  He can effectively wall off on defensive players.  He will be a big help to both Zuttah and Penn as he can hold his own against multiple fronts.
Center Jeremy Zuttah was a 3rd round pick of the Buccaneers in 2008.  He is quite familiar with his head coach as he played under his coaches' regime in college.  He is the quintessential plug and play player.  He has played LG, RG and Center.  Schiano wants to switch to the power running game and Zuttah will definitely be an upgrade over Jeff Faine.  He is a bit tall but is a good knee bender with power.
Right Guard Ted Larsen takes over for Davin Joseph who suffered a season ending knee injury.  Larsen was drafted by the Patriots in the 6th round of the 2010 NFL Draft.  He is more of a prototypical Center size but is functionally able provide Guard push.  Since breaking into the league he has only surrendered 3 sacks.  The loss of Joseph is major but Larsen can do yeoman's work for the Buccaneers.
Right Tackle Jeremy Trueblood was taken in the 2nd round of the 2006 NFL Draft by Tampa Bay.  He is an excellent size for the Tackle position and has the arms to fend off challengers at times but doesn't play to his size or ability on a consistent basis.  His new coaching staff has entrusted him with being able to clear paths for the running backs and protecting Freeman and he will be under the microscope lots in 2012.
Now to analyze the numbers…..
The Buccaneers ranked 22nd in Total Run Blocking in 2011 allowing LeGarrette Blount, Earnest Graham and Kregg Lumpkin to rush for 4.32 yards per carry which exceeded the NFL average of 4.31.  They were stopped at/or behind the line of scrimmage on 21% of their attempts which was below the NFL average of 19%.  They achieved first downs on 3rd/4th down runs 65% of their attempts which was better than the NFL average of 62%.  The Bucs only ran the ball 272 times in 2011 and we all know that this number will go up quite a bit.  They had their least success running off the Left Tackle position as they only averaged 2.43 yards per carry which was 3rd last in the league.  They were much more successful running behind the Center/Guards as they averaged 4.34 yards per carry.  From a Fantasy perspective, Blount carried the load last year but had an inordinate amount of fumbles which led Tampa Bay to seek out help via the Draft and they procured a potential stud in Doug Martin.  Martin will be the lead back for the Bucs as he has the tools to carry the load but is a much better receiving option which will soften defenses.  He is not a speedster but is a guy who can sneak through tiny holes and next thing you know, he's by you.  Blount will also factor in, especially on short yardage plays.  He has been perplexing near the goal line though as he only scored 5 TD's on 184 rushes.  Whereas Martin can sneak up on you, Blount tends to run over you.  Martin is a 5th round grade who will reward you.  Blount is a later round guy who again can provide value if he can hold onto the ball.
Tampa Bay ranked 14th in Pass Protection in 2011 allowing Josh Freeman to be sacked on 6.1% of his dropbacks which was better than the NFL average of 6.7%.  Freeman had some questionable decisions last year when under duress so if this line can hold, he should be able to get closer to the 6 INT's he threw in 2010 instead of the 22 he launched last year.  From a Fantasy perspective, Freeman will be better this year especially with the new weapon he received via Free Agency.  He would be a backup in most leagues and that is where he should be.  He can be a spot starter or bye week replacement but don't go all in on him to lead your team to the promised land.  The big Free Agent signing was Vincent Jackson who came over to Tampa from San Diego.  Jackson is a bit inconsistent at times but will have a few dynamite games for you this year…..you will have to decipher which ones.  He is a decent Flex start for you but I wouldn't have him starting for me every week.  Opposite Jackson is Mike Williams who now has the distinction of being the only Mike Williams in the league.  Williams had a phenomenal rookie campaign with almost 1000 yards and 11 TD's but regressed last year only scoring 3 times with 771 yards.  Nobody was more happy with the arrival of Vincent Jackson than Williams who was shadowed as the number 1 receiver but he is more suited to be a number 2.  Jackson will relieve some of the pressure on Williams so Williams will have a rebirth this year.  Draft Williams in round 9 or so.  Arrelious Benn also has some value but hasn't lived up to expectations and don't get excited when you see his name on Cheat Sheets.  Tight Ends are Dallas Clark and Luke Stocker.  Clark has been there, done that with one of the greatest QB's in NFL history but he is often injured and in a state of decline.  He is waiver wire fodder.  Stocker actually was probably glad to see ex-Buc Kellen Winslow go because it would lead to more opportunities for him, but they promptly picked up Clark.  Stocker needs a decent season or he may be pushed out to pasture.  To summarize, take Martin, Blount, Freeman, Jackson and Williams.  Everybody else will be available on waivers.
Thanks to www.footballoutsiders.com for the statistics
Next team is the Tennessee Titans
Original Story:
http://feedproxy.google.com/~r/TheSpo...
THE BACKYARD
BEST OF MAXIM
RELATED ARTICLES
With promises of a fresh start, a new head coach, millions spent in free agency, half price concessions, free parking, and a celebration of team legend Ronde Barber's 200th consecutive NFL start, one would think the Tampa Bay Buccaneers would have no problem selling out their season opener at Raymond James Stadium against the division rival Carolina Panthers. Think again...
The Tampa Bay Buccaneers got down to the 53-man roster limit on Friday night, but it was easy to see that roster they trimmed down to would not be the team that took the field next Sunday against the Carolina Panthers. On Saturday, head coach Greg Schiano that the roster would be a fluid situation through Tuesday and the Bucs have been busy already. With only 52 players kept...
The cuts keep coming from the Tampa Bay Buccaneers and some surprising moves have been made. According to multiple reports, the Bucs have released defensive tackle Amobe Okoye, safety Cody Grimm, and safety Keith Tandy, who was a 2012 sixth-round draft pick out of West Virginia. Okoye signed a one-year deal with Tampa Bay this offseason but knee issues limited him in minicamps and...
Getty According to Sean Jensen of the Chicago Sun-Times, the Bears are close to signing defensive tackle Amobi Okoye after being released by the Buccaneers "Amobi Okoye is about to be back with the Bears. "The defensive lineman was released by the Tampa Bay Buccaneers, and he's finalizing a deal to return to the Bears, according to a league source," wrote Jensen.
Cuts aren't due into the league office until 9 PM on Friday, but the Tampa Bay Buccaneers aren't wasting any time letting go of some of their players. And those players aren't shy about posting their release on Twitter. Late Thursday night, defensive tackle Frank Okam and running back Mossis Madu each posted tweets suggesting that they were indeed released by the...
The Tampa Bay Buccaneers have met the 9p.m. league requirement in order to reach the 53-man roster limit. In fact, the Buccaneers actually have made enough roster moves in order to reach 52 players on their current roster. There were a couple surprises in the players which were either released or waived on Friday. Two vested veterans were released, DT Frank Okam and DT Amobi Okoye...
It has been a busy week for the Tampa Bay area. The Republican National Convention took place downtown. There was an imminent  threat of Hurricane Isaac, and the last Tampa Bay Buccaneers preseason game before the  regular season starts next week. This game against the Washington Redskins was the last chance of the Bucs to [...]
The Tampa Bay Buccaneers signed running back D.J. Ware a day after he was cut by the New York Giants, the team announced Saturday. The New Jersey Star-Ledger reported that Ware chose the Buccaneers over the Oakland Raiders and Seattle Seahawks. Ware adds depth to a Buccaneers backfield that includes 2012 first-round draft pick Doug Martin and LeGarrette Blount. Also, Tampa...
The Tampa Bay Buccaneers have signed former New York Giants reserve running back D.J. Ware and released cornerback Brandon McDonald. The moves were announced Saturday, when the Bucs also claimed defensive tackle Corvey Irvin, guard Julian Vandervelde and center/guard Cody Wallace off waivers. To make room on the roster, which had been at 52 players, defensive lineman Wallace Gilberry...
The Chicago Bears are in the process of signing DT Amobi Okoye, who was cut by the Tampa Bay Buccaneers due to a knee scope that has kept him out of the preseason.
NFL News

Delivered to your inbox

You'll also receive Yardbarker's daily Top 10, featuring the best sports stories from around the web. Customize your newsletter to get articles on your favorite sports and teams. And the best part? It's free!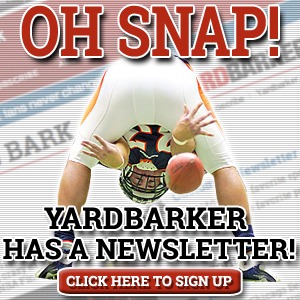 Latest Rumors
Best of Yardbarker

Today's Best Stuff

For Bloggers

Join the Yardbarker Network for more promotion, traffic, and money.

Company Info

Help

What is Yardbarker?

Yardbarker is the largest network of sports blogs and pro athlete blogs on the web. This site is the hub of the Yardbarker Network, where our editors and algorithms curate the best sports content from our network and beyond.