Found July 12, 2013 on Pats Propaganda:
"On the New England Patriots' second-round pick, Marshall WR Aaron Dobson: "I...
Original Story:
http://feedproxy.google.com/~r/PatsPr...
THE BACKYARD
BEST OF MAXIM
RELATED ARTICLES
Alfonzo Dennard will find out his fate on July 31. The Patriots cornerback was already on probation for punching a police officer back in April 2012 when he was arrested on suspicion of DUI on Thursday morning. He is scheduled to be in court on July 31 to determine if he violated that probation, according to Omaha.com. Omaha.com writes "Authorities have said that the accusation...
Remember when the New England Patriots signed Tim Tebow and it was all everyone wanted to talk about? Thanks to Aaron Hernandez and an ongoing murder investigation, the buzz surrounding that move has essentially gone silent. Throw Alfonzo Dennard's DUI arrest into the mix and — forgive me for saying it — Tebow is somewhat of [...]
Alfonzo Dennard (DEHN'-nurd) of the New England Patriots has been arrested and accused of driving drunk in Lincoln where he once starred as a Nebraska defensive back. Lincoln police say 24-year-old Dennard was pulled over southeast of downtown Lincoln just before 2 a.m. Thursday. Lincoln police say Dennard failed a field sobriety test. Police spokeswoman Katie Flood says Dennard...
New England Patriots cornerback Alfonzo Dennard was arrested early Thursday morning for suspicion of driving under the influence. Dennard was pulled over at 2 A.M. in Lincoln, Nebraska after police say Dennard's car was "straddling a lane." The 23-year old Dennard reportedly refused to take a sobriety test after being pulled over. It looks to be another bad off-the-field decision...
With ESPN's experts putting Tim Tebow's chances of making the Patriots' Week 1 roster at 25-percent, do you think he'll wind up making the cut?
The book on Tim Tebow is that he's either derided or deified, depending on whom you ask, with very little middle ground to speak of. Darryl Strawberry might not seem like the most likely candidate to canonize Tebow, what with his hard-partying, addiction-riddled past that seems at odds with Tebow's message. But in an interview with USA Today , the former New York Mets and...
Aaron Hernandez was placed in solitary confinement at the Bristol County House of Corrections immediately after he was booked, and it appears that is where the former New England Patriots tight end is going to remain for the foreseeable future. TMZ reported on Friday that jail officials have stated it is in Hernandez's "best interest" [...]
It was pretty much assumed that one of Aaron Hernandez boys had given details to the police about the night in question when Odin Lloyd was murdered. Now documents confirm that Carlos Ortiz provided police with details of the events from that night. According to the affidavit, Ortiz, who was already on probation, showed up for what he assumed was his regularly scheduled probation...
Alfonzo Dennard's timing couldn't be worse. There's never really a good time to be arrested, but if there was ever a worst time for it to happen it's now. Dennard was taken into custody by Lincoln, Neb., police on "suspicion of DUI," early Thursday morning. He hasn't been convicted or even arraigned yet, but Dennard's mere association with legal trouble just piles...
Alfonzo Dennard doesn't seem to have gotten the message. It may just cost him his job. The Patriots cornerback was arrested last night around 2:00am in Lincoln NE, on suspicion of DUI. Even if he was not drunk, he showed incredible lack of judgement just by being out on the town at 2:00am in a city in which he was already convicted of assaulting a police officer. Because Bob Kraft...
Aaron Hernandez's murder charge has all of a sudden cast the "Patriot Way" in a while different light. Now with Alfonzo Dennard getting arrested today for a DUI, the team faces even more scrutiny for taking in players with troubled histories off the field. Albert Haynesworth was perhaps the biggest name they brought in with a checkered past but Aqib Talib has quite...
Tim Tebow has been a fan favorite wherever he has landed. From Florida to Denver to New York, fans from all walks of life cheer on Tebow. Whether you like him or not you have to admit that Tebow brings a winning attitude in any locker room he enters. While he was in New York "playing" for the Jets it seems that a famous New York athlete caught Tebowmania. Former New York Mets...
Patriots News

Delivered to your inbox

You'll also receive Yardbarker's daily Top 10, featuring the best sports stories from around the web. Customize your newsletter to get articles on your favorite sports and teams. And the best part? It's free!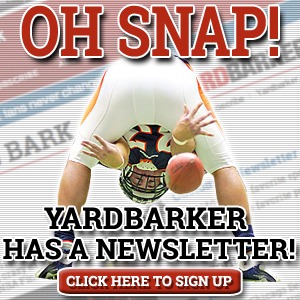 Latest Rumors
Best of Yardbarker

Today's Best Stuff

For Bloggers

Join the Yardbarker Network for more promotion, traffic, and money.

Company Info

Help

What is Yardbarker?

Yardbarker is the largest network of sports blogs and pro athlete blogs on the web. This site is the hub of the Yardbarker Network, where our editors and algorithms curate the best sports content from our network and beyond.