Found December 30, 2012 on Losers Bracket:
Recent playoff games in Lambeau have not been kind to Packers fans…next weekend will be no different.   My predictions are ALWAYS wrong, so…Packer fans…enjoy the very real possibility that what I am about to write will be dead wrong…because it usually is. That being said, the POSSIBILITY that I may be wrong is really the only hope the Packers have of not being embarrassed, once again, at Lambeau Field in the playoffs. If you have a chance to stomp out a team, you do it, you DO NOT let Christian "likely worst QB in the league" Ponder defeat you and gain entry into the playoffs. Sound familiar Packer fans? Some team let the Packers into the playoffs in 2010….Bears' fans are still lamenting that failure. History, I am afraid, will repeat itself next weekend in Lambeau, except it will be Adrian Peterson running over the entire Packers Defense once again and Ponder dinking and dunking his way into the second round. Here is the problem. Adrian Peterson…the Packers, and many other teams for that matter, cannot stop him. The difference between the Packers and other teams is that competent Playoff bound teams shut down Ponder and let Peterson get his yards. The Green Bay Packers are simply not physical enough and have no pass rush outside Clay Matthews. Ponder only needs to be mildly average and the Vikings will win by 10 or more points. The Vikings owned Green Bay in Lambeau during their earlier season meeting and only lost because Ponder was…well….Ponder. Since that time, Ponder hasn't made mistakes and the Vikings are riding Adrian Peterson as far as his reconstructed knee will take them….which appears to be very far. I now present the main reasons for my "One and Done" prediction. Tramon Williams. Tramon is a very good cover corner. The problem is, the Vikings have no one to cover so Tramon has to tackle, which he cant do. Tonight's game also proved that he is scared to death of Adrian Peterson and wants nothing to do with challenging #28. So, if you are the Vikings, what do you do? That's right….look to see where Tramon is lining up and run right at him. Doesn't matter if he reads the play, he will either flail an arm out there or conveniently show up just a bit too late into the hole. No Pass Rush; Outside of Clay Matthews, there isn't one person on the current Packers who can rush the passer. When Ponder is forced to throw, he will have 5+ seconds to do so and, well….someone is bound to stumble open. Secondary is Too Young; I think Casey Hayward will be good, perhaps very good, but at this current time he gambles too much and got exposed by…..yes….Christian Ponder. The third and long, at the end of tonight's game, was inexcusable. There was NO ONE to cover…..and the Viking WR was wide open between three very young Packers corner backs.  The Packers secondary is just too inexperienced and, back to my first point, cant tackle. Christian Ponder Learned; Ponder learned that, all he has to do, is not screw up. Hand the ball to Peterson, don't force crap and take what the defense gives him. "Ponder being Ponder" is what the Packers were and will be relying on. He won't be Ponder. He will do his best Trent Dilfer and simply hand it off to the greatest RB in the game and occasionally convert short 3rd downs wherever Casey Hayward,  or "insert name of bad Packers safety here" are lined up.   It Will be Cold Out; In days gone by this was great news for the Pack. Not anymore. The Pack offense is built for the dome and/or nice weather. The Vikings will go Peterson left, Peterson right, Peterson wherever Hawk and Tramon are and eat up the game. Rodgers will get a TD or two, but The Pack will not put up 30+ points in "THE FROZEN TUNDRA".   Vikings Have Nothing to Lose: Remember that feeling? 2010 is not too far in the past. The Vikings were not supposed to be here, have no idea how they got here and could care less who doesn't believe in them. They have a terrible QB, but the best running back ever. Their defense is adequate and they will be playing balls out with nothing to fear and nothing to lose. The Packers failed to do what a team must do…stomp out a team. Now, they have to face that same team, at Lambeau, in the Playoffs, where the Packers recent past has been, well, terrible.  The Packers will be tight, the Vikings will be loose and they have Adrian Peterson. Game, Set, Match. Sorry Packer fans…the current Packer's squad just doesn't have it. Their defense is too young and not physical enough to beat the Vikings in Lambeau in the cold. The defense has no idea how to tackle and half the players on the Packers Defense showed us that they would rather flail their arms than tackle Adrian Peterson. The offense will try their best, but will be hampered by the elements and will not be able to match The Vikings deadly Peterson and Ponder combo….known from here out as P squared. After the game there will be soul searching, but the first thing that needs to happen is Dom Capers needs to figure out a way to make this Packers team physical or he needs to go. Simple.   All this nonsense being said, I have now guaranteed that the Packers will win the Super Bowl….or the Redskins, or the Seahawks….   **Side note. It is now a LosersBracket policy to intentionally include grammatical errors, misspellings and to randomly not include apostrophes etc et all. Hey, Internet trolls need to be fed and we love to feed them**
Original Story:
http://losersbracket.com/2012/12/one-...
THE BACKYARD
BEST OF MAXIM
RELATED ARTICLES
As we look at the top-50 single season rushing totals, anyone who anticipated Adrian Peterson would rush for over 2,000 yards in his comeback year would have been called crazy. In his 16th game of the 2011 season, he felt three pops in his left knee. X-rays told the story of torn medial collateral ligaments along with torn anterior cruciate ligaments, but A.P. wouldn't wait and...
The Minnesota Vikings are Adrian Peterson's team. Christian Ponder, though, is the one most responsible for their progress. The passing game was so bad and the ground game was so good that, for a while, Peterson was rushing for more yards than Ponder was accumulating passing. But since the Vikings lost to the Packers on Dec. 2, due largely to the two interceptions Ponder threw...
Adrian Peterson is happy that his incredible performance on Sunday against the Green Bay Packers helped the Minnesota Vikings clinch a playoff spot. He may not hold the NFL record for most rushing yards in a single season, but his team will still be playing in January. In the grand scheme of things, that's all that matters. However, Peterson wouldn't be human if it didn't sting...
MINNEAPOLIS -- The man who ought to be the NFL's Most Valuable Player was still on the field, doing a postgame interview. The Minnesota Vikings' much-maligned owner was whooping it up as he scampered out of the locker room, ebullient that his team had won 10 games, seven more than last season. Players were singing and clapping about being the league's most surprising...
It might have been the excitement of making the playoffs but  — after falling just nine yards shy of Eric Dickerson's single season rushing record of 2,105 yards — Minnesota Vikings running back Adrian Peterson seemed genuinely flabbergasted that he had come so close to breaking the 28-year-old record. While being interviewed post-game by Fox's Pam Oliver — after...
  Minnesota Vikings running back Adrian Peterson is just over 200 yards shy of the all-time single season rushing record, but it seems he has a new goal in mind already – Olympic athlete. Peterson says he is going to start running track in an attempt to qualify for the 2016 Summer Games in Rio de Janeiro. "I feel like I can stand up to any challenge," Peterson said. "I...
Sunday's 37-34 win against the Green Bay Packers perhaps wasn't the most dominating win of the season for the Minnesota Vikings, but it certainly was the biggest. Beating NFC North champion Green Bay was Minnesota's most important victory since the 2009 season. A 37-34 win, thanks to a time-expiring 29-yard field goal by rookie kicker Blair Walsh doesn't qualify...
Away from a television and need play-by-play on the Packers-Vikings game? One place to find it right now is the Chicago Bears Twitter feed, The Bears are depending on the Packers to win the game (thus, a Vikings loss) to pave their way into the NFC Playoffs for the second time in three years. Meanwhile, Adrian Peterson continues to chase Eric Dickerson's single-season rushing record...
1. Adrian Peterson is this year's MVP. It wouldn't be a travesty if Peyton Manning were to claim this year's MVP award. It wouldn't be a crime, an injustice, or a mockery for the NFL. Having said that, Adrian Peterson is so clearly this year's most valuable player that it's almost not even worth discussing. The Vikings went 3-13 last year and owned the third overall pick...
In week 17, the NFL regular season finale, the NFC North Division Champion Green Bay Packers travel across the Mississippi River to take on the Minnesota Vikings in the Humpty Dump. At stake for the Packers is nailing down the number two seed in the NFC playoffs and a first round bye. For the ViQueens, a win means -- in all likelihood -- getting the sixth seed in the playoffs. Do...
8 a.m. ET: It all comes down to this. While many NFL teams are shoring up for the playoffs, another pursuit awaits for those chasing individual accolades. For some of the NFL's best players, just 60 minutes remain to break records after a long season of work. In a year that has seen all kinds of benchmarks fall, a couple of the big ones remain. The Vikings' Adrian Peterson needs...
NFL News

Delivered to your inbox

You'll also receive Yardbarker's daily Top 10, featuring the best sports stories from around the web. Customize your newsletter to get articles on your favorite sports and teams. And the best part? It's free!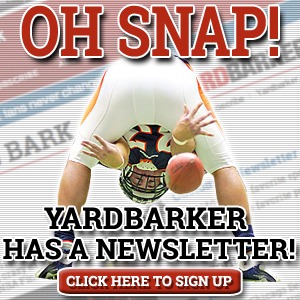 Latest Rumors
Best of Yardbarker

Today's Best Stuff

For Bloggers

Join the Yardbarker Network for more promotion, traffic, and money.

Company Info

Help

What is Yardbarker?

Yardbarker is the largest network of sports blogs and pro athlete blogs on the web. This site is the hub of the Yardbarker Network, where our editors and algorithms curate the best sports content from our network and beyond.