Found March 30, 2012 on Fox Sports Ohio:
PLAYERS:
Jason Pinkston
,
Eric Steinbach
,
Gabe Carimi
,
Mike Holmgren
,
Pat Shurmur
,
Joe Thomas
,
Alex Mack
,
Bill Belichick
TEAMS:
Cleveland Browns
,
Chicago Bears
,
New England Patriots
,
Ohio State Buckeyes
AVON -- Amidst all the offseason chatter and wondering about the Cleveland Browns, one player quietly goes about his business, with a very simple goal.I think, said guard Jason Pinkston, that I can be a ton better.Hes not just talking about it, either. Pinkston is spending his offseason in Cleveland training at the O-Line Academy run by former Brown (briefly), Saint and Ohio State Buckeye LeCharles Bentley.I like to say that there can be no way that theres other offensive linemen going through workouts that hes putting me through, Pinkston said. These workouts are something serious I went through the first week. I was like, This is what I really need. I woke up and I could feel every part of my body aching.At this point of the offseason, Pinkston is not required to do a thing. The new CBA strictly limits what teams can ask of players. The Browns cant ask players to be in the building until April 16 unless they are rehabbing from injury, and players coming off injury can only use the facility to rehab and recover. They are not allowed to work with strength coaches for training or workouts.So a player like Pinkston -- who was thrust into a starting role as a rookie late in training camp after Eric Steinbach had back surgery -- either works on his own, or he doesnt. Pinkston has chosen to join an Academy where a select group of players go through offensive-line specific workouts. Alex Boone credits Bentley for saving his career. Ole Miss tackle Bobbie Massey has transformed his body after six weeks with Bentley and might be a first-round pick, which is what Bears first-round pick Gabe Carimi did a year ago.Ive seen his before and after pictures, Pinkston said of Massie, shaking his head.Now Pinkston wants to join the club.He (Bentley) challenges you as soon as you walk through the door, he said. Youre not going to breeze through a workout. Its going to be tough. He picks his select guys. I felt like this was a great opportunity for him to choose me and want me to be here and be able to work with me.The day Pinkston spoke Academy members were putting five, six or seven 45-pound weights on a small platform that had straps attached. They would then strap the platform to their shoulders and lower back, crouch and bend their knees until their backside was within two feet of the ground and drag the platform across the field and back.You dont come here, Boone said, unless you want to work.Diet is also a big part of the Academy. Players receive bags with five specially prepared meals daily, meals with a lot of vegetables and lean meats.Im putting all my trust in him, said Pinkston. I like it here, so this is where Im going to be no matter what.Bentley texts late at night to give each player a time to report the next morning. Sometimes its 10, sometimes its six. If theyre late, they dont work. He knows his Academy is not in Phoenix, not in Orlando, not in a warm-weather site where guys spend as much time out and about as they do working. Guys who come to Cleveland, Bentley said, come for one reason.Im training, Pinkston said, and Im back to my apartment.This truly is Pinkstons first chance to improve in an offseason. A year ago, he got a staph infection in his elbow after his Pro Day at Pitt. He had to cancel workouts for teams, and could not lift much in the offseason, which meant he wasnt as strong during the season as he wanted to be.The Browns took him in the fifth round and told him hed move to guard. But because of the lockout, Pinkston didnt get his first look at his teammates and offense until July. When Steinbach was injured, Browns president Mike Holmgren approached him on the field and reinforced what he knew: That hed be starting and to make the most of it. My first snap in the NFL was at guard, Pinkston said of his new position. Across from Geno Atkins of Cincinnati, a guy who earned Pro Bowl votes.I was really trying to figure out how it works, he said of his first few games. It wasnt overwhelming. It was more trying to do a good job to keep up with the guys.Guys across from him were bigger and faster and stronger, too. Predictably, Pinkston had his best games in the second half of the season. The thinking on him is that he struggled early, but improved steadily -- to the point that the Browns were pleased with his development.We're talking about a guy that needs to improve, coach Pat Shurmur told the media at the NFL Meetings. But he went in and probably performed at a higher level than I expected.Pinkston talks in a manner that any coach would appreciate. He credits Steinbach for helping him every day last season, and said hed be thrilled if Steinbach were to re-sign.Whatever we have to do to win, Pinkston said.He called playing between Joe Thomas and Alex Mack a dream.All you have to do is line up and do your job, he said.Thats a statement right out of the Bill Belichick school. Belichick constantly emphasizes to players that they need only do their job and the team will succeed.Pinkston said hes not doing what hes doing for any reason other than to simply get better.Im excited to see how this is going to change me on the field, he said. I can already feel a change in my body.
Original Story:
http://www.foxsportsohio.com/03/30/12...
THE BACKYARD
BEST OF MAXIM
RELATED ARTICLES
Tom Heckert would argue that he's been active in free agency this year. Namely, he would say he has been active in keeping key Browns players from leaving Berea via free agency. "Trust me, I completely understand the fans are saying, 'Why aren't we going out and signing all of these free agents?'" Heckert said. "But when you talk about D'Qwell Jackson, Joe Thomas...
The comments to our headline post about Mike Mayock's opinion of Ryan Tannehill turned out to be a discussion of what it means for something to be newsworthy. In the case of Mike Mayock's opinion, as someone who has invested pretty heavily in the Browns, I would rather know it than not know it. That doesn't mean I believe it all, but it is an important part of the equation...
No big surprises here. The Browns are going to host visits from all the front-runners for the fourth pick in the NFL draft including Justin Blackmon, Morris Claiborne and Trent Richardson according to Mary Kay Cabot. As I was saying yesterday, the Browns haven't really made any kinds of definitive statements about Colt McCoy regardless of the number of times that Heckert, Shurmur...
Theres a rarely discussed draft option for the Browns that makes a lot of sense. Its really very appealing. This option involves a trade down. Not far, mind you, a few spots. Heres the scenario: The Browns trade down four, five spots, acquire an extra second- or third-round pick and take Notre Dame receiver Michael Floyd. Then they take a running back and offensive tackle and perhaps...
Earlier in the day we mentioned that the Cleveland Browns along with the Tampa Bay Buccaneers, are really interested in running back Trent Richardson. According to TheSidelineView.com, one league source said to "put Brandon Weeden at 22 to Cleveland and keep him there." This is a good indication that the Browns could end up taking a quarterback late in the first round, rather...
Now that the dust has settled from the last round of free agency, Pro Football Talk has calculated how much cap space that teams have remaining as we head toward the draft and free agency continues. Here are the top ten according to their calculations. Bengals:  $20.5 million. Jaguars:  $20.2 million. Seahawks:  $18.9 million. Browns:  $18.5 million. Titans:  $18.4 million....
According to Tony Grossi of ESPNCleveland.com, the Cleveland Browns look like they're really interested in former Alabama running back Trent Richardson. Browns general manager Tom heckert and head coach Pat Shurmur both attended Alabama's pro day to check out Richardson. This week, Shurmur was asked what he thought about Richardson. "I'm not going to talk about my five...
NFL News

Delivered to your inbox

You'll also receive Yardbarker's daily Top 10, featuring the best sports stories from around the web. Customize your newsletter to get articles on your favorite sports and teams. And the best part? It's free!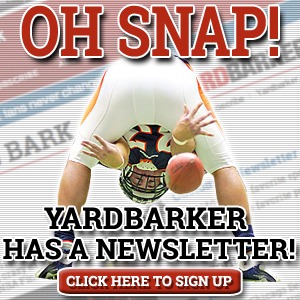 Latest Rumors
The Backyard

Today's Best Stuff

For Bloggers

Join the Yardbarker Network for more promotion, traffic, and money.

Company Info

Help

What is Yardbarker?

Yardbarker is the largest network of sports blogs and pro athlete blogs on the web. This site is the hub of the Yardbarker Network, where our editors and algorithms curate the best sports content from our network and beyond.