Found August 02, 2012 on Losers Bracket:
Nick Lahman/Getty Images I am probably the driver of the "Green Bay Packers don't need a running back" bandwagon.  So it may be funny that I took the time to talk with Brandon Saine this week at training camp.  The fact is the Packers will always have running backs, it's just part of football. So why Saine?  I like his story.  It fits in line with numerous Packers on this roster; undrafted free agent, practice squad time and take advantage of your chances.   Saine has done that.  Once he got the call last year, he instantly found himself on the field with a chance to contribute.  This year will be the same.  With James Starks always banged up and Alex Green coming off a serious knee injury, Saine could be in for extended time in this, his 2nd NFL season. Here is my conversation with Saine from Wednesday… Question:  "Last year you came in and you're in the Green Mile (extra locker room)as an undrafted free agent and were able to stick around.  This year, you're in the big locker room and really in the mix on the depth chart.  How is your mindset different this year?" Saine:  "I think that this year I kinda know how it works.  It was a whirlwind last year, especially with the lock-out, coming in I didn't know the playbook or anything, I was just here.  Now I know guys around me and can get into it a little more.  Last year I was trying  just to, not necessarily get by, but day-to-day it was something new and now I have things I know I need to work on and that's what I'm trying to do." Question:  "Minicamps, OTA's, all that in the offseason, what did you learn from that and how beneficial was that coming into a new season?" Saine:   "That was awesome.  It was my first year doing it and I think that it really helped.  I can see, just in the running back room, how much progress we were able to make.  I think that just being here and being around everything and getting with the weight staff and everything, the team feeling was there the whole time." Question:  "Reflecting on last year  towards the end of your season, getting your opportunity to get out there and get your feet wet on the NFL field; how much of learning curve was that?" Saine:  "I thought it was awesome.  I was nervous at first and got thrown in there right away.  The first week I was out there on all the special teams.  I think that was definitely the best way to do it, the coaches were smart.  Once I got out there and got acclimated I was ready to go.  Looking forward to this year, I don't really have anything to be nervous about.  I've been out there, Iv'e done it and now I can just build on what I've done." Quesiton:  "How about your game.  What are you working on in camp as you get ready for the regular season?" Saine:  "The biggest thing for me, and I think maybe all the backs in the backfield, is working on blitz pick-ups.  We got such a great quarterback back there and if we can keep people off of him, we all know big things are gonna happen.  I think that's what we're all trying to work on right now is pass protection.  Other than that, when it comes to running the ball the biggest thing is holding onto the ball.  So those are the biggest two, protecting the ball and protecting the quarterback." Question:  "Did you have to do a lot of pass protection in the past?" Saine:  "I was use to it, the one-on-one match-up thing  but the terminology and the different things and the checks that Aaron can make at the line have really changed things.  It's actually built in to make it easier on us but you have to get your mind around and be able work with it." Question:  "Is it easy to be a running back in this system, a system that throws the ball as much as you do?" Saine:  "It actually makes it better for us because you get the safeties expecting pass all the time and we might be able to surprise them every now and then.   We're just looking to get whatever we can, win the down, and get whatever tough yards are there." Question:  "What do you bring to this running back core that the other guys don't?" Saine: "I don't know.  I can't pin-point it really.  I try to be somewhat of a jack-of-all-trades and just do a little bit of everything and not be really good at one thing and horrible at another. Question:  "How is the camaraderie at the position?  Specifically. the running back spot where you three (Alex Green and James Starks) are all young in NFL terms." Saine:  "We're all young.  It's cool with (John) Kuhn there to teach us but we're all learning together and I think that really helps us.  There's not one guy that might know everything and I think that's really cool.  We can lean on each other and all have similar questions so that's really worked for us in the learning process." Question: " Coach McCarthy has preached a lot that for the young guys looking for roster spots and playing time, it will come down to preseason games.  How excited are you for that?  Are you getting sick of seeing the same colored jersey in front of you everyday?" Saine:  "I'm not too sick of it yet, because some guys might have gotten me a couple times but I 'm ready to get them back.  But in reality, I'm definitely excited and looking forward to everything single preseason game cause those are fun.  You get a lot of opportunities and the coaches put people out there just to see what you can you do?" Question:  "What do you recall from last year's family night? Saine:  "I'm interested to see how it works this year, last year it got rained out or whatever so I barely got in.  I'm really excited to feel the atmosphere and get all the fans involved and everything.  Although it's not a live scrimmage, everybody will be geared up and ready to go so I'm excited about that." Question:  "How hungry is this team to get back to the Super Bowl?" Saine: "I'm a young guy but I can definitely tell that everybody is geared up and ready to go with one purpose. Everybody knows this is where it starts." If Saine can get better at blitz pick-ups (better than Starks and Green), he will have a real chance to see quality on the field protecting Aaron Rodgers as a 3rd down back. Justin Hull is the host of the "Home Stretch" heard 2p-5p on 95.3 FM, WSCO Radio n Green Bay/Appleton, Wisconsin and Sports Reporter for WHBY Radio in Appleton, WI.  Follow him on twitter (@jh1570) or facebook.
Original Story:
http://losersbracket.com/2012/08/one-...
THE BACKYARD
BEST OF MAXIM
RELATED ARTICLES
GREEN BAY, Wis. -- Former Packers defensive lineman Johnny Jolly is apparently quite low on the priority list of NFL commissioner Roger Goodell. With Goodell in Green Bay for the Packers' training camp practice Wednesday morning as part of his brief preseason tour, a potential NFL return for the indefinitely suspended Jolly was a topic that was met with a quick response. ...
GREEN BAY, Wis. -- Three missed practices was enough for Packers wide receiver Greg Jennings. As Green Bay began Day 6 of training camp Wednesday morning, Jennings was back on the field after suffering an elbow bruise five days earlier. There was other good news on the Packers' injury front, with linebacker Desmond Bishop (calf) and fullback John Kuhn (knee) both going through...
Aaron Rodgers was sharp in limited work and the NFL's replacement officials weren't shy about making calls - even unpopular ones - in the Green Bay Packers' ''Family Night'' scrimmage on Friday. A crowd of 55,605 took in the sights at Lambeau Field, many of them getting their first look at the stadium's major ongoing construction project in the south...
The agent for Tim Masthay says the Green Bay Packers punter has agreed to a contract extension with the team. Agent Jonathan Rabinowitz says the deal is for four years. Multiple media outlets reported the move Friday morning. The team has not confirmed the deal. Masthay originally signed with Indianapolis as an undrafted free agent out of Kentucky in 2009, but was waived in August...
GREEN BAY, Wis. -- With the Packers' first preseason game just one week away, quarterback Aaron Rodgers on Thursday held his weekly press conference with the media. The NFL's reigning Most Valuable Player talked about watching players he's gotten to know get cut from the team, which wide receivers have impressed him the most and more.Five question-and-answer highlights...
GREEN BAY, Wis. (AP) -- Don't try to tell Green Bay Packers offensive line coach James Campen that his starting five basically was determined before training camp started. Fearing a sense of complacency, Campen doesn't want anyone thinking their job is locked up. "You know, it's funny," Campen said. "Stranger things have happened. Guys can emerge in the...
Who said Donald Driver is over the hill? OK, maybe we said that at one point during the offseason. However, he's had an impressive start to training camp and figures to turn this season into something more than a farewell tour while putting up numbers better than some Hall of Famers.
Inside linebacker Desmond Bishop and fullback John Kuhn were activated from the physically unable to perform list Tuesday, but tight end Andrew Quarless, left tackle Derek Sherrod, offensive lineman Jaymes Brooks, outside linebacker Frank Zombo and defensive lineman Johnny Jones remain on PUP. Quarless will almost certainly begin the season on the list, meaning he'll [...]
It's almost unfair at times. It's third-and-11. There's nobody open, the 2.5-second clock has gone off and Aaron Rodgers is running out of time. Then — zing! We take two slices out of Wednesday's practice to examine Rodgers' greatness. Plus, the rookie spotlight falls on Jerel Worthy.
This is the the losersbracket.com style review of the Green Bay Packer Practice us losers attended today. First let's get to the chicks!  This may have been a certain media star Jen Lada in front of us… best view of the day folks. Jen Lada is smaller than Shaky Smithson (it's not even that close!)   Here are our (in no particular order) non media filtered unbiased observations...
Packers News

Delivered to your inbox

You'll also receive Yardbarker's daily Top 10, featuring the best sports stories from around the web. Customize your newsletter to get articles on your favorite sports and teams. And the best part? It's free!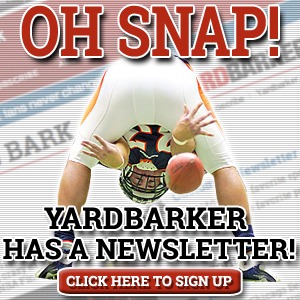 Latest Rumors
Best of Yardbarker

Today's Best Stuff

For Bloggers

Join the Yardbarker Network for more promotion, traffic, and money.

Company Info

Help

What is Yardbarker?

Yardbarker is the largest network of sports blogs and pro athlete blogs on the web. This site is the hub of the Yardbarker Network, where our editors and algorithms curate the best sports content from our network and beyond.