Found February 28, 2012 on Grits Blitz:
Editor Note: Over the next several weeks we will be bringing you a couple of features that will help you get to know our writers. One of those features is "Our Favorite Falcons." So far, Eric told us why Jessie Tuggle is his favorite and last week Mike wrote about Brent Grimes.  Each week come back to the blog and we will introduce you to another one of our favorite Falcons and tell you why that player has found a spot in one of our writers hearts. Warrick Dunn isn't mentioned when the Falcons' greats are discussed. You don't hear Dunn's name alongside those such as Steve Bartkowski, Deion Sanders, or Jamal Anderson of Falcons' lore. In a lot of ways, it's almost as if Warrick never played for Atlanta.   I, however, vividly remember Dunn's six seasons in Atlanta and am grateful that my hometown team had such a man represent the organization and the city. While his on the field contributions are not to be overlooked, it was Warrick Dunn's off the field accomplishments that define both the player and the man. Dunn has few rivals when it comes to his charity work and giving to others in need. He is best known for his "Homes for the Holidays" program through which he helps provide single parent mothers realize the dream of home ownership. The program is in honor of his mother, herself a single parent, who was shot and killed in a robbery at her second job as a security guard. Dunn's mother was a Baton Rouge police officer. Dunn also helped co-found "Athletes for Hope" with some of the sports world's biggest names to promote professional athlete charitable involvement. Dunn is recognized as one the most giving men, let alone athletes, of his generation. While Dunn's giving and charitable work are what make him truly great, he had just as much on the field while catching 204 passes for over 1,600 yards and six touchdowns. For his Falcons' career, Dunn had 1,617 touches from scrimmage for over 7,500 yards, an average of 4.6 yards per play, and 36 total touchdowns. Those numbers measure well against anyone in a six-year prime as a professional football player, let alone another Atlanta Falcon. Some will talk about the things he didn't or couldn't do. Some will highlight his being the perfect fit for a system. I simply give you the player and the man. While the Falcons have had some very good players take the field and do great things and who have made a difference in the community, I cannot think of one that has reached beyond what Warrick Dunn meant in his time with Atlanta. What a special time many may forget. On the field Warrick Dunn was a pro, an All Pro actually, off the field he was a champion. He is, without question, my favorite Falcon's player. Follow Joe on Twitter @Joe_Mac_ [follow]
Original Story:
http://gritsblitz.com/2012-articles/f...
THE BACKYARD
BEST OF MAXIM
RELATED ARTICLES
In the team's 2011 season in review, they reveal general manager Thomas Dimitroff's 2012 draft plan: "It doesn't matter where we are in the Draft, it doesn't matter where our needs may be. I really want to have a firm grasp. You never know where you're going to see those players later. It could be in free agency, it could be because of a cut early. Who knows, so I make...
This past season was an electric but ultimately disappointing experience for the Atlanta Falcons and their fanbase. Atlanta is infamous for having brought home only one championship in more than 150 cumulative sports seasons; and although I'm not going to be so bold as to predict a Super Bowl for this coming season, it wouldn't be entirely out of the question either (please note...
  Atlanta Falcons linebacker Curtis Lofton (50), who could become a free agent, forces Miami Dolphins quarterback Chad Henne (7) to throw an incomplete pass during first quarter NFL preseason football action in Miami, Friday, Aug. 27, 2010. (AP Photo/Wilfredo Lee) INDIANAPOLIS – The market is starting to set for Falcons middle linebacker Curtis Lofton, who can become an unrestricted...
Atlanta Falcons running back Michael Turner broke up a fight at his mansion involving his new girlfriend, a golf club and a woman who claims to be the mother of his children, TMZ reported Tuesday. When police were called to the Georgia residence Monday afternoon, they reportedly found Rasheeda Walker, 32, bleeding from the side of her head. Walker claims she has two children with...
Welcome to Point/Counter-Point. This is where we take a hot topic and look at the issue from two differing perspectives. A couple of weeks ago we discussed Falcons RB Michael Turner. Today we take a look at Julio Jones and the cost associated with drafting him. The Falcons swapped their 27th overall pick in last years draft for Cleveland's 6th overall pick and also sent the...
Your Turn to Rate the Falcons Free Agents Coming Back After All? (AJC) Just a quick new thread before the "Changes to Falcons Defense" is finished. Rate your Falcons soon-to-be free agents on importance of re-signing. 1) Brent Grimes According to reports, it appears the Falcons are intent on keeping. If Dimitroff and Co. can find a way to keep Grimes to a reasonable but fair...
The Falcons sent out their 2011 season in review on Tuesday, which included the unofficial depth chart. Here are some of the nuggets from the review and I take a little stab at how the offseason depth chart looks with 17 prospective unrestricted free agents. –Under head coach Mike Smith, the Falcons have posted 10-or-more wins and earned playoff berths in three of the last four...
On this, the rarest of all days, we celebrate the 2nd Anniversary of Chris Redman's re-signing with the Atlanta Falcons...4 years ago. While erstwhile back-up Redman is lucky enough to not have to wait 4 years to celebrate a birthday, he did re-up with the team that pulled him off the scrap heap on Leap Day. Redman remains one of the few feel good stories from the forgettable...
When Tony Gonzalez threw his name into the 1997 NFL draft,football experts were already salivating about how good he could be. At 6'5"and weighing around 250 pounds, the former small forward for the CaliforniaGolden Bears had the kind of athleticism that had never been seen before at thetight end position. And Gonzalez didn't disappoint either. Gonzalez has caughtat least 70...
The Cleveland Browns resigned linebacker D'Qwell Jackson today to a five year deal worth $42.5 million. That move has the Atlanta Journal-Constitution wondering whether the Atlanta Falcons pay what they have to to keep Curtis Lofton. Lofton and Jackson are two very similar players and amongst the best inside linebackers in the league. Jackson is now paid like it, he's now...
When the free-agency market finally opened last year, former Vikings defensive end Ray Edwards drew a surprisingly low amount of interest.  After he signed with the Falcons, coach Mike Smith disclosed that Edwards had "minor" knee surgery, which kept him out of the team's preseason opener. After a lackluster initial season in Atlanta, which included…
Falcons News

Delivered to your inbox

You'll also receive Yardbarker's daily Top 10, featuring the best sports stories from around the web. Customize your newsletter to get articles on your favorite sports and teams. And the best part? It's free!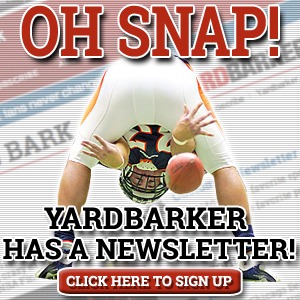 Latest Rumors
Best of Yardbarker

Today's Best Stuff

For Bloggers

Join the Yardbarker Network for more promotion, traffic, and money.

Company Info

Help

What is Yardbarker?

Yardbarker is the largest network of sports blogs and pro athlete blogs on the web. This site is the hub of the Yardbarker Network, where our editors and algorithms curate the best sports content from our network and beyond.