Posted August 08, 2012 on AP on Fox
Terrell Owens will make his debut for the Seattle Seahawks on Saturday night when they travel to Denver for a preseason game against the Broncos. Seahawks coach Pete Carroll said Thursday that Owens feels good and will see some time in the Seahawks' second preseason game. Owens signed with Seattle on Aug. 6 and had just a couple of days of practice before the preseason opener against Tennessee. Carroll said he didn't think it was fair to run Owens out there that quickly, but feels he's ready after two weeks of work. Carroll didn't indicate how many plays Owens would get, but said he would play early in the game. It will be the first NFL game action for Owens since Week 15 of the 2010 season with Cincinnati.
Original Story:
http://msn.foxsports.com/nfl/story/se...
THE BACKYARD
BEST OF MAXIM
RELATED ARTICLES
The Seattle Seahawks may have violated the NFL's collective bargaining agreement by allowing Terrell Owens to practice in shoulder pads during his first on-field practice. League spokesman Greg Aiello said in an email Thursday that the league is gathering facts about Owens' debut practice on Wednesday. The Fort Worth Star-Telegram first reported the possible violation. ...
Terrell Owens seemed to be all washed up. He was playing in an indoor football league and making appearances on the Dr. Phil Show, meanwhile his NFL career appeared to be all but over. That is until Wednesday. After signing a one-year, $1 million deal with the Seattle Seahawks on Tuesday, TO returned to the practice field in Renton, Washington for the first time in more than a year...
The Seattle Seahawks decided to take a chance on free agent Terrell Owens and have come to terms with the 38-year-old wide receiver on a one-year deal reportedly worth $1 million. Owens headed to Seattle to work out with the NFL team and apparently impressed the brass during his session on Aug. 6. Sources said that he ran the 40-yard dash in 4.45 seconds and looked pretty impressive...
Get Ya Popcorn Ready Terrell Owens has not had the off-field career a typical future Hall of Fame wide receiver has. The man has talent, he has experience, but most of all the man has attitude. Owens' last reception in the NFL was on Dec. 12, 2010 for the Cincinnati Bengals. Since then he has managed to have extensive knee surgery, put on a tryout for a crowd of precisely zero...
  This week the Seahawks signed one of the most popular diva WRs of our time in Terrell Owens. Owens is the 3rd big name diva wide out to sign with a team this off season joining the likes of Randy Moss (49ers) and Chad "formerly known as Ochocino" Johnson (Dolphins).   These three divas's use to be the NFL's elite, being the league leaders in...
  Terrell Owens was impressive in his workouts, now can he impress on the field? In a move that comes as a bit of a surprise the Seattle Seahawks signed the outspoken Terrell Owens yesterday to a one-year contract after the veteran free agent impressed the team in an individual earlier this week. The signing is a little surprising in part because the Seahawks recently signed...
He's Back. With Terrell Owens signing a one-year deal with the Seattle Seahawks things suddenly became a lot more interesting in Seattle. While Marshawn Lynch has the running back position all to himself (assuming he doesn't get a suspension for his recent DUI) the whole passing game seems to be in total flux. With Owens in the mix he joins Sidney Rice, Doug Baldwin, Golden Tate...
Pete Carroll has a reputation for being a prankster. Terrell Owens has a reputation for being a diva. Now that T.O has signed a one-year deal with the Seahawks, it only makes sense that the two would combine their most notable characteristics to pull a fast one on the rest of the team. Anyone who knows the Seahawks could have anticipated that T.O. was going to get punked in some...
Say what you want about Terrell Owens, it's probably true. Granted the man in his prime was one of the top receivers in the game, but his sideshow attraction attitude is more Octomom than Ocho Cinco. Situps in the driveway? I love me some me? Calling Jeff Garcia gay? Horrific reality TV? Dropped passes by the truckload? 25 million reasons not to kill himself? ALL coming after...
Randy Moss and Terrell Owens are back in the NFL after sitting out 2011. It's crazy how the NFL paths of these two great wide receivers mirror each other.The post The Mirrored NFL Paths Of Randy Moss And Terrell Owens appeared first on The Sports Fan Journal.
Randy Moss, Chad Johnson and Terrell Owens are always headline-grabbing acquisitions for the teams who bring them on, but these big-name receivers usually also come with big name side-shows. While each are sure to be on their best behavior as they try to revitalize their individual careers, we look at which one will have the best season in 2012. Most Stable Quarterback 1. Randy...
Justin Blackmon finally has signed his contract - but he'll have to wait before he gets his big pay day. The Seattle Seahawks have signed Terrell Owens to a one year contract following an impressive workout on Monday. Offense tackle Bryant McKinnie will be seeing the Ravens garnish half of his earnings in 2012. Andrew Luck will have a larger than typical role in preseason...
Seahawks News

Delivered to your inbox

You'll also receive Yardbarker's daily Top 10, featuring the best sports stories from around the web. Customize your newsletter to get articles on your favorite sports and teams. And the best part? It's free!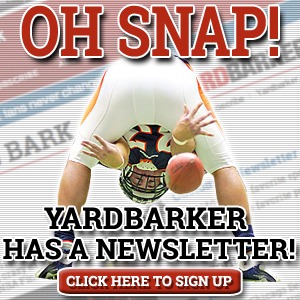 Latest Rumors
Best of Yardbarker

Today's Best Stuff

For Bloggers

Join the Yardbarker Network for more promotion, traffic, and money.

Company Info

Help

What is Yardbarker?

Yardbarker is the largest network of sports blogs and pro athlete blogs on the web. This site is the hub of the Yardbarker Network, where our editors and algorithms curate the best sports content from our network and beyond.