Found January 09, 2012 on Losers Bracket:
This is how I will be until the Packers win the Super Bowl or poop all over the Lambeau Turf.
Ok Losers, Packer Fans and friends. Help us out here. Members of the Losers Bracket staff are in full Packer Playoff Hand Wringing Mode (PPHWM). We are having visions of the Packers' magical ride end to the G-Men. Maybe it is our not so distant memories of 2007 and the bed wetting which occurred. Or maybe it is because of the real possibility that Brandon Jacobs, Eli Manning, Victor Cruz, Pieere St Paul and Justin Tuck are going to rip our  high-octane, fancy pants dome team (yes, the Packers are more suited for a dome…..gasp) a new one. We shall see, but as is customary with yours truly, I am panicking.
INTERNAL LOSERS BRACKET EMAIL CORRESPONDENCE:
On Jan 9, 2012, at 10:32 AM, Losers Bracket Employee wrote:
I cant focus on anything but my absolute fear of watching Victor Cruz and Hakeem Nicks run wild on our terribad secondary.
I am fairly convinced that the Packers will get blown out, just like I was convinced that Atlanta would blow them out last year.
I just cant help myself, perhaps it is a defense mechanism I have subconsciously created for myself, which in some sick way would lessen the blow if they do actually lose, whereby my brain can say "told you so".
God, Mayo and I once said it is so much more relaxing when you team is Cleveland Brown bad and insignificant.  I know, there is not glory, but I bet Brown's fans aren't sick thinking about Victor Cruz and Brandon Jacobs running over Hawk's dumb A$$.
Thats right, I am in full playoff mode and listening to Rage Against the Machine watching NFL highlights.
See you guys in February, after the Super Bowl, when I can return to normal.
Reply
For the record, I am not very confident going into this weekend's game against the G-men either.
MY RATIONALE:
It has barely cracked below 30 degrees here this winter, we've got ZERO SNOWFALL on the ground and it's likely to hit 50 degrees today and tomorrow in the land of Cheese.  That means our high-powered "dome team" has had virtually no time to get used to any sort of winter, and I predict this weekend, when our temps finally hit mid-20′s, NOT TO MENTION, GOD BLESS US IF THERE'S A BLUSTERY WIND CHILL, our skinny wimpy sports car guys are gonna tense up and LOSE.  It's not Eli and Cruz I'm worried about, it's that Big Bad B-Jake's gonna run over our line, then our linebackers, then our d-backs, and then our cheerleaders, and then probably keep right on going and Lambeau Leap right into the first row and run up the bleachers stomping over every drunk in camouflage or blaze orange outerwear on his way to the bratwurst stand.
This will be a heart-crushing end to our very dominant season.
Reply
I just want it to be over. Honestly, I do not enjoy the ride. I enjoy the memories, but the ride is a torturous as waiting for the hottie you called in college to return you call and answer "yes" or "no" to your proposition for a make out session disguised as attending a party.
Nope, I want it over. It was easier last year, we expected NOTHING. NOW NOW>…..golly, 15-1 and you poop your pants against a 9-7 team…unfathomable………..
Original Story:
http://losersbracket.com/2012/01/pack...
THE BACKYARD
BEST OF MAXIM
RELATED ARTICLES
When the 2007 Giants made their Super Bowl run, it became a bit of a running gag to ask veteran center Shaun O'Hara about Eli Manning. Each week the Giants would win another playoff game, each week Manning would play better, and each week reporters would flock to O'Hara to ask about the "development," "maturity" and "progress" that the young...
Giants quarterback Eli Manning talks about the big weekend matchup against the Green Bay Packers in the NFC divisional round.
Eli Manning is rewriting the postseason numbers among all-time Giants QB's.By Michael Eisen - Giants.com 1/11/12
Whatever list you make of the most important days in all of Giants history, one of them will always be April 24, 2004, when Ernie Accorsi made his draft-day trade for Eli Manning.
Eli Manning has weapons. And now he has his first posteason win at home.
Justin Tuck had a smile on his face as he talked the other day about the pimple on the Mona Lisa, one of the few blemishes visible on the Giants' otherwise masterly 24-2 shellacking of the Falcons in the wild-card round playoff game at MetLife Stadium. It was the kind...
<img src="http://insidetheiggles.com/files/2012/01/hakeem.png" alt="" title="hakeem" width="479" height="229" class="aligncenter size-full wp-image-14503" ... [visit site to read more]
All the missing pieces - defense and a running game - are aligning at the right time for Eli Manning and the New York Giants. And just in time to play the Packers.
The march towards the Super Bowl continues on Sunday with the final two games of wildcard weekend on tap with the Atlanta Falcons taking on the New York Giants in the first contest of the afternoon. This is a matchup between two of the most perplexing teams of the 2011 regular season. At various times this season, each team appeared as if they were on the verge of turning...
...sorry! I couldn't help myself!So the universe must have seen how good I was going to be about choosing family over football, because our dinner was moved to 5 p.m., which meant the boyfriend and I were able to watch the entire New York Giants game at home. Big Blue got off to a very slow start, causing this fan girl's heart to experience a bit more agita then I would have...
Where: MetLife Stadium -- East Rutherford, New Jersey When: Sunday, January 8, 1:00 p.m. ET Since they won Super Bowl XLII in a huge upset over the formerly undefeated New England Patriots at the end of the 2007 season, the primary story of the New York Giants has been of their defensive line. It could be argued that defensive lineman Justin Tuck deserved the MVP award in that game...
Giants News

Delivered to your inbox

You'll also receive Yardbarker's daily Top 10, featuring the best sports stories from around the web. Customize your newsletter to get articles on your favorite sports and teams. And the best part? It's free!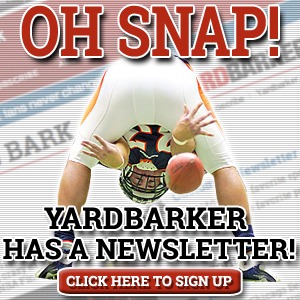 Latest Rumors
The Backyard

Today's Best Stuff

For Bloggers

Join the Yardbarker Network for more promotion, traffic, and money.

Company Info

Help

What is Yardbarker?

Yardbarker is the largest network of sports blogs and pro athlete blogs on the web. This site is the hub of the Yardbarker Network, where our editors and algorithms curate the best sports content from our network and beyond.