Found July 31, 2012 on Losers Bracket:
PLAYERS:
Shaky Smithson
,
Anthony Hargrove
,
Nick Perry
,
Clay Matthews
,
Charles Woodson
,
Alex Green
,
Ryan Grant
,
Donald Driver
,
Tori Gurley
,
Diondre Borel
,
Randall Cobb
,
Aaron Rodgers
,
Dale Moss
TEAMS:
Green Bay Packers
This is the the losersbracket.com style review of the Green Bay Packer Practice us losers attended today.
First let's get to the chicks!  This may have been a certain media star Jen Lada in front of us… best view of the day folks.
Jen Lada is smaller than Shaky Smithson (it's not even that close!)
Here are our (in no particular order) non media filtered unbiased observations:
1.  Anthony Hargrove absolutely was the one player that stood out at practice today.  Not for what he did on the field (reps limited due to the 8 game suspension) but what he did off the field.  Leader of the defensive line if not the entire defense, at least verbally.  He was the first guy next to the coach, the most vocal after a good play, and looked to just be loving football.  Love Teddy T for finding these kind of guys.
2.  Jarel Worthy.  First I didn't know he was going to roll with 99.  He was smiling on the bike on the way to the field.  He was smiling drinking gatorade.  He was smiling doing drills.  And talking a lot!   He looked really good.  Talked to a media guy there and he said he felt Worthy would be better than Perry from day one.
3.  Nick Perry and Clay Matthews hung out like roommates all day.  Maybe it's because they were first round picks.  Maybe it's because they play the same position.  Maybe it's the USC connection.  Either way, definitely some love between these two.
4.  Nick Perry looked totally lost in pass protection.  It's early…one practice… I was watching Jen a lot…blah blah blah.  Hey, this is what I observed!
5.  Packers look like a confident, fun, focused team.  I loved the chemistry.  But hey, not suprised for a 15-1 team that blew one game bad.  It's all in this year!  Never saw a coach scream, but yet they all seemed intense.
6.  Charles Woodson played 90% of the defense plays in deep safety territory.  No idea if I like this or not.  Actually I hate it.  Our play maker is going to stay 20 yards away from the line of scrimmage.
7.  RB Alex Green got about 40% of the snaps.  Look a hell of a lot better than Ryan Grant.  Runs low to the ground.  Looks more like a fullback than a running back. Nice!
8.  Donald Driver had three TDS.  Defense looked horrible most of the practice.  Could just be the Packers offense rules and the whole playing at 75% thing.  Impossible to tell.
9.  Tori Gurley is a giant.  Diondre Borel is not.  Randall Cobb is really little, but shocker, really fast.  Gurley is maybe the tallest guy on team not named Finley.  Gurley dropped a TD grab.. and there he LOOKED like Finley!
10.  Ryan Picket was wearing an ice pack on his knee.  He was on the field laughing the rest of practice.  Thinking the largest player on the Packers (easily) just needed a gasser.  He was wearing a sweet WORK WINS t-shirt after he got "hurt."
11.  Aaron Rodgers always looks cool and confident.  Even from a far.
12.  Clay Matthews, really, really, really likes his hair.  (AJ Hawks long hair is gone if you missed it.)
13.  The defensive lineman are HUGE up close.  Many of the free agent WR's and DB's look about 5'9 and 150.  I am sure they are bigger but that's how it looked.
Who looks more thrilled WR Dale Moss or the kid? Both won't ever play a real game for the Packers but they both had today!
THAT'S WHAT STOOD OUT TODAY FOR ME LOSERS.  HOPE YOU ENJOYED IT.
– Roste Beefe
Original Story:
http://losersbracket.com/2012/07/gree...
THE BACKYARD
BEST OF MAXIM
RELATED ARTICLES
GREEN BAY, Wis. -- When the alarm begins to sound inside Donald Driver's college dorm room, his home during training camp, the 37-year-old Packers wide receiver still has the motivation after 13 NFL seasons not hit the snooze button. That might not seem like much, but to Driver, it means everything. For Driver, it's a sign that he still has the energy to show up for a drill...
GREEN BAY, Wis. -- Former Packers defensive lineman Johnny Jolly is apparently quite low on the priority list of NFL commissioner Roger Goodell. With Goodell in Green Bay for the Packers' training camp practice Wednesday morning as part of his brief preseason tour, a potential NFL return for the indefinitely suspended Jolly was a topic that was met with a quick response. ...
GREEN BAY, Wis. -- Three missed practices was enough for Packers wide receiver Greg Jennings. As Green Bay began Day 6 of training camp Wednesday morning, Jennings was back on the field after suffering an elbow bruise five days earlier. There was other good news on the Packers' injury front, with linebacker Desmond Bishop (calf) and fullback John Kuhn (knee) both going through...
Green Bay Packers linebacker Erik Walden was suspended for one game by the NFL on Tuesday as a result of an arrest last November. Walden was charged following a dispute with his girlfriend, and he pleaded no contest to misdemeanor disorderly conduct charges. He avoided jail time, but the league decided to punish him for what it considered a violation of the Personal Conduct Policy...
Defensive end Anthony Hargrove, already facing an eight-game suspension for his role in the Saints bounty pool, has been released by the Green Bay Packers. The NFL has said the Saints' bounty program paid defensive players improper cash bonuses for hits that injured opponents from 2009 through 2011. The 29-year-old Hargrove has denied NFL accusations that he lied to league...
While it's probably unfair to compare Mike Daniels to Mike Neal, that won't stop some fans from making the analogy after the rookie from Iowa left Tuesday's practice with a groin and/or knee injury. Neal has played in only 10 games since joining the Packers in 2010. Daniels, whose durability was questioned by scouts prior [...]
Inside linebacker Desmond Bishop and fullback John Kuhn were activated from the physically unable to perform list Tuesday, but tight end Andrew Quarless, left tackle Derek Sherrod, offensive lineman Jaymes Brooks, outside linebacker Frank Zombo and defensive lineman Johnny Jones remain on PUP. Quarless will almost certainly begin the season on the list, meaning he'll [...]
Nick Lahman/Getty Images I am probably the driver of the "Green Bay Packers don't need a running back" bandwagon.  So it may be funny that I took the time to talk with Brandon Saine this week at training camp.  The fact is the Packers will always have running backs, it's just part of football. So why Saine?  I like his story.  It fits in line with numerous Packers on...
Packers News

Delivered to your inbox

You'll also receive Yardbarker's daily Top 10, featuring the best sports stories from around the web. Customize your newsletter to get articles on your favorite sports and teams. And the best part? It's free!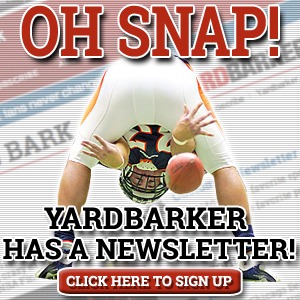 Latest Rumors
Best of Yardbarker

Today's Best Stuff

For Bloggers

Join the Yardbarker Network for more promotion, traffic, and money.

Company Info

Help

What is Yardbarker?

Yardbarker is the largest network of sports blogs and pro athlete blogs on the web. This site is the hub of the Yardbarker Network, where our editors and algorithms curate the best sports content from our network and beyond.