Found January 16, 2012 on Fox Sports Wisconsin:
By CHRIS JENKINS AP Sports Writer GREEN BAY, Wis. (AP) -- Winston Moss says his four seasons with the Raiders were some of the best times of his 11-year career as an NFL linebacker. And if Moss' old team calls, he'll listen. The Green Bay Packers assistant head coach says he has not been contacted about the Raiders' head coaching vacancy as of Monday afternoon but would welcome the chance to talk to them. "If the Raiders were to call and ask, I'll be ready to speak with them," said Moss, who also coaches the Packers' inside linebackers. "But nothing's changed from last week. I feel good where I'm at. If there's an opportunity that comes up in the future, we'll probably cross that bridge at that time. But at this present time, right now, not a lot to talk about." Now that the Packers' season is over, thanks to Sunday's stunning 37-20 loss to the New York Giants, Moss and a few of his fellow Green Bay assistant coaches may draw additional interest from other teams looking for coaches. Packers offensive coordinator Joe Philbin has interviewed for the Miami Dolphins' head coaching vacancy and could attract interest from other teams. Philbin was back with the Packers for Sunday's game after spending last week away from the team to mourn the death of his 21-year-old son, Michael. Beyond Moss and Philbin, the names of Packers defensive coordinator Dom Capers, quarterbacks coach Tom Clements and secondarysafeties coach Darren Perry also are being linked to other NFL jobs. "It's part of the process," Clements said. "You see what happens. There's some uncertainty about it, but you have a place here in Green Bay and it's a very good place to be. So if you're mentioned for jobs, it's a compliment. But until something happens, that's all it is." There's a natural connection between the Packers and Raiders now that longtime Packers executive Reggie McKenzie has taken over as the Raiders' general manager and fired coach Hue Jackson. And Moss played for the Raiders from 1991-94. "At the time, Al Davis was there, Art Shell was my coach," Moss said. "And we had good times. I had some of my better times as a player in the National Football League with the Raiders." But Moss knows things have changed since Davis' death. "I think whatever I've taken from the past with the Raiders, and Al Davis not being there any more, you've got to say going forward that it's going to be different," Moss said. "it's going to be different from the standpoint of, Reggie wants to go in a new direction, so I'll sit down and speak with Reggie to get his vision, what direction he wants the organization to go in. That's going to play a lot in to it." Moss aspires to be a head coach, and has spent time thinking about how he'd approach the job. "There's always opportunities to put yourself in the same position as a head coach would and see how you would do things or what you would change or what you would add or what you would take away," Moss said. "So with that being said, I've done that, I feel good about the vision, the goals, the beliefs that can be instilled within an organization that would give me the opportunity to be a head coach."
Original Story:
http://www.foxsportswisconsin.com/01/...
THE BACKYARD
BEST OF MAXIM
RELATED ARTICLES
              During the regular season, the Green Bay Packers lost a total of six fumbles. In their playoff game against the New York Giants, they lost three. And that was only part of went wrong for the Packers in their shocking 37-20 loss to the Giants. Aaron Rodgers was far from efficient and the receiving core dropped a season-high eight balls. This weekend's big winners...
GREEN BAY, Wis. -- It was obvious to anyone watching the games. It might as well have been in boldface in the box scores. It was pointed out repeatedly by the players and coaches: The Green Bay Packers were a very poor pass-rushing team this season, and it affected every aspect of their defense. The drop-off in pass rush from the Packers' Super Bowl-winning 2010 unit to their...
It's all a feel good story until the team gets smoked in the playoffs as favorites to win the Super Bowl. The Green Bay Packers head into the offseason after getting spanked by the Giants with 'ownership' left wondering and saddened. We all know by now that most of the Packers fans that attend their games are 'owners' because they've purchased stock in the team. Their...
The Green Bay Packers' coaching staff will now coach the NFC in the Pro Bowl instead of their preferred destination of Indianapolis and the Super Bowl.
Packers quarterback Aaron Rodgers, a candidate for most valuable player, was 26 of 46 for 264 yards, and he did not look effective in the second half.
GREEN BAY, Wis. – The Giants are not through playing, not by a long shot. And, after dispatching of the defending Super Bowl champion Packers in a stunning upset, another Super Bowl is so close they can almost taste it. There is a trip to be made, out west to San...
If the Packers had beaten the Giants by seven points or fewer on Sunday, the NFL offices in Manhattan would have been besieged by calls, emails, pitchforks, and/or torches as to the failure of referee Bill Leavy to overturn a ruling on the field that Packers receiver Greg Jennings had lost possession of the ball…
At the moment of truth, the Green Bay Packers suffered almost a complete breakdown in their 37-20 loss to the New York Giants Sunday in an NFC divisional playoff game at Lambeau Field.
Offensive coordinator Joe Philbin will rejoin the Green Bay Packers for Sunday's divisional playoff game against the New York Giants after spending the week away from the team to mourn the death of his son.
Green Bay Packers offensive coordinator Joe Philbin was in attendance at Lambeau Field on Sunday, coaching against the New York Giants less than a week after his son's body was found in a Wisconsin river.
NFL News

Delivered to your inbox

You'll also receive Yardbarker's daily Top 10, featuring the best sports stories from around the web. Customize your newsletter to get articles on your favorite sports and teams. And the best part? It's free!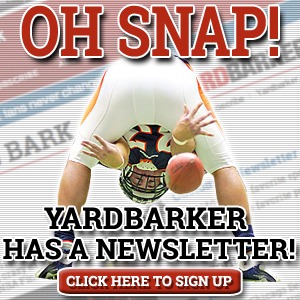 Latest Rumors
The Backyard

Today's Best Stuff

For Bloggers

Join the Yardbarker Network for more promotion, traffic, and money.

Company Info

Help

What is Yardbarker?

Yardbarker is the largest network of sports blogs and pro athlete blogs on the web. This site is the hub of the Yardbarker Network, where our editors and algorithms curate the best sports content from our network and beyond.