Found January 22, 2013 on Packer Update:
At 6'4 and 325 pounds, Johnny Jolly looked and played like a 3-4 defensive end Johnny Jolly hasn't played a game for the Packers since January 2010, but his absence on the D-line is still being felt. That's because GM Ted Thompson hasn't drafted or signed a legitimate 3-4 end in the past three offseasons. To be fair, he did draft Lawrence Guy in 2011 and he did sign Phillip Merling as a free agent last spring, but both players were long shots to stick on the 53-man roster, and ultimately neither did. The average starting 3-4 defensive end in 2011 stood 6'3 1/4 and weighed 319 pounds. I'm familiar with the numbers because I wrote about this very subject back then (for some reason, it took most of the local media another two years to even address the issue). The current ends on the Packers average 6'2 and 304. An end in a 3-4 defense has two main responsibilities – stuff the run and disrupt passing lanes. That's what Aaron Smith did for a dozen years in Pittsburgh; it's what Haloti Ngata has done for seven years in Baltimore; it's what Jolly did in Green Bay in '09; and it's what none of the current ends are capable of doing. B.J. Raji and Ryan Pickett have the bulk to stop the run, but neither has the length nor the leaping ability to disrupt passing lanes. Mike Neal has the length and the athleticism needed to bat down the occasional pass, but he can't hold up versus the run. Jerel Worthy and Mike Daniels are ill-equipped to do either. The closest thing the current defense has to a legitimate 3-4 end is C.J. Wilson, who stands 6'3 and weighs about 300 pounds. But even he's a bit undersized, and to be perfectly honest, he's not very talented. The current roster is filled with defensive linemen built to play in a 4-3, but forced to line up in a 3-4. It isn't working. It's time for Thompson to finally address the problem. Jolly isn't walking through the door. And you want to know what's really sad? If he did, he'd immediately be the best defensive end on the team. You probably noticed the donation widget to the right of this post. I haven't asked for donations in years, but I'm going to ask now. If you enjoy this blog, please make a donation. It doesn't have to be $5 – that's the default amount. Give what you can afford. It would be very much appreciated.
Original Story:
http://packerupdate.net/?p=24002
THE BACKYARD
BEST OF MAXIM
RELATED ARTICLES
GREEN BAY, Wis. -- Aaron Rodgers knows he won't be appearing on Super Bowl lead-in coverage this season as he did a year ago. After all, this year's Super Bowl is on CBS, the network responsible for the "60 Minutes" piece that Rodgers took offense to earlier this season. "I can say I won't be working for CBS," Rodgers said on his ESPN Wisconsin radio...
Green Bay Packers quarterback Aaron Rodgers told Jason Wilde on his weekly show on WAUK-AM (540) that Charles Woodson is one of the core players of the team and needs to be brought back for next season. "I know he is under contract and that he is an important part of our football team," Rodgers said about Woodson. "I think he adds a lot. He is still playing at a really high...
GREEN BAY, Wis. Five months after undergoing surgery to repair his torn right hamstring, Packers inside linebacker Desmond Bishop is nearly back to full health. "I'm feeling really good right now," Bishop said last week. "The main thing I'm lacking is my strength and my strength is coming back real fine. I'm excited about it." There are no physical...
GREEN BAY, Wis. -- Kabeer Gbaja-Biamila and Chris Jacke are the headliners of the Green Bay Packers Hall of Fame 2013 class. Gbaja-Biamila played all nine of his NFL seasons with the Packers, accumulating a franchise-record 74.5 sacks along the way. After playing only seven games as a rookie, the team's 2000 fifth-round pick then began a streak of having at least 10 sacks for...
GREEN BAY, Wis. -- Aaron Rodgers will be watching the Super Bowl from home for the second consecutive year, but the Packers' MVP quarterback once again proved that star NFL players can be known for more than just their on-field success. Rodgers is very involved with the MACC (Midwest Athletes Against Childhood Cancer) Fund, frequently participating in many aspects of the foundation...
Jason Wilde of ESPN Milwaukee writes that Packers C Jeff Saturday is "likely to retire." Saturday, 37, was signed as a stop gap for the Packers after they lost Scott Wells during free agency, but he was ultimately benched in favor of Evan Dietrich-Smith. Green Bay reportedly sees Dietrich-Smith as a long-term option at center, but GM Ted Thompson was seen speaking with Oregon...
A summer illness kept Green Bay's fifth-round pick from contributing on defense The Green Bay Packers began the season with 10 rookies on the 53-man roster. That's a pretty high number – especially for a team than won 15 games the previous year. But GM Ted Thompson didn't hang on to all those rookies to save money or to make himself look good. He kept them because they could...
GREEN BAY, Wis. As a former NFL kicker watching a current one, new Packers Hall of Fame inductee Chris Jacke could tell what was wrong with Mason Crosby this season. When Crosby's struggles wore on, especially during a midseason stretch in which he missed five of his nine field goals, Jacke could tell something had changed. "I firmly believe with him it was mental,&quot...
We look back at the season with our featured performer, depth chart, unit grade and look ahead to 2013. Clay Matthews had a dominant season, even while missing four games. Even though the other outside linebackers combined for nine sacks, the Packers need someone to emerge as a consistent sidekick.
NFL News

Delivered to your inbox

You'll also receive Yardbarker's daily Top 10, featuring the best sports stories from around the web. Customize your newsletter to get articles on your favorite sports and teams. And the best part? It's free!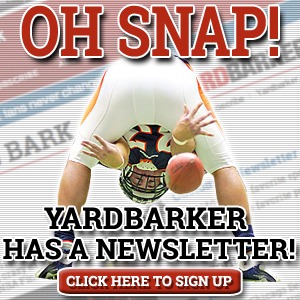 Latest Rumors
Best of Yardbarker

Today's Best Stuff

For Bloggers

Join the Yardbarker Network for more promotion, traffic, and money.

Company Info

Help

What is Yardbarker?

Yardbarker is the largest network of sports blogs and pro athlete blogs on the web. This site is the hub of the Yardbarker Network, where our editors and algorithms curate the best sports content from our network and beyond.