Found October 25, 2013 on Fox Sports Wisconsin:
PLAYERS:
Adrian Peterson
,
Mike Daniels
,
Ryan Pickett
,
Frank Gore
,
Reggie Bush
,
Ray Rice
,
B.J. Raji
TEAMS:
Minnesota Vikings
,
Green Bay Packers
,
San Francisco 49ers
,
Detroit Lions
,
Baltimore Ravens
GREEN BAY, Wis. -- The Adrian Peterson of the past two games has not looked like the same player who finished only nine yards shy of the NFL's all-time rushing record last season. Just 90 yards on 23 carries with no touchdowns in the Minnesota Vikings' two most recent games is not the type of production that earned Peterson the Most Valuable Player award in 2012. That hasn't fooled the Green Bay Packers into taking Peterson lightly. No, not at all. "The only way to stop him is to shoot him with a gun, because he is unbelievable; he really is," defensive lineman Mike Daniels said. Not every NFL defensive lineman gets excited about facing Peterson, but Daniels was anxiously anticipating his chance to try to hold him to another unproductive game. "You kind of have to have that controlled aggression, still defeat your blocks, maintain your gap and just make sure we contain him, because he's like a horse," Daniels said. "The only way you're going to stop him is to kill him. No, we don't want to do that. This is a game you want to play for. He's a heck of a football player. You love the challenge. "If you walk into this afraid, just don't even go on the trip. I think everybody is excited to be able to face such a dynamic back. We see him twice a year; that's a treat." Peterson loved seeing the Packers last season. He rushed for 210 yards in Green Bay in Week 13 and then ran for 199 yards in the Vikings' must-win regular-season finale against the Packers. Statistically, those were two of his three biggest games all year. However, this year's Green Bay defense is much improved. It's been such a marked improvement that if the season ended now after six games, the Packers would set a franchise record for best run defense, having only allowed an average of 79.0 rushing yards per game. "We're just playing good football upfront," defensive lineman Ryan Pickett said. "Our front seven is just doing a great job of making plays and we just have to keep that rolling. We have an unselfish group. We realize our job is dirty and grimy, so a lot of times we don't get the notoriety or attention that we possibly could get. But we're cool with that. We just want to be some big, dirty guys that just go out there and play physical." Green Bay has been tested this year by a few quality running backs, and most of them have been shut down. San Francisco's Frank Gore had just 44 yards on 21 carries (2.2 average), Detroit's Reggie Bush had 44 yards on 13 rushing attempts (3.4 average) and Baltimore's Ray Rice had 34 yards on 14 carries (2.14 average). The only running back to have any success against the Packers so far has been Washington's Alfred Morris, who had 107 yards on 13 rushes (8.2 average) in a game in which Green Bay decisively won. But as good as Rice, Gore, Morris and Bush are, none of them are as good as Peterson. "I just think Adrian Peterson is the best," Pickett said. "He's the best in the business. You have to play all game. At any point in time he can break for 80-90 yards. He puts pressure on the defense all game." As division rivals, the Packers and Vikings see each other twice every season. In the case of last season, the two teams had a third matchup in the wild-card round of the playoffs. Defensive coordinator Dom Capers wasn't sure, though, whether it's his defense that benefits from seeing Peterson so often or whether Peterson gains the advantage the more he sees a team. "He tests you," Capers said. "The guy's a rare guy with the combination of power and speed, explosiveness. He's one of those guys, you can go out there in the first 10, 15 plays and you feel pretty good about what you're doing. But the next thing you know, if you relax or somebody doesn't do a good job tackling or you get multiple hits on him -- because he's hard to bring down with one guy because he's so strong -- that he'll pop out of there." Perhaps the third time was the charm for Green Bay last season, as Peterson rushed for only (and that's relative, of course) 99 yards. Capers was pleased with his defense for holding Peterson to that amount. While Peterson has been able to frequently see the way that B.J. Raji, Pickett, Daniels and the rest of the group has looked to contain him, the Packers players learned his tendencies, too. "I remember specifically in the playoffs last year, I was lined up against one of their guards and I had complete control of the guy and I peaked just slightly, I peaked into the wrong gap," Daniels said. "I swear that's when Adrian got the ball. By the second I got to my gap, he was already hip-to-hip with me taking off and I said 'Whoo.' "When you're in your gap, stay there. You have to be gap sound. There was a time when we played them away last year, guys played hard upfront. Raji was basically unblockable that game, but it's almost as if we're a little too over-aggressive and he kind of made us pay." Raji wouldn't let himself think of Peterson as the ultimate test to see whether Green Bay's defense is worthy of its No. 3 NFL ranking against the run. With Philadelphia's LeSean McCoy still coming up on the schedule, as well as two games of Chicago's Matt Forte, one more of Bush and a second matchup with Peterson, Raji isn't settling for less than perfection. "Even though we're playing great run defense, we've had some minor hiccups from time to time," Raji said. "Teams are going to try to attack that area of your weakness, and obviously attack your strengths." Peterson has proven equally capable of attacking opponents' strengths and weaknesses in his seven-year career. So, while the Packers are on pace for the franchise's best-ever season in stopping the run, they know Peterson could change that quickly. "He's in his own league," Pickett said. "Just watching him on tape, he's in his own league. He's a special player. Every time we play him is a big challenge." Follow Paul Imig on Twitter
Original Story:
http://www.foxsportswisconsin.com/nfl...
THE BACKYARD
BEST OF MAXIM
RELATED ARTICLES
Minnesota Vikings running back Adrian Peterson knows that he can't gain yards by himself. So, as a display of his sincere appreciation for the guys who open running lanes for him, he recently gave the entire Minnesota Vikings offensive line snowmobiles as gifts! Check out these tweets from Vikings employee Jeff Anderson: . @AdrianPeterson just surprised his offensive linemen...
Adrian Peterson wouldn't have been named the 2012 NFL MVP if it weren't for his offensive lineman, and the star running back is showing his appreciation for his big guys in a very Minnesota kind of way. Peterson gave his offensive lineman snowmobiles, all personalized with each player's name and number on the windshields to show his gratitude for all that they did and continue...
The Vikings are not who we thought they were. Heck, at this point in an out-of-whack season, the Vikings are not who they thought they were, or wanted to be. A run-oriented throwback team built on Adrian Peterson's "famine, famine, feast" mentality has been more absorbed finding its quarterback of the future than feeding its greatest running back of all time. Last year's...
Minnesota Vikings running back Adrian Peterson was kind enough to buy his offensive lineman snowmobiles. That's not a cheap gift.   A good snowmobile like an Artic Cat can ranges from $5-10, 000 per snowmobile. Need NFL Tickets? Loading... ZergNet The post Adrian Peterson buys his offensive line snowmobiles (Photo/Video) appeared first on Pro Football Zone.
Adrian Peterson has talked recently about his offensive line being in a funk, and not opening holes up the way their supposed to. Nothing says I love you guys, and lets get motivated like some new toys. According to the Vikings official Twitter page, the reigning NFL MVP bought all his linemen new snow mobiles for all their hard work. Adrian Peterson rewards his o-line with brand...
Adrian Peterson has talked recently about his offensive line being in a funk, and not opening holes up the way their supposed to. Nothing says I love you guys, and lets get motivated like some new toys. According to the Vikings official Twitter page, the reigning NFL MVP bought all his linemen new snow mobiles for all their hard work. Adrian Peterson rewards his o-line with brand...
Minnesota running back Adrian Peterson said a hamstring issue made him "hesitant" last week, but that he's better now, according to Chip Scoggins of the Minneapolis Star Tribune.Fantasy Spin:Peterson may also have been hesitant because the Giants lined up nine guys in the box and dared the Vikings to beat them with the pass. He should play better against Green Bay this...
The Vikings vow not to repeat what happened the last two weeks, when they forgot about Adrian Peterson. He's carried the ball just 23 times the past two games; he carried 55 times in two regular-season games against Green Bay last year.
The Vikings tweeted the photo of a snowmobile running back Adrian Peterson gave his offensive linemen after rushing for more than 2,000 yards in 2012.
EDEN PRAIRIE, Minn. -- Take your pick. 54 to 13, or 30 to one. Those were the ratios Monday night for Minnesota Vikings quarterback Josh Freeman and running back Adrian Peterson. For the game, Freeman had 53 pass attempts and was sacked once. Peterson, the reigning MVP had 13 carries for 28 yards. In the fourth quarter, Freeman threw a staggering 30 passes with 19 incompletions...
Following their disastrous one-game experiment with Josh Freeman under center this past Monday night, it's pretty clear that this current Minnesota Vikings season is an utter train wreck, and things don't appear poised to get much better. Not only did the game result in the Vikings falling to the previously winless New York Giants, but they somehow elected to put the ball...
GREEN BAY, Wis. -- Five things to watch for in the Week 8 matchup between the Green Bay Packers (4-2) and Minnesota Vikings (1-5) at Mall of America Field: 1. Eddie Lacy's month-long trend as the NFL's top rusher No running back in the NFL has had a better month of October than Lacy. With 301 rushing yards in the past three games, Lacy has given a face to the Packers'...
NFL News

Delivered to your inbox

You'll also receive Yardbarker's daily Top 10, featuring the best sports stories from around the web. Customize your newsletter to get articles on your favorite sports and teams. And the best part? It's free!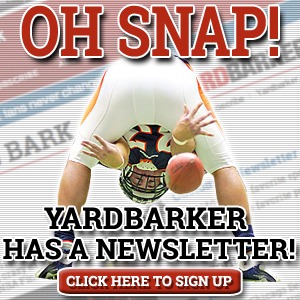 Latest Rumors
The Backyard

Today's Best Stuff

For Bloggers

Join the Yardbarker Network for more promotion, traffic, and money.

Company Info

Help

What is Yardbarker?

Yardbarker is the largest network of sports blogs and pro athlete blogs on the web. This site is the hub of the Yardbarker Network, where our editors and algorithms curate the best sports content from our network and beyond.