Found December 14, 2012 on Fox Sports:
PLAYERS:
Greg Jennings
,
Brandon Marshall
,
Aaron Rodgers
,
Tramon Williams
,
Calvin Johnson
,
Adrian Peterson
,
Jay Cutler
,
Jason Campbell
,
Morgan Burnett
,
Devin Hester
,
Alshon Jeffery
,
Matt Forte
TEAMS:
Green Bay Packers
,
Chicago Bears
,
Detroit Lions
,
Minnesota Vikings
Greg Jennings thinks Chicago Bears wide receiver Brandon Marshall is a genius. Marshall had made headlines one day earlier when he went off on the rival Green Bay Packers during his weekly media availability. But it was something Marshall said later that Jennings found brilliant: Marshall's attempt to bait the Packers into matching their cornerbacks up with him man-to-man. Marshall said Packers defensive coordinator Dom Capers ''did an amazing job of game-planning me'' in the teams' Sept. 13 meeting, in which Marshall caught only two passes for 24 yards in Green Bay's 23-10 victory. Then, Marshall dared the Packers to try to cover him 1-on-1 in Sunday's rematch at Soldier Field. ''I didn't beat double or triple coverage or whatever they were throwing at us,'' Marshall said. ''I take it as a slap in my face when guys talk about my lack of ability to do something against them when they have help all over the place. I'm looking forward to 1-on-1 coverage. Hopefully, those guys in games like this may go to their coach and say, `Let me have him. I want Brandon Marshall. I want to stop Brandon Marshall. Let me have him 1-on-1, press coverage.' And we'll see what happens.'' On Thursday, Jennings had answered questions for about three minutes before bringing up - unprompted - what Marshall had said. ''I think he's smart for saying whatever he said. So I'm going to be smart, too,'' Jennings said, a wide smile stretching across his face. ''Man, I wish the Bears would play us 1-on-1 and man-to-man. ''I think he's smart. That reverse psychology, I think it's pretty impressive. So yeah, man, the Bears are always playing cover 2. I think they're scared not to play cover 2.'' Then, Jennings laughed. ''Hey,'' he said, ''I'll give it a shot.'' The cover 2 defense has been like kryptonite to the Packers' previously unstoppable offense this season. Using two deep safeties to take away big plays, the scheme has prevented Green Bay from replicating last year's success, when the Packers scored 560 points (second-most in NFL history) and quarterback Aaron Rodgers won the NFL MVP by throwing for 45 touchdowns with only six interceptions. Later, Jennings called Marshall's statements a ''tactic.'' ''`Play me one-on-one.' What receiver doesn't want you to play man-to-man coverage the entire game?'' he said. Here's the bad news for Marshall: There's no way Capers is going to do that on every down Sunday. Even with cornerback Tramon Williams' ability to cover, he's assured of having help over the top from a safety much of the time, as he frequently did against Detroit's Calvin Johnson in the team's two games against the Lions this year. For while Capers' scheme is certainly complex, one of the main tenets of the veteran coordinator's approach is simple: Stop the opponent's best players. Whether it's Johnson, or Minnesota Vikings running back Adrian Peterson, or, yes, Marshall, Capers formulates his defensive game plan each week by asking himself which offensive players could hurt his defense the most. While the results have varied over the last few years, the approach has remained the same. ''When we look at an offense, we look at who their top two or three producers are,'' Capers said recently. ''And (we ask), what do you have to try to do to limit their production? (We're) going to say, `Well, this is where we have to start.' ''What do you have to take away to win the game?'' For the Bears, it's obviously Marshall. Marshall has caught 101 passes for 1,342 yards and nine touchdowns, while Chicago's next three wide receivers have a combined 65 receptions for 748 yards and five TDs. Marshall has had seven 100-yard games this season and has caught at least 10 passes in his last three games. The only other team to shut him down was San Francisco, which held Marshall to two receptions for 21 yards Nov. 19, when quarterback Jay Cutler missed the game with a concussion and backup Jason Campbell started in his place. According to safety Morgan Burnett, Capers' weekly Wednesday presentation to the defense begins with a portion of the slide show listing the opposing team's top players. Even though it's self-evident, the emphasis helps remind the Packers of how important it will be to contain those targets. This Wednesday, the discussion predictably began with Marshall, Burnett said. ''You know what they like to do. You watch the film; you know who the go-to guy is,'' Burnett said Thursday. ''At the same time, that doesn't mean you just ignore everyone else. ''Of course, Brandon Marshall is the go-to guy. But you still have (other) playmakers in Devin Hester. You have the rookie, Alshon Jeffery, who's a big receiver, and then you have (running back) Matt Forte, who's a threat in the running game and the passing game.''
Original Story:
http://msn.foxsports.com/nfl/story/Pa...
THE BACKYARD
BEST OF MAXIM
RELATED ARTICLES
Brandon Marshall sure is a creative thinker. The Bears wide receiver came to his press conference on Wednesday with a tiny Charlie Brown-like Christmas tree as a prop, and he used it to make a comparison. The tree only had a few branches, one ornament, and the music box below it plays the Charlie Brown theme song. "Right now, metaphorically, our season looks like this tree right...
Chicago Bears wide receiver Brandon Marshall told the media that he's very excited for Sunday's game against the Packers. "This is the biggest game of my career. I'm excited about it. I've had this game marked since we played them last. I heard exactly what the corner — what's the, 'Tramon?' — I heard exactly what he was saying after the game. Woodson, those guys...
GREEN BAY, Wis. -- It didn't take long for Brandon Marshall's comments to reach the Packers locker room Wednesday. Less than two hours after the Bears star wide receiver made several negative statements about Chicago's NFC North rival, his words became the hot topic in Green Bay. "I don't like the Green Bay Packers," Marshall told Chicago media in a press...
Green Bay knows that Chicago's passing attack begins and ends with Brandon Marshall, which is why they will attempt to shut him down Sunday and force the other Bears wideouts to beat them.
Brandon Marshall ran his mouth before the Chicago Bears took on the Green Bay Packers in Week 2 this season. The big wide receiver spoke about how he hoped the Packers would bring man and press coverage against him in the two rivals' first meeting of the season. If the Packers were to apply man and press coverage? "Good luck," Marshall said before that game. As it turned out...
It's very rare that a Lovie Smith coached team has a player make national headlines with comments through the press. Then again, there has not been a player with the clout that wide receiver Brandon Marshall carries in Chicago during Smith's nine seasons as head coach.In the Bears press conference after a light walkthrough practice at Halas Hall on Wednesday, Marshall may have...
Chicago Bears linebacker Lance Briggs unloaded on the Packers a day after teammate Brandon Marshall did the same thing, saying he's no fan of Green Bay and that Jermichael Finley is ''an idiot.'' The league's oldest rivals meet Sunday and they've been talking plenty of trash. Marshall went off on Wednesday, saying he's never disliked a team as much...
Greg Jennings' theory: Brandon Marshall is trying to get the Packers' corners to play man coverage for Sunday's rematch.
Chicago Bears linebacker Lance Briggs unloaded on the Packers a day after teammate Brandon Marshall did the same thing, saying he's no fan of Green Bay and that Jermichael Finley is ''an idiot.'' The league's oldest rivals meet Sunday and they've been talking plenty of trash. Marshall went off on Wednesday, saying he's never disliked a team as much...
NFL News

Delivered to your inbox

You'll also receive Yardbarker's daily Top 10, featuring the best sports stories from around the web. Customize your newsletter to get articles on your favorite sports and teams. And the best part? It's free!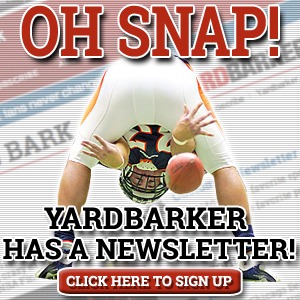 Latest Rumors
The Backyard

Today's Best Stuff

For Bloggers

Join the Yardbarker Network for more promotion, traffic, and money.

Company Info

Help

What is Yardbarker?

Yardbarker is the largest network of sports blogs and pro athlete blogs on the web. This site is the hub of the Yardbarker Network, where our editors and algorithms curate the best sports content from our network and beyond.