It's a hell of a question.  Not usually one that gets asked to an NFL head coach.  Are you going to be able to field 46 healthy players on Sunday?  If everyone of the players that have missed or been limited in practice this week on the 53 (Matthews, J Jones, B Jones, Hayward, Taylor, Neal, Perry, and Starks) all miss Sunday's game it would mean that the Packers would have to activate someone who might stand on the sideline in street clothes.  It's possible that they could throw Jones or Hayward out there in pads as a decoy, but as Coach McCarthy said, it would really "stress" the special teams units to only have 45 players active. Despite all of the health problems that are currently facing the Packers, Green Bay is a heavy favorite at home on Sunday against the Browns, 46 players or not.  The reasons are many.  The Packers are the more talented team, top to bottom, even more so than last week against the Ravens.  The Browns, like the Packers are also not at full strength.  They've lost their most effective quarterback, Brian Hoyer, for the season to a knee injury. Running back Trent Richardson has been sent to the Indianapolis Colts in a trade and his replacement, Willis McGahee did not practice on Thursday.  The Packers don't lose games at home, and I can't imagine that they are going to start doing so this season by dropping a game to Brandon Weeden. Why the Packers Will Win: Quite simply the Packers still have Aaron Rodgers.  The Packers star QB is the great equalizer.  The Packers built an offense around TE Jermichael Finley in the summer of 2010.  When Finley blew out his knee in an early season loss to Washington, the Packers had to adjust.  Rodgers responded by putting together one of the greatest playoffs runs of all time with a new game plan.  Again, the game plan must change with out their "slot machine" Randall Cobb.  The Browns play their base 3-4 set against 3 WR sets more than any other team in the league.  If James Jones can go, that would mean that the Packers would work with either Jones, Nelson, and Finley, or Jones, Nelson, and Boykin.  Quite frankly I really don't care who Aaron Rodgers is throwing to, I would not attack him with a base defense.  Defensively, regardless of the loss of of the team's top 3 OLB's the Packers are still healthy on the defensive line (knocks on every piece of real and or fake wood in office), which has been borderline dominant.  I also wouldn't be surprised to see Datone Jones play on the edge a little bit in this game, though his hand might still be in the groud.  Sam Shields has been fantastic shutting down #1 WRs from the AFC North (AJ Green, Torrey Smith) and if Josh Gordon is removed from the equation, I'm not sure the Browns can put forth a competent offensive effort with Brandon Weeden to Jordan Cameron all day long. Why the Browns Will Win: In short, they won't.  One of the reasons is that I"ll be in town for Throwback Weekend (#TWB3) and I've never seen a Packers loss in Lambeau Field.  The shot that Cleveland has here is the unbelievably beat up state that the Packers are in right now.  The Packers are almost certainly down to their last two OLBs.  It would appear that Andy Mulumba and Nate Palmer are going to be the only two healthy and active outside linebackers that the defense possess.  If the Browns are able to stick close with the Packers, regardless of my thoughts about Sam Shields it is conceivable that Josh Gordon could strike from long distance and the Browns could win a close one in an upset. Fantasy Packer to Start: Jermichael Finley- This is the last chance to buy low on Jermichael Finley. The days of Fin lining up in line are over. He is now Diet Jimmy Graham. Finley is going to be the 3rd WR in the Packers' base 3 WR set, making him a top 30 WR and more importantly a top 6 TE the rest of the way. Fantasy Packer to Sit: Jordy Nelson, although Jordy is probably one fo the top WRs on your team, and it's unlikely that you have the two or three better options required to bench Nelson.  Here's my problem, though.  I don't think that the Packers are going to have James Jones.  Because of this, I don't think that the Browns are going to respect any other pass catchers for the Packers.  I fully expect star Browns CB Joe Haden to cover Nelson the entire game, and he has as good of a chance as anyone in the NFL of removing Jordy from the equation. Packers Stat of the Week: the Packers currently have a league high 14 rookies on the active roster.  The Browns are tied for second in the league with 12.  The league average is 8.9. Bottom Line: The Cleveland Browns just don't have enough talent to compete with Aaron Rodgers and the Packers.  Joe Haden, Phil Taylor, Josh Gordon and Jordan Cameron are about all that one really needs to get excited about.  The Browns are going to be completely one dimensional on offense.  I really don't think that a defense that has shut down Colin Kaepernick, Frank Gore, Alfred Morris, Reggie Bush and Ray Rice is going to have a whole lot of problems with Willis McGahee.  Offensively I think you'll see "enough" out of the Packers.  I think Rodgers is sick of hearing about how poorly they're playing and how they aren't going to be able to move the ball with all these injuries, blah blah blah.  Sneaky gut call here, I wouldn't be surprised if the Packers run Myles White on a vertical route and Rodgers hits him for a TD.  He's the fastest WR on the team, completely unscouted, and I just think they run at least ONE vertical shot for him.  Packers 28 Browns 13 --------------------- Ross Uglem is a writer at PackersTalk.com. You can follow Ross on twitter at RossUglem ---------------------
Original Story:
http://packerstalk.com/2013/10/18/pac...
PLAYERS:
Brian Hoyer
,
Trent Richardson
,
Willis McGahee
,
Brandon Weeden
,
Aaron Rodgers
,
Jermichael Finley
,
Randall Cobb
,
James Jones
,
Datone Jones
,
Sam Shields
,
Torrey Smith
,
Josh Gordon
,
Jordan Cameron
,
Andy Mulumba
,
Nate Palmer
,
Jordy Nelson
,
Joe Haden
,
Phil Taylor
,
Frank Gore
,
Reggie Bush
,
Ray Rice
,
Myles White
TEAMS:
Indianapolis Colts
,
Cleveland Browns
,
Green Bay Packers
,
Baltimore Ravens
,
San Francisco 49ers
,
Detroit Lions
MORE FROM YARDBARKER
NFL News

Delivered to your inbox

You'll also receive Yardbarker's daily Top 10, featuring the best sports stories from around the web. Customize your newsletter to get articles on your favorite sports and teams. And the best part? It's free!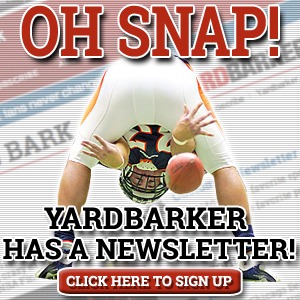 Latest Rumors
Best of Yardbarker

Today's Best Stuff

For Bloggers

Join the Yardbarker Network for more promotion, traffic, and money.

Company Info

Help

What is Yardbarker?

Yardbarker is the largest network of sports blogs and pro athlete blogs on the web. This site is the hub of the Yardbarker Network, where our editors and algorithms curate the best sports content from our network and beyond.