Found October 01, 2012 on Fox Sports Wisconsin:
PLAYERS:
Aaron Rodgers
,
James Jones
,
Jordy Nelson
,
Patrick Robinson
,
Randall Cobb
,
Jermichael Finley
,
Greg Jennings
,
Cedric Benson
,
Alex Green
,
James Starks
,
Darren Sproles
,
Pierre Thomas
,
Mark Ingram
,
Drew Brees
,
Marques Colston
,
Jimmy Graham
,
Tramon Williams
,
Morgan Burnett
,
John Kuhn
,
Sam Shields
TEAMS:
Green Bay Packers
,
New Orleans Saints
GREEN BAY, Wis. -- The regular referees were back, but the Packers still couldn't escape a few costly botched calls. But unlike Week 3, Green Bay was able to overcome the officiating mistakes and improve to a 2-2 record. Handing out grades following the Packers' 28-27 win over the Saints: Passing Offense: B Aaron Rodgers threw four touchdowns passes in this game, which is more than the total amount that he had through the first three weeks of this season combined (three). It helps that the Packers were playing New Orleans, one of the NFL's worst defenses, but Rodgers did a good job exposing many of the Saints' weaknesses. The one area that was lacking for Green Bay's passing offense was a deep, downfield play, with Rodgers longest completion Sunday being for 20 yards to James Jones. Rodgers finished the game completing 31 of 41 attempts for 319 yards with four touchdown passes and one interception. After the game, Rodgers was upset with the interception that he threw, a pass intended for Jordy Nelson that was picked off by Patrick Robinson. "It was a bad throw," Rodgers said. "It was a very poor throw. They were running a two-deep coverage, I was trying to look the safety inside and come outside. He made a nice play on the ball, but it was not a good throw." Nelson lead the team in targets (12), receptions (eight) and yards (93), and he also scored one touchdown. Rodgers was very impressed with Randall Cobb, who had seven catches for 66 yards. Tight end Jermichael Finley played well and accumulated several solid post-catch runs, finishing with four receptions for 54 yards. Greg Jennings caught one pass, a touchdown, before exiting with a re-injured groin. But it was Jones who scored two touchdowns, one of which he admitted he stole from Finley after Rodgers tossed the ball to the end zone while scrambling. Rushing Offense: B Cedric Benson had another game (like Week 2) where it appears that the Packers have solved their running game issues. Benson had 84 yards on 18 carries (4.7 average), a statistic more impressive considering his longest run was only nine yards. That shows that Benson was consistently delivering four-to-five-yard runs, which he did throughout most of the game. Benson was cutting well, making good reads and finding the holes created by the offensive line. The only reservation about Benson's numbers should be that the Saints came into the game as the NFL's worst rushing defense. It is clear that coach Mike McCarthy has no intention of splitting carries between Benson and Alex Green, and that James Starks has a ways to go before earning any playing time. This is Benson's job to lose, and right now, he's taken full advantage of his opportunities. Also interesting was that, before the game started, despite Starks being listed as probable to play, he was on the inactive list. That is not a good sign for a player who entered training camp as the Packers' No. 1 running back. Rushing Defense: A The Saints do not have a great running attack -- currently ranked 26th in the NFL -- but they do have three different-style running backs that the team switches in and out frequently. That can be a challenge for opposing defenses, but Green Bay handled it incredibly well. Speedy Darren Sproles had only 20 yards on five carries (4.0 average), Pierre Thomas finished with just 14 yards on nine carries (1.6 average) and 2011 first-round pick Mark Ingram had only 11 yards on five rushing attempts (2.2 average). In total, the Packers held New Orleans to 45 yards on 19 carries (2.4 average). If defensive coordinator Dom Capers can continue to stop the run without committing many secondary players close to the line of scrimmage, it will help every aspect of the defense. Passing Defense: D Drew Brees absolutely lit up the Packers, throwing for 446 yards and completing 35 of his 54 pass attempts, with three touchdown passes and no interceptions. Wide receiver Marques Colston had a huge game, catching nine passes for 153 yards and one touchdown. Tight end Jimmy Graham was frequently open downfield, hauling in seven throws for 67 yards. The one big mistake by Green Bay's defense was an 80-yard touchdown completion from Brees to rookie Joe Morgan, who only had one catch in his NFL career (a pass for five yards) prior to Sunday's game. The Packers' zone coverage broke down and Morgan had no green and gold jerseys in front of him as he ran towards the endzone. When Brees had a pass tipped in the second half, it was indicative of the Packers' day in the secondary that Tramon Williams and Morgan Burnett collided with each other while going for an easy interception. Both players looked at each other afterwards, making it clear that no one called for it. Those are the types of errors that -- when playing against an offense as explosive as the Saints -- Green Bay's defense just can't make. The theme of the Packers' struggles last season in allowing more passing yards than any team in NFL history was miscommunication. On Sunday, those issues reappeared in a major way. The one redeeming factor of Green Bay's defensive woes in 2011 was that it still created a lot of turnovers. But against New Orleans, the Packers gave up a ton of passing yards while not forcing a single turnover. It is not usually possible to win games like that, so Green Bay may be fortunate to have escaped with the win. Special Teams: A- Another week, another trick play for the Packers' special teams unit. This time, lined up on their own 17-yard line on fourth-and-one, Green Bay snapped the ball in punt formation directly to John Kuhn who gained five yards for the first down. In Week 2, the Packers pulled off a fake field goal that turned into a touchdown. Two risky calls have turned into two successful plays, which is a credit to McCarthy's play-calling. Green Bay also ran a fake reverse-handoff to Sam Shields on the opening kickoff, a precursor to an inevitable moment later in the season when Cobb actually does pitch it to Shields instead of just faking it. Cobb had a nice return game, running back three kicks for 88 yards, including a 34-yard return. Overall: B This was about as much of a must-win as a Week 4 game could get for the Packers. A loss would have meant a 1-3 record, which, as Rodgers stated after the game, would be a "very difficult" way to begin the season. Instead, Green Bay is 2-2 and can enter its upcoming three-game road trip knowing that its record should really be 3-1 had the final moments of the Seahawks game in Week 3 been officiated correctly. The Packers' passing offense finally showed glimpses of what it looked like last season after a rocky first three games. The running game appears to be improving as Benson gets more comfortable with the offensive scheme and play-calling. And defensively, even against a high-powered offense led by Brees, Green Bay only allowed 27 points despite not forcing a turnover. That is not a bad way to escape with a very close victory over a desperate Saints team that fell to 0-4. Follow Paul Imig on Twitter.
Original Story:
http://www.foxsportswisconsin.com/10/...
THE BACKYARD
BEST OF MAXIM
RELATED ARTICLES
GREEN BAY, Wis. There was unanimous agreement in the Packers' locker room following Sunday's Week 4 win that their defense had just faced its most difficult challenge of the season against Drew Brees and the New Orleans Saints offense. Green Bay's defense allowed 474 yards (the most this season) and did not force a turnover, but after studying the game film Monday,...
The Green Bay Packers are through one quarter of their season so it is a good time to look at what the team could improve on, in list mode of course!Improvement # 1 – Figure out the offense's identityA big issue for this seasons Packers offense could be the lack of identity.  Last season it was all Rodgers all the time.  This year, however, the Packers have a somewhat stable...
Green Bay Packers quarterback Aaron Rodgers was poked in the eye by New Orleans Saints safety Malcolm Jenkins during the Pack's big win on Sunday, forcing Rodgers to leave the game for treatment. Rodgers addressed the injury during his weekly appearance on 540 ESPN and added that he similarly suffered a similar injury during his high [...]
Colts Authority Daily Links 10/01/12 Kevin Bowen of Colts.com has a brief but good write-up in which he talked to Drew Stanton, Antoine Bethea, and Robert Mathis about...Aaron Rodgers and the Packers: The best thing you can do is try and put pressure on him," Stanton said. "As we've seen in the past, if you put pressure on him, it's more difficult to try and do things...
Captain Comeback Scott Kacsmar says the Atlanta Falcons did something no team has done since at least 1981. Also: an Aaron Rodgers comeback, New England's rout, and the Cardiac Cardinals/Eagles strike again.
The Green Bay Packers were able to win a passing shoot out with the New Orleans Saints by the score  of 28 to 27. The Green Bay Packers scored in the fourth quarter and were able to survive a questionable non fumble call by the regular officials this week. After the no fumble call the New Orleans Saints were able to march down the field to set up for the game winning field goal...
Aaron Rodgers faced the difficult task of replacing Brett Favre and Andrew Luck faced the difficult task of replacing another legendary quarterback, Peyton Manning. Mature and talented, Luck is off to a good start as he prepares to face the Packers on Sunday.
Now that nobody in Green Bay has fingernails left and some will be sporting new gray hairs on their head it is time to sum up the game. This game featured a battle between the starting quarterbacks as Aaron Rodgers threw for 319 yards and four touchdowns.  Not to be outdone Drew Brees threw for 446 yards and three touchdowns. In terms of offense, the Packers had a solid attack. ...
Sunday marked the triumphant return of many Fantasy Football players. Last year's juggernauts such as Aaron Rodgers, Tom Brady, Cam Newton, Roddy White and Drew Brees finally lit up the fantasy scoreboards like their owners have been expecting them to. Even the 49ers came up with an eye popping performance (27 pts in ESPN standard [...]
There's nothing more to say about this defense than to sum it up by saying they suck. I hate to be that crass or simplistic, but right now they really don't do anything well. The run defense is porous, the pass defense is shaky at best when they are 100% healthy (which hasn't been often) and the pass rush takes bad to a whole new level. I have a theory that this defense...
NFL News

Delivered to your inbox

You'll also receive Yardbarker's daily Top 10, featuring the best sports stories from around the web. Customize your newsletter to get articles on your favorite sports and teams. And the best part? It's free!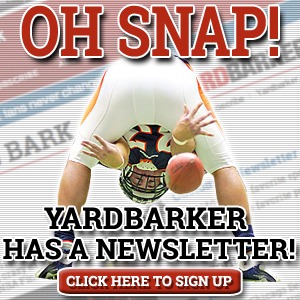 Latest Rumors
The Backyard

Today's Best Stuff

For Bloggers

Join the Yardbarker Network for more promotion, traffic, and money.

Company Info

Help

What is Yardbarker?

Yardbarker is the largest network of sports blogs and pro athlete blogs on the web. This site is the hub of the Yardbarker Network, where our editors and algorithms curate the best sports content from our network and beyond.