Found September 23, 2012 on Fox Sports Wisconsin:
PLAYERS:
Aaron Rodgers
,
Russell Wilson
,
Frank Gore
,
Matt Forte
,
Michael Bush
,
Marshawn Lynch
,
Clay Matthews
,
Pete Carroll
,
Nick Perry
,
Russell Okung
,
Greg Jennings
,
Jordy Nelson
,
Cedric Benson
TEAMS:
Seattle Seahawks
,
Green Bay Packers
,
Dallas Cowboys
,
San Francisco 49ers
,
Chicago Bears
,
Oakland Raiders
,
Kansas City Chiefs
GREEN BAY, Wis. There will no doubt be at least a small group of Wisconsin residents who will be somewhat torn while watching Monday night's game between the state's beloved Packers and the Russell Wilson-led Seattle Seahawks. Though most cheeseheads would never abandon their allegiance to the green and gold, what Wilson -- generously listed at 5-foot-11 -- did for the University of Wisconsin last season created a soft spot for the undersized quarterback in the hearts of many football fans in Madison and beyond. But in typical even-keeled Wilson fashion, he isn't treating this high-profile matchup any different from any other game he's ever played in. "Like I always say, a hundred yards is a hundred yards," Wilson said last week. "It's not going to be any different. To me, maybe a few more people watching or whatever, but that doesn't change anything. That doesn't change the way we play or how I play. You have to focus on what you can control and just play one play at a time and try to execute." If the Seahawks (1-1) are going to bump visiting Green Bay (1-1) back below .500 in what Packers quarterback Aaron Rodgers described as one of the NFL's loudest stadiums, they'll need Wilson to perform well and avoid mistakes. "I understand the popularity of Russell Wilson in the state of Wisconsin, but he's a quarterback playing in his third game," Packers coach Mike McCarthy said this week. "He's an athletic player, he looks very comfortable for how young he is and he has command of the offense." But despite the fact he led the Seahawks to an impressive 27-7 victory over the Dallas Cowboys in Week 2, it was not Wilson's arm that did most of the work. After two games, no team in the league had fewer passing yards than Seattle, averaging just 136. The key to the Seahawks' success this season, especially early on while Wilson learns the intricacies of being a starting NFL quarterback, is a strong running game and a solid defense. And both of those are areas Green Bay has a recent history of struggling against. The Packers were unable to stop San Francisco 49ers running back Frank Gore in Week 1 (16 carries, 112 yards, one touchdown) and had an average performance in Week 2 while attempting to slow down the Chicago Bears duo of Matt Forte (who left that game early with an ankle injury) and Michael Bush. After two games, Green Bay ranked 27th in the league against the run. "They do an excellent job running the football," McCarthy said of the Seahawks. "They have a premier back in Marshawn Lynch, which is definitely a focal point for any defense that plays against that guy. Their ability to stay balanced is definitely a strength, and I think it really fits Russell's game because he plays very well in the pocket, plays well outside the pocket." Wilson has 48 rushing yards this season, but it was Lynch -- already a two-time Pro Bowl selection at age 26 -- who plowed through the Cowboys defense last week for 122 yards and a 4.7 yards-per-carry average. If Seattle can control the clock like that against the Packers, it will benefit the Seahawks in multiple ways. For one, a commitment to the running game by Seattle could neutralize Clay Matthews, Green Bay's outside linebacker who has six sacks this season in just two games. Those six sacks from Matthews were more than the Seahawks, Oakland Raiders and Kansas City Chiefs had combined after two games this season. Matthews, a former walk-on at the University of Southern California in 2004, was coached there by Pete Carroll, who's now in his third year as the head coach in Seattle. "We saw Clay grow up from the time he was 6-1 and skinny, dripping wet he was probably 200-some pounds, and he just made himself into a fantastic football player," Carroll said. "When he finally started to grow up and fill out, he just became more of a factor." Carroll called Matthews' league-leading sack total "pretty sick." "It's a marvelous start (for Matthews)," Carroll added. "He's had an extraordinary career already, and I'm thrilled for him. He's just kicking butt, so we'll try to slow him down a little bit this weekend." Carroll also recruited and coached Nick Perry at USC. Perry was the Packers' first-round draft pick in April and now lines up at outside linebacker opposite Matthews. However, Seattle's play-calling and offensive line production has been good at keeping Wilson upright, allowing only five sacks in the first two games. With Seahawks starting left tackle Russell Okung listed as probable (knee), he will draw the important task of trying to prevent Matthews from burying Wilson in the backfield. Seattle's offense is at its best when running the ball effectively, which would also keep Rodgers and the dangerous -- though underperforming -- Green Bay offense off the field. Last season, the 15-1 Packers led the NFL in scoring and Rodgers won the Most Valuable Player award with a 45-touchdown, six-interception campaign. But so far in 2012, Green Bay's offense just isn't the same. It will certainly benefit the Packers' passing game if wide receiver Greg Jennings (groin, questionable) is able to play after missing Week 2, but that wouldn't solve everything. After Week 2, Green Bay was 23rd in the league in total yards and 20th in points. "We just aren't clicking," wide receiver Jordy Nelson said last week. "I think we've been close. It hasn't been one certain thing. It's something different every time. We're going to have to be a patient team." Dropped passes in critical moments have been a problem, but so has the inability to connect on the long pass plays that were a staple of the Packers' success in 2011. The Bears and 49ers both played their safeties deep in coverage and seemed to dare Green Bay to beat them on the ground. If free-agent acquisition running back Cedric Benson can put together another performance like he did in Week 2 (81 yards on 20 carries), Seattle may commit more players close to the line of scrimmage and open up opportunities for Rodgers down the field. But that could be a challenge for the Packers because the Seahawks have been very good on defense, ranking second in the NFL against the run and 13th against the pass after Week 2. "It's important for us to play to our game plan, to play to our strengths, and, more importantly, to play fundamentally sound," McCarthy said. "We're going up there to win the game and grow as a football team. Those are our two objectives and we'll stay focused on that." Follow Paul Imig on Twitter.
Original Story:
http://www.foxsportswisconsin.com/09/...
THE BACKYARD
BEST OF MAXIM
RELATED ARTICLES
WTF.           Posts Related to Seahawks QB Russell Wilson Throws Game-Winning Interception to Top Packers on MNF Russell Wilson Named Seattle Seahawks Starting Quarterback   The Seattle Seahawks have named rookie Russell Wilson the Seahawks' starting quarterback. Wilson has had a strong preseason and has honestly outplayed Matt Flynn … [Quick Hits] Video: Kris...
Robert Griffin III and Andrew Luck have been the most talked about rookie QBs this year, and with good reason. But the most intriguing rookie QB has been Russell Wilson of the Seattle Seahawks. You know the story: he was not a first round pick; he doesn't have the measurables that impress scouts; he was expected to be a third QB behind newly-signed Matt Flynn or incumbent Tarvaris...
Last night, before the scene that ended the game, Golden Tate impressed against the Green Bay Packers. He's worth an add in your fantasy league. I'm disappointed that my first article in the wake of the Monday Night Football debacle is a fantasy piece ignoring the larger issue, but, my deadline is my deadline and I owe an article reflecting on my weekend picks. So, you'll...
The Hail Mary touchdown pass from Russell Wilson to Golden Tate made some fans happy and a lot of fans angry.It all depends on if you took the Seahawks or the Packers. Here is a video of the reaction from bettors at a Las Vegas sports book. The fans celebrating had money on the Seahawks.
It was the longest five minutes in NFL history.  The Monday night game between the Green Bay Packers and the Seattle Seahawks was over.  The clock had run out.  And we were waiting…to see who won. Rookie Quarterback Russell Wilson … Continue reading →
SCOTT JACOBS Mike McCarthy's beleaguered look told you all you needed to know. The Seahawks had just kicked the extra point — after both Russell Wilson and coach Pete Carrol had been interviewed on the field nonetheless — with the Packers in disbelief at the call that officially clouded a season. Bizarre? Comical? Nothing like you've ever seen before? How about all of the...
In a game the announcers and pundits and retired referee commentators all agree the Packers won, the Pack lost due to several horrible calls by the replacement refs, but one in particular: the final Hail Mary pass by Seahawks QB Russell Wilson. Golden Tate pushed off a defender in the endzone -- offensive pass interference, not called -- and the jump ball was caught by DB M.D. Jennings...
Monday Night Football between the Seattle Seahawks and the Green Bay Packers ended in dramatic fashion and more replacement ref controversy. With the Seahawks trailing 12-7  and eight seconds left on the clock, Packers Russell Wilson threw a pass from the 24-yard line that safety, MD Jennings caught but then… Seahawks receiver Golden Tate attempted [...]
Monday night consisted of a very interesting matchup between the Green Bay Packers and the Seattle Seahawks.  What we didn't know, however, is that the Packers and Seahawks would also be faced off versus the referees. The replacement refs, which they've been nicknamed, once again made a bad call.  This time it caused the team on the opposite end of that bad call to lose the...
The NFL replacement refs have been the center of conversation for the past couple of weekends, and those conversations will certainly continue after the Seahawks beat the Packers in one of the most bizarre endings of a game you'll ever see. Green Bay had a 12-7 lead with less than a minute in the game when they had to punt it back to Seattle. Despite having no time outs, the Seahawks...
SEATTLE -- Russell Wilson lofted a controversial 24-yard touchdown pass to Golden Tate as time ran out Monday night to give the Seattle Seahawks a wild 14-12 win over the Green Bay Packers that will be heavily debated. Tate came down with his arms wrapped around the ball, as did Green Bay defender M.D. Jennings. One official appeared to signal interception and the other touchdown...
You probably heard by now, but the NFL has a bit of a problem on its hands. That problem got much worse on Monday night. Building on an already obvious issue when it comes to the NFL's replacement referees, Monday night's Packers-Seahawks game was decided on a controversial play in which the officials made the wrong call. Even upon further review, the call was upheld, which...
NFL News

Delivered to your inbox

You'll also receive Yardbarker's daily Top 10, featuring the best sports stories from around the web. Customize your newsletter to get articles on your favorite sports and teams. And the best part? It's free!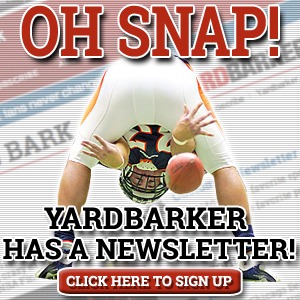 Latest Rumors
The Backyard

Today's Best Stuff

For Bloggers

Join the Yardbarker Network for more promotion, traffic, and money.

Company Info

Help

What is Yardbarker?

Yardbarker is the largest network of sports blogs and pro athlete blogs on the web. This site is the hub of the Yardbarker Network, where our editors and algorithms curate the best sports content from our network and beyond.