Found November 26, 2012 on Fox Sports Wisconsin:
GREEN BAY, Wis. Less than 24 hours following the beatdown that the New York Giants handed to the Packers, defensive coordinator Dom Capers, special teams coordinator Shawn Slocum and offensive coordinator Tom Clements addressed specific issues from the 38-10 loss. Three question-and-answer highlights from each coordinator: DOM CAPERS, defensive coordinator 1. What was the reason behind cornerback Casey Hayward not playing many snaps? CAPERS: Obviously, with (Hayward's) playmaking ability, we'd like to keep him involved. It was a different game last night because we weren't in sub (packages) as much as we have been as of late. You go back to the Lions game, he played sub every down. They were in a lot more two-back personnel, whether it be one tight end and two wide receivers or two tight ends and one wide receiver, so that put us into more of our okie (3-4 defense) personnel. We kind of liked the matchup we had in terms of (Davon) House on their bigger receivers. I don't think there's any question we've got to keep Casey involved. 2. How much did all the missed tackles hurt the defense? CAPERS: Well, it was a factor. I think our tackling has been very good; it wasn't as good last night. I think you saw it on that screen play. We had our opportunities (to make the tackle). I think tackling and leverage to the ball -- whether you're outside-in (or) inside-out. Every scheme has a certain number of people that are outside-in on the ball and inside-out on the ball and a couple of times we lost our leverage. A couple other times, we missed tackles. You saw it influence the game. 3. Was a performance like that a big step back defensively? CAPERS: Well I think it's a reality check is what it is. I just points out that, I don't care who you are, (or who) you're playing. The Giants are a good team, they struggled the last couple of weeks offensively, but all you had to do is go back and look and see what they did against the 49ers. I watched the ball, and they took that ball against the 49ers and after that game everybody was saying they were the best team in football. Then they struggled the last couple of weeks. That's just the way this league is. You better be ready to play, and you've got to have a way of generating momentum and changing momentum in each and every game. Unfortunately, we weren't able to get that done last night, and it snowballed on us. SHAWN SLOCUM, special teams coordinator 1. How did Mason Crosby look in his kicking opportunities? SLOCUM: I thought he kicked the ball well. On the 55-yard field goal attempt, that was our max distance, and, in that game, the situation was the game was tied, we were trying to score points with the wind behind us, a slight wind behind us, a little right to left. He hit a good ball that . . . what I was pleased with was his rhythm and tempo were good. He struck the ball properly, and the wind kind of blew it out of the uprights. It would have been nice to make the kick and then he came back and made the other field goal and extra point. Kicked off well. 2. Why try a 55-yard field goal in a tie game in the first quarter with a struggling kicker? SLOCUM: I don't think it was a big gamble. I think it was a situation we looked at as an opportunity to score points. In those games like that, scoring points is a premium. We made a decision to do it because Mason is well capable of doing it. He's missed more than we would like from 50 yards this year, but at the same time, we're going to continue to be aggressive the way we play the game. 3. Were there a couple missed opportunities to recover muffed punt returns? SLOCUM: We had a chance on the 48-yard punt that they muffed. Jarrett Bush made a great play, and he was tied up with a blocker and the ball went on the ground and we were close to recovering it and they got it. TOM CLEMENTS, offensive coordinator 1. Are extra blockers needed to keep Aaron Rodgers better protected? CLEMENTS: Well, each plan that we have, we have a seven-man protection, a six-man protection and a five-man protection. And we utilized all of those last night. And we also utilized an eight-man protection at one point. So we just have to try to mix it up and see what we can do to shore it up a little bit. 2. What has been the biggest issue in beating Cover 2 defenses this season? CLEMENTS: I don't know if you can put your finger on one point. Obviously, a team that plays Cover 2, they're in defend mode. Hopefully what they're trying to do is get a pass rush with their front four. They have five guys underneath and two guys deep. A lot of times, the holes are there underneath, and that's where they're vulnerable. Obviously, down the middle and the side, they try to take that into account as they play those defenses and are hoping that you have to hold the ball a little longer than their rush can impact the timing of the play. 3. Where can you improve in the run game? CLEMENTS: I think at times last night we ran it pretty well. I thought Alex Green ran well. Unfortunately, we had some gains nullified by holding penalties, which were kind of thin calls really, and that impacted it a little bit. Then, we obviously fell behind by a large margin, and you don't want to abandon the run entirely, but it's hard to really focus on it when you're behind as much as we were. Follow Paul Imig on Twitter.
Original Story:
http://www.foxsportswisconsin.com/11/...
THE BACKYARD
BEST OF MAXIM
RELATED ARTICLES
GREEN BAY, Wis. -- Greg Jennings this week. Clay Matthews next week. Charles Woodson and Cedric Benson in two weeks. If all four Packers stars can reach those projected return dates, Sunday's 38-10 loss to the New York Giants will become a game that won't be representative of the rest of this season. Very little about Green Bay's most recent effort indicated that the...
The Green Bay Packers got beat fair and square Sunday night against the New York Giants.  The Giants were just the better team in every aspect and they really brought to light some of the areas the Packers are lacking because of injuries to star players. The first thing is obviously the offensive line.  Aaron Rodgers was sacked five times Sunday night and was constantly getting...
Green Bay Packers coach Mike McCarthy said wide receiver Greg Jennings will fully practice this week and play Sunday as he recovers from a torn abdomen muscle. McCarthy told reporters after Sunday night's 38-10 loss to the New York Giants that Jennings was close to playing the game, but was held out as a precautionary measure. Jennings has not played since Sept. 30. The...
GREEN BAY, Wis. -- Packers coach Mike McCarthy is hoping that Sunday's 38-10 loss to the New York Giants was just one bad game, because he has no plans to do anything differently in preparation this week. "We're not going to change the way we go about our business," McCarthy said in his Tuesday press conference. "Urgency, awareness is obviously heightened...
Packers wideout Greg Jennings (groin) is not expected to play Sunday against the Giants. SOURCE: Adam Schefter, ESPNFantasy Spin:Jennings practiced on a limited basis all week but he's still not ready to play from a conditioning standpoint since he hasn't played a game since Week 4.
The injury-plagued Packers are getting back one of their big guns, Pro Bowl receiver Greg Jennings. Meanwhile, coach Mike McCarthy said he'd "probably have some information" on Wednesday about injured running back Cedric Benson.
The Green Bay Packers had better hope they don't see the defending Super Bowl champion New York Giants again anytime soon. The Packers' five-game winning streak came to an embarrassing end as Eli Manning threw three touchdowns and Giants routed Green Bay 38-10 in a nationally televised game Sunday night. Coming on the heels of last season's loss in the NFL semifinal...
We love that Packers quarterback Aaron Rodgers can get into the spirit of Movember and rock a powerful mustache for the whole world to see when he took on the New York Giants on Sunday Night Football.  What we didn't expect was for Rodgers to give the viewing audience at home a little taste of Zoolander's famous Blue Steel. Of course Movember is when you will see men wear awkward...
The Chicago Bears and Green Bay Packers are currently fighting for first place in the NFC North division, but we must not let that get in the way of the real contest facing the teams this month. Which of the teams' star quarterbacks rocks the better Movember mustache? Let's take a look at the competing 'staches and find out. Jay Cutler's Eff You 'Stache Cutler's 'stache...
The New York Giants delivered a 38-10 haymaker to the Green Bay Packers last night.   The Giants could have scored 50 if they really wanted to.   From the looks of things last night Green Bay is toast and will skid to a 7-9…8-8 season and miss the playoffs.   Or will they?   Recent NFL and especially New York Giant history tells an interesting tale that Packer fans can...
If Sunday night's loss to the Giants felt odd, it's because the Packers almost always been within one score in their losses with Aaron Rodgers and Mike McCarthy. We scour the history to provide some context.
With Eli Manning throwing three touchdown passes and Aaron Rodgers getting sacked five times, the Giants throttled the Packers 38-10 on Sunday night. The loss snapped Green Bay's five-game winning streak.
NFL News

Delivered to your inbox

You'll also receive Yardbarker's daily Top 10, featuring the best sports stories from around the web. Customize your newsletter to get articles on your favorite sports and teams. And the best part? It's free!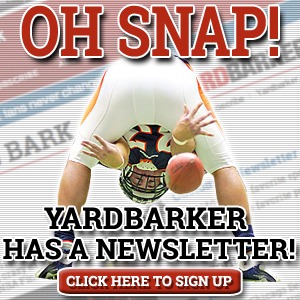 Latest Rumors
The Backyard

Today's Best Stuff

For Bloggers

Join the Yardbarker Network for more promotion, traffic, and money.

Company Info

Help

What is Yardbarker?

Yardbarker is the largest network of sports blogs and pro athlete blogs on the web. This site is the hub of the Yardbarker Network, where our editors and algorithms curate the best sports content from our network and beyond.