Found September 24, 2012 on Kissing Suzy Kolber:
Well, this was obviously a game scheduled for primetime with the presumption that Matt Flynn would be the Seahawks starting quarterback. Alas, crazy ol' Pete Carroll made the daring decision to LET THE BEST PLAYER WIN during training camp and preseason. As a result, a great Russellmania began to run wild in the furthest reaches of the remote, remote northwest. It's been going well, provided you don't try to blitz the guy or anything. It will take a masterstroke of scab ref bumbling to top the horrorshow that was Sunday night, but I have faith. Imagine, if you will: Marshawn Lynch is called for defensive pass interference on a 3rd and 23, even though he's on the sideline eating Skittles. Outraged, Carroll springs forth to the center of the field, where he begins gnawing an official's arm in protest. The official flags Carroll, but calls the unsportsmanlike conduct penalty on the Packers coach. The benches clear and a lineman falls on Aaron Rodgers' leg, shattering it and ending his...
Original Story:
http://kissingsuzykolber.uproxx.com/2...
THE BACKYARD
BEST OF MAXIM
RELATED ARTICLES
As the saying goes, those who fail to learn from history are doomed to repeat it. Against the Green Bay Packers on Monday night, the Seattle Seahawks must have felt like stars of the Twilight Zone. The Master of Suspense, Sir Alfred Hitchcock himself could not have crafted a suspenseful thriller such as the one that saw Aaron Rodgers and the Pack fall to rookie QB Russell Wilson...
Seahawks head coach Pete Carroll commented on his team's controversial win Monday night. In Carroll's book a win is a win, even if everyone else is the country is screaming otherwise. You have to love that he answers with a straight face, and he actually may believe the stuff he is spinning. Anyways, Carroll has the win against the Packers and he's not going to let anybody...
Pete Carroll says he doesn't care about sentiments that the Seattle Seahawks' win over the Green Bay Packers is a tainted victory because of a disputed call on the final play of the game. During his weekly radio appearance Tuesday morning on KIRO-AM in Seattle, Carroll said he understands why there is so much outrage about the call that awarded Golden Tate a 24-yard touchdown...
For at least one night, the NFL replacement officials made a winner out of Pete Caroll and the Seattle Seahawks. That doesn't mean Caroll doesn't think it's time for the new guys to go. Just moments after Carroll saw his team improbably beat the Green Bay Packers on the heels of one of the worst calls we've seen in a long time, the Seattle head coach called for an...
Football fans all around New England were laughing back in January of 2010 when Pete Carroll was named head coach of the Seahawks. Two seasons later, it turns out it wasn't such a bad move. Carroll has completely reconstructed the Seahawks since 2010, with only eight players remaining from the 2009 roster -- and that includes a punter. Those lucky eight players are wide receiver...
Coach Pete Carroll expresses his gratitude to the 12th Man for their support during the Seahawks' 14-12 win on Monday Night Football on Sept. 24. "The 12th man was frickin awesome!"
Matt Flynn came to Seattle to be the starting quarterback, optimistic he would be leading the Seahawks against his former team, the Green Bay Packers, in Week 3 of the season. The only way he'll get a chance to play against the Packers on Monday night is if the rookie who beat him out for the job, Russell Wilson, is injured or ineffective. ''It's not my decision...
What have we NFL fans learned over the past 72 hours? We've learned that once Golden Tate touches something, he owns it. (Word to Sean Lee.) We've learned that T.J. Lang ain't never scared. We've learned, again, that Pete Carroll is indeed Mr. Brightside. We've learned that corporations are in fact people, and the NFL is a cold-blooded pimp. [...]
Monday Night Football tonight pits Green Bay and Seattle to cap Week 3. We all know what was supposed to be the storyline tonight, right? It was supposed to be former Packer backup Matt Flynn going up against his old team. Flynn signed a major deal in the offseason to be the Seahawks franchise QB, but a funny thing happened during training camp. He got beat out for the job by 3rd...
Golden Tate, Russell Wilson, Pete Carroll and the Seattle Seahawks stole one from the Green Bay Packers. There is no disputing that, anyway you try to cut it. Seattle fans are not ignorant. They understand their team won when it shouldn't have. But they don't care. A win is a win. And for a city that has been on the receiving end of controversy so many times in the past decade it...
There are a lot of livid people in Green Bay and beyond after Monday night's debacle of an ending in Seattle, but very few are more upset over the series of events than Packers guard Josh Sitton. Or, should we say, no one has been more willing to express their frustration than the big fella. After leading the charge in blasting the NFL on Twitter after Green Bay's loss, Sitton...
Green Bay Packers offensive lineman Josh Sitton is more upset with Seattle Seahawks head coach Pete Carroll and wide receiver Golden Tate, than the replacement officials. Sitton appeared on the Jim Rome Show, via Deadspin. "Calling it a good call, and Golden Tate saying he caught it and there was no push in the back, I mean, be a man. [...] Admit that it was a bullcrap call, stand...
NFL News

Delivered to your inbox

You'll also receive Yardbarker's daily Top 10, featuring the best sports stories from around the web. Customize your newsletter to get articles on your favorite sports and teams. And the best part? It's free!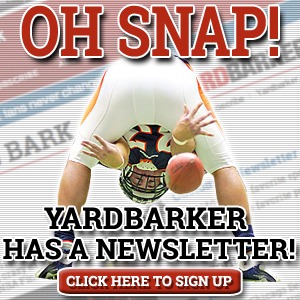 Latest Rumors
The Backyard

Today's Best Stuff

For Bloggers

Join the Yardbarker Network for more promotion, traffic, and money.

Company Info

Help

What is Yardbarker?

Yardbarker is the largest network of sports blogs and pro athlete blogs on the web. This site is the hub of the Yardbarker Network, where our editors and algorithms curate the best sports content from our network and beyond.