Posted January 25, 2012 on AP on Fox
Colts owner Jim Irsay expects Chuck Pagano to bring more than tough talk to Indianapolis. He wants results. A day after hiring Pagano as his new coach, Irsay introduced the former Baltimore Ravens' defensive coordinator as the man asked to rebuild the franchise. ''I really believe Chuck is bringing a toughness, the leadership we need at this point for the franchise,'' Irsay said. The 51-year-old Pagano said the hiring had been a ''whirlwind,'' since the Ravens lost only a few days ago in the AFC championship game. ''Words can't describe the emotions that I'm going through right now and the feelings,'' he said. ''Coming off probably the most devastating loss that I've ever been a part of in the AFC championship game and to go in that locker room and see those faces and we all know how hard it is to get to that stage and to see the tears. It's an all-time low, and the last thing I ever expected came across my table and now I sit here at an all-time high.'' Clearly, Pagano's job won't be easy. The first-time head coach will be working with a first-time general manager, Ryan Grigson, and the next big move will be deciding what to do with four-time league MVP Peyton Manning, who missed the entire season after having his latest neck surgery in September. The Colts must play Manning $28 million by March 8 or risk losing him as an unrestricted free agent. In an interview earlier this week, Manning explained that the biggest overhaul of his career had created an uncomfortable environment at team headquarters, and that he had not yet spoken with Irsay about his future. It is one of many questions the Colts face in a tumultuous offseason that has already claimed the jobs of Bill and Chris Polian, Jim Caldwell and most of Caldwell's coaching staff. Indy landed the No. 1 draft pick by nose-diving to a 2-14 record last season, its worst record in two decades. Most expect the pick to be used on the team's quarterback of the future, presumably Stanford's Andrew Luck. There have been concerns about whether Manning and Luck could co-exist on the same team next season. Fans have even more immediate questions. They want to know if Pagano, who ran a 3-4 defense in Baltimore, will make the switch in Indianapolis. ''He's a defensive-minded coach with fire and passion,'' said John Pagano, the Chargers' defensive coordinator and brother of Indy's new coach. ''He's going to bring a different energy to the city of Indianapolis. Me being there before, it was kind of the same situation when coach (Jim) Mora came in there. It's almost the same situation flipped 11 years ago. We had the opportunity to draft No. 1 where we took Peyton Manning. It's very similar. It's not weird, but it's surreal.'' Pagano spent three years as the Ravens' secondary coach before replacing Greg Mattison as Baltimore's defensive coordinator a year ago. The Ravens ranked third in total defense and allowed the third-fewest points in the NFL last season, advancing to Sunday's conference championship game, where they lost to New England. The Wyoming graduate and former strong safety for the Cowboys began his coaching career in 1984 as a graduate assistant at Southern California and spent time at in the college ranks at Boise State, UNLV, East Carolina and Miami before joining Cleveland to coach the secondary. In 2005-06, he was defensive backs job at Oakland, then served as defensive coordinator at North Carolina before joining the Ravens when John Harbaugh became head coach four years ago.
Original Story:
http://msn.foxsports.com/nfl/story/In...
THE BACKYARD
BEST OF MAXIM
RELATED ARTICLES
Jim Irsay's comments about Peyton Manning today were noteworthy for several reasons.  Kravitz notes the owner's comments are a stark departure from the past: After talking Thursday about Manning as "family," Irsay said, "He's a politician. When it comes to being competitive on a scale of one to 10, 10 being the highest, we're both 11s. There have...
Bob Kravitz reports Peyton Manning ran into new GM Ryan Grigson who told him that Jim Irsay would decide Manning's fate: "One thing he (Grigson) kind-of, sort-of told me, without really wanting to tell me, was that Irsay will be the guy I'm going to sit down and talk with," Manning said. "That's going to happen at some point, but we haven't had that...
If you're only going to follow one sports-related Twitter page, follow the Twitter page of Colts owner Jim Irsay.  It's the perfect blend of news, song lyrics, and cryptic clues. This morning, Irsay is addressing the Peyton Manning situation.  Specifically, Irsay uses the platform to dispel an apparent rumor that Irsay isn't happy that he…
Most real NFL fans are well aware of the lingering saga in Indy as they prepare for Super Bowl week. Here is the bottom line; the Colts, per their contract, owe Peyton Manning a $28 million roster bonus. The bonus is payable on March 8th. Here are two facts; First, Jim Irsay has zero interest in forking over that kind of cash to a 36 year old coming off of a major injury. More so...
Indianapolis Colts quarterback Peyton Manning doesn't waste much time responding to owner Jim Irsay's comments about him being a "politican."
Perhaps the most famous three words uttered in literature, "Et tu, Brute?" (Even you, Brutus?) this expression has come down in history to mean the ultimate betrayal by one's closest friend. Peyton Manning is a smart man and realizes what is going on around him. As Jim Irsay continues to run his mouth about his star quarterback, it's Peyton who has been asked not to speak...
Indianapolis Colts owner Jim Irsay isn't too happy about quarterback Peyton Manning's recent interview with the Indianapolis Star. During Thursday's press conference to announce the hiring new Colts head coach Chuck Pagano,  Irsay said that Manning should have kept his thoughts "in the family." Irsay was asked if the decision on Manning's future is the next issue for...
Thursday's back-and-forth between Colts owner Jim Irsay and Peyton Manning overshadowed a monumental day in Colts franchise history. The introduction of new coach Chuck Pagano felt secondary, but it wasn't from a lack of enthusiasm from Pagano. Or humor. The first-time head coach was asked about Manning's future. "Uh, you know I've got a text or a…
A day after Colts owner Jim Irsay called Peyton Manning "a politician," the team took the somewhat unusual step of issuing a joint statement in which the two attempt to clear the air.
Indianapolis Colts owner Jim Irsay obviously didn't care for some of quarterback Peyton Manning's comments earlier in the week.
Jim Irsay tells Peyton Manning the horseshoe comes first. Pete Prisco says no one knows that better than Manning, who always put the Colts ahead of himself. What Irsay really needs to do is thank Manning profusely -- before setting him free.
INDIANAPOLIS (AP) -- Peyton Manning and Colts owner Jim Irsay say there are no hard feelings between them.
NFL News

Delivered to your inbox

You'll also receive Yardbarker's daily Top 10, featuring the best sports stories from around the web. Customize your newsletter to get articles on your favorite sports and teams. And the best part? It's free!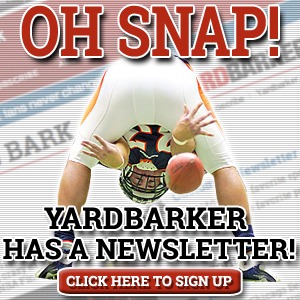 Latest Rumors
The Backyard

Today's Best Stuff

For Bloggers

Join the Yardbarker Network for more promotion, traffic, and money.

Company Info

Help

What is Yardbarker?

Yardbarker is the largest network of sports blogs and pro athlete blogs on the web. This site is the hub of the Yardbarker Network, where our editors and algorithms curate the best sports content from our network and beyond.