Found June 06, 2012 on Fox Sports Southwest:
That former Dallas Cowboys star wide receiver Terrell Owens would be on the verge of financial and personal ruin is one of the least surprising stories of the past couple of weeks. He plays the victim's role better than anyone in the history of the NFL, and so it's predictable he would blame his issues on everyone else, including the media. Owens announced Tuesday he was parting ways with his longtime agent, Drew Rosenhaus. And even for a shark like Rosenhaus, this had to be one time he didn't mind getting fired. In reality, it's more likely the ubiquitous agent finally decided he'd had enough. Owens was his highest-profile client for years, but now he's a washed-up player with nowhere else to turn. Owens, recently cut by the Indoor Football League's Allen Wranglers for not making a scheduled appearance at a local children's hospital, has signed on with Dallas-based agent Jordan Woy. "I am making changes in my life so I can continue my career as a professional football player," Owens said in a statement released on his website. "I have hired Jordan Woy as my new agent. It was important for me to hire someone who believes in my ability to help an NFL team and believes in me as a person." Woy will soon regret this affiliation. He's a legitimate agent with a solid reputation who will now have to speak on behalf of this emotionally dependent player. Make no mistake that Owens was a great player for a lot of years and might someday take his place in the Pro Football Hall of Fame. But at this stage of his life, he's become a national punchline. He became a partial ownerplayer for the Texas-based Wranglers because he desperately needed the money. In case you missed his recent appearance on "Dr. Phil," the four different mothers of his children didn't paint a flattering portrait of Owens as a father. That he would agree to appear on the show reinforces the idea that his need for attention continues to trump anything resembling common sense. Owens claims that people he trusted took advantage of him financially. He famously invested 2 million in an Alabama entertainment complex that hoped to feature electronic bingo. Not surprisingly, the concept tanked. The last time I bumped into Owens, he was patiently waiting outside the visiting locker room at American Airlines Center to say hello to Kobe Bryant. He was once a superstar, much like Bryant, but now he's become another cautionary tale. We've seen a lot of famous athletes go broke, but I don't recall any of them seeming this pitiful. Cowboys legend Drew Pearson is the general manager of the Wranglers. He signed Owens as a publicity stunt, and it worked. Folks in Collin County were eager to see the player who had once starred for the Cowboys. Owens didn't have to travel to every road game, per his contract, but it turns out the team would've preferred he make a trip or two down the stretch. Owens told TMZ.com that he planned to sue the Wranglers for 160,000 over his release, but something tells me he'll never see that money. We're watching a 38-year-old man realize that he's run out of revenue streams. He's basically a Jose Canseco starter kit. Owens' next step will be charging folks to come spend time at his condo in Los Angeles. You know it's bad when Mike Tyson's marveling at your financial losses, as he did while appearing on Mike Missanelli's radio show in Philadelphia. "Well, listen, I can only say about myself," said Tyson. "It took a good 18, 20 years for me to go broke, but (Owens) got broke pretty quick. It happened quick! We saw him, heard about him signing this contract, but from what you told me, he busted his whole bill. That can happen, man, when you take liberties for granted." Owens is searching for one last payday in the NFL. But in addition to being past his prime at 38, the former wide receiver has the well-earned reputation for undermining quarterbacks and entire locker rooms. He might have mellowed in his time with the Buffalo Bills and Cincinnati Bengals, but he's not to be trusted. Why Woy would waste his time with such a fraudulent athlete is beyond me. But he should ask for some money up front, in case there's any left.
Original Story:
http://www.foxsportssouthwest.com/06/...
THE BACKYARD
BEST OF MAXIM
RELATED ARTICLES
Getty Images Former NFL wide receiver Terrell Owens decided to move on from his long-time agent Drew Rosenhaus and sign Jordan Woy to represent him, in hopes of getting back into the NFL this season. "I am making changes in my life so I can continue my career as a professional football player," Owens said in a statement he released. "I love the game of football and I know...
BAD IDEA TEXTING
According to a court filing, Terrell Owens allegedly sent "several taunting text messages" to a mother of one of his children "regarding his failure to pay child support."
Former undisputed heavyweight champion "Iron" Mike Tyson said unemployed wide receiver Terrell Owens deserves zero compassion for his financial woes during a recent interview on 97.5 The Fanatic in Philadelphia with Mike Missanelli. The 38-year-old Owens, a five-time All-Pro selection … Continue reading →
My how things change. A few weeks after saying he had parted ways with longtime agent Drew Rosenhaus, Terrell Owens announced that he has found new representation. T.O. has signed with Jordan Woy of Willis & Woy Sports Groups with the goal of returning to the NFL for the upcoming season. "I am making changes in my life so I can continue my career as a professional football...
This NFL offseason has been rough for veteran wide receiver Terrell Owens. Owens appeared on the Dr. Phil show and was simply hammered. He found himself being cut by an indoor football team, with the team forcing him out of the home they provided for him along with the team provided Jeep Wrangler. But the worst part of this offseason for Owens has been the fact he is garnering no...
'NEXT QUESTION'
The wide receiver announced on his website that he is "making changes in his life" and that apparently includes severing ties with his longtime agent, Drew Rosenhaus.
When news came out that Terrell Owens had left agent Drew Rosenhaus in favor of Jordan Woy, an agent based out of Dallas, I had a couple of thoughts. First, Drew Rosenhaus is probably thrilled that he doesn't have to represent Terrell Owens anymore. Rosenhaus can't exactly make a lot of money when his client isn't getting any job offers. Frankly, if I was Rosenhaus, I...
I couldn't help but laugh when I saw that free agent wide receiver Terrell Owens, who is still hoping to get back into the NFL, fired his longtime agent and friend Drew Rosenhaus on Monday. Owens actually thinks this move will help him get back into the league and get his life back in order. I think it's long overdue for Owens to realize that the problems he has had in...
Jamie Squire / Getty Images Throughout the Philadelphia Eagles' franchise history, there have been a number of players who've donned green and made us fans extremely proud. While other players like Terrell Owens have enjoyed tremendous success, they've also proved to be nothing more than a distraction and team cancer. However, this is more about the good than the bad. So with...
Terrell Owens announced Monday that he has ended his business relationship with longtime agent Drew Rosenhaus and has hired Jordan Woy. Woy, who is based in Dallas, also represents Cowboys outside linebacker Anthony Spencer, kicker Dan Bailey and defensive ends Jason Hatcher and Kenyon Coleman. "I am making changes in my life so I can continue my career as a professional football...
Give credit to the powers that be in college football: They won't make the same mistake twice. That's because after all the controversy that surrounded the first LSU-Alabama game during the 2011 season, there will be no such drama in 2012. The SEC's two best teams will play at night, in Baton Rouge, in CBS's game of the week on Saturday, November 3, 2012. And to quote...
Most people are aware of Terrell Owens' recent struggles ranging from financial, to being cut by the Indoor Football League team, to not being able to land on an NFL roster. Owens has now reportedly fired long-time agent Drew Rosenhaus. "I am making changes in my life so I can continue my career as a [...]
NFL News

Delivered to your inbox

You'll also receive Yardbarker's daily Top 10, featuring the best sports stories from around the web. Customize your newsletter to get articles on your favorite sports and teams. And the best part? It's free!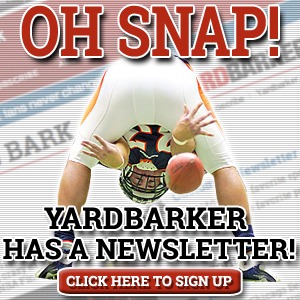 Latest Rumors
The Backyard

Today's Best Stuff

For Bloggers

Join the Yardbarker Network for more promotion, traffic, and money.

Company Info

Help

What is Yardbarker?

Yardbarker is the largest network of sports blogs and pro athlete blogs on the web. This site is the hub of the Yardbarker Network, where our editors and algorithms curate the best sports content from our network and beyond.