Found October 19, 2012 on Turn On The Jets:
Since Rex Ryan entered Florham Park declaring that he wasn't here to kiss Bill Belichick rings, the Patriots have become the Jets favorite measuring stick. Knowing that beating them validates all of the hard work, while providing instant credibility around the league. That winning more regular season games over the entire season than New England allows for a more high level entry into the postseason. One containing home playoff games and some years, even first round byes. A scenario that on paper, increases any franchise's odds of reaching the Super Bowl. Sunday's matchup that pits an underachieving Pats team against a Jets team that is rebranding itself after key personnel losses, will again be a gauge for this years progress to date. The big question for the Jets heading into Sunday is how far along they are adaption wise, as they adjust to what has been an ever altering roster. If the Jets collective growth shown against the Texans and Colts continues to develop on Sunday, then maybe the Jets can give the Patriots, a team that is loaded on offense and thriving in their new hyper no huddle style, a real run for their money. Ryan's direct challenge to Belichick from the moment he entered the scene in 2009 has this rivalry to another level. One that at times, due to the importance Ryan and his Jets always place on the meetings, has left them with a hangover that has led to more immediate losses. In November 2010 a 45-3 blowout dubbed "The Monday Night Massacre," in a game that was for sole possesion of first place, left the Jets 9-3 and pretty embarassed. Wondering if they truly were a team who had the goods to topple their favorite enemy. A symbolic ball burying ceremony led by Ryan failed to exorcise the demons of that nationally televised ass kicking. A listless and putrid 10-6 loss to a struggling Miami club at home. best noted for the Sal Alosi and Trip Gate saga, became the fallout. Ending any hopes for a division title. Last year's second meeting between the two, a 37-16 Sunday night loss in yet another game for first place in the division, sent the Jets reeling. A loss days later on a Thursday in Denver dropped the Jets to 5-5. Days earlier they were 5-3 and looking to make a move in the AFC. The club never regained it's footing, finishing at a disappointing 8-8. On the flip side, there was no bigger franchise win, aside from Super Bowl III, than there was during the Divisional Playoff round in January of 2011. A game that saw the Jets shock and defeat a 14-2 Pats squad 28-21. Squandering home field advantage throughout the playoffs in the process. A game whose lasting impression became Bart Scott's "Can't Wait" interview with Sal Paolantonio. Some questioned whether finally knocking the Patriots off and sending them home was too much for the emotional Jets one week later however, when Rex's Jets came out flat and got too far behind the Steelers in the AFC Championship. The passing of the big Patriot test perhaps taking all of the wind out of their sails as they fell one game short of the Super Bowl in the 24-19 loss. The Pats have won nine division titles and three Super Bowls under Belichick They are a litmus test not just for the Jets, but for all clubs who face them throughout the year. Unfortunately for Gang Green, the matchup is not some once in a while gathering, that win or lose can still provide some valuable insight. Instead, it is one that has to be dealt with head on. Twice a year, with little hopes for a home playoff game or a bye without at worst, a split during the regualr season series. Under Ryan, everything has grown with the Jets. Their expectations. Their visibility. Their exposure. Their obsessive need to beat the Patriots amd prove to themselves that they are the better team. A win on Sunday, as these two renew a rivaly that dates back to 1960 when the Pats were from Boston and the Jets were the Titans, would give Ryan and the Jets just cause for believing that a successful season without Darrelle Revis and Santonio Holmes CAN happen. What the Jets can't allow, under any circumstance, is for a loss to linger much longer than Sunday. The way it has recently after facing the Pats. At 3-3 and in a four way tie for first place in the division, too much is still possible. Especially in a conference, the AFC, where only two teams have records better than 3-3. As Ryan likes to say, the Jets are going to "take their swing " at the champ this weekend. In a game whose outcome will, as it so often has in the recent past, give the Jets a clearer view of where they stand. Of how much farther they have to grow as a team in 2012, in order to earn a chance to play for the right to kiss their own rings.
Original Story:
http://turnonthejets.com/2012/10/patr...
THE BACKYARD
BEST OF MAXIM
RELATED ARTICLES
BART SCOTT BREAKS SILENCE TO SPEAK ON PATRIOTS WEEK. FLORHAM PARK, N.J. -- When does Rex Ryan start thinking about the New England Patriots?"I never stop not thinking about the Patriots," he said Tuesday.And nor should he stop. Since Ryan has been in New York, "That Team Up North" has won the AFC East every year. For a coach that's as bragadocious as Ryan...
New York Jets head coach Rex Ryan may be about to do something that will make him smarter than the majority of head coaches in the NFL today. He may see something that many other coaches have failed to see through three seasons. He may be on the verge of making a decision regarding Tim Tebow that could be the start to bigger and better things. Ryan may be switching Tebow's position...
Will Rex Ryan and the New York Jets use quarterback Tim Tebow at running back this weekend against the New England Patriots? (Credit: AP Photo) It is no secret that the New York Jets organization has been through some struggles. The loss of crucial players such as Darrelle Revis to injury, the dysfunction between players and coaches and the issues at quarterback, have not only hurt...
Another date with the New England Patriots has New York Jets coach Rex Ryan running his mouth. Nothing unusual in that. The fact his banged-up squad has the same record as New England, however, may be a bit more odd. Two of the four AFC East teams knotted at 3-3 continue their tense rivalry Sunday when the Patriots host the Jets. Facing the Patriots always seem to bring out an...
These two get a lot of coverage, but play on field will make the difference New York Jets (3-3) @ New England Patriots (3-3) 4:25 p.m. It seems as though the New York Jets are trying a new tactic in the lead up to games against the Patriots. They are being complimentary and keeping the bulletin board material to a minimum.  It doesn't seem right and worries me a little.  Could...
Welcome back Rex. And welcome backs Rex's mouth. They both predict victory over the Patriots. The Bills hope to the Titans at home.
With the Jets and Patriots set to do battle on Sunday afternoon, Rex Ryan had high praise for New England's head coach Bill Belichick.
Rex Ryan's defense played its best game a week ago, shutting down rookie Andrew Luck and the Indianapolis offense by causing turnovers and holding the Colts to just three field goals. The task will be tougher Sunday. The New York Jets face Tom Brady and the Patriots. New England's top-ranked up-tempo offense is fast and tricky. It uses the no-huddle to perfection, causing...
I've decided to take a bye week from the Love/Hate. In order to switch it up a bit, I'm going to do a Bold Predictions segment. There will be one prediction from each game; I know this is a bit late but stay with me here.   Tennessee vs. Buffalo- Ryan Fitpatrick will throw 0 (yes, zero) picks today and will also throw for 4 TDs.   Cleveland vs. Indianapolis- At home, in the...
"That's My Boy" is the name of last summer's (dreadful) Adam Sandler/Andy Samberg move. It starred current New York Jets head coach Rex Ryan as a HARDCORE PATRIOTS FAN.Including a Bill Belichick bobblehead on his desk.I commend him for it. When Rex Ryan left his old job as the Baltimore Ravens' defensive coordinator and signed on as head coach of the New York...
There's something fishy going on between the Patriots and Jets leading up to their game this coming Sunday. I thought this matchup was a heated rivalry?Jets personel can't keep themselves from prainsing the Patriots. Between Antonio Cromartie calling us "America's team", Rex Ryan claiming BB is a better coach than him, and so on this just doesn't feel right...
NFL News

Delivered to your inbox

You'll also receive Yardbarker's daily Top 10, featuring the best sports stories from around the web. Customize your newsletter to get articles on your favorite sports and teams. And the best part? It's free!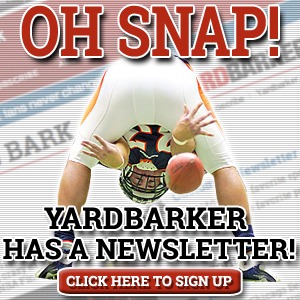 Latest Rumors
Best of Yardbarker

Today's Best Stuff

For Bloggers

Join the Yardbarker Network for more promotion, traffic, and money.

Company Info

Help

What is Yardbarker?

Yardbarker is the largest network of sports blogs and pro athlete blogs on the web. This site is the hub of the Yardbarker Network, where our editors and algorithms curate the best sports content from our network and beyond.