Found June 26, 2013 on Steelers Depot:
The New England Patriots wasted no time in releasing tight end Aaron Hernandez following his Wednesday morning arrest and now they will suffer big salary cap ramifications as a result. https://twitter.com/AdamSchefter/status/349923379693879296 According to Adam Schefter of ESPN on Twitter, the Patriots have forfeited all rights to recoup bonus money or salary given to Hernandez, who signed a five-year, $40 million contract extension last summer, through the CBA. Hernandez was scheduled to count $4.73 million against the Patriots salary cap in 2013, but will now count $5.01 million now Read more [...]
Original Story:
http://feedproxy.google.com/~r/Steele...
THE BACKYARD
BEST OF MAXIM
RELATED ARTICLES
You had to know this was coming, right? After Aaron Hernandez was arrested and led out of his house while handcuffed under a white tee yesterday, 'Hernandezing' has officially become a thing. Guide to proper 'Hernandezing': 1. Must be a white t-shirt. 2. Hands must be together in the back, as if cuffed. 3. Red shorts is always a plus. 4. Need dour expression. No smiling....
People describe these sayings as cliches. "Girls are attracted to bad boys." "Nice guys finish last." Maybe there is something to these cliches. aaron hernandez can have my babies, he hella sexy tbh — B. (@Breeyiana) June 26, 2013 I know Aaron Hernandez is involved in a murder but got damn he is sooo sexy Aaron Hernandez is too damn sexy to be charged with anything. —...
Thoughts on what Aaron Hernandez's arrest could mean for the Patriots - Going Deep - Boston.com:...
A.B. As you can see below, Aaron Hernandez's NFL career stats are no longer listed on NFL.com. At first glance I figured it was an error – maybe even a database or website issue with NFL.com. But after typing other random current NFL players in the search field, and their stats showing up, it seems Hernandez's missing stats may be intentional. Why the NFL would remove (if done...
The New England Patriots wasted no time distancing themselves from Aaron Hernandez after the tight end was arrested and charged with first-degree murder on Wednesday. Less than two hours after the arrest, the Pats announced they released Hernandez. They have continued to cut ties from Hernandez as he faces serious charges. Hernandez's jersey is no [...]
First there was planking. Then came Tebowing. A weak attempt to get Griffining going didn't last. Kaepernicking came close to becoming the next big thing, but I don't think it quite made it. However, we may finally have the next craze; the next thing that everyone is going to be doing. #Hernandezing. Yes, people being--well, people--are going to poke fun at...
Shortly after Aaron Hernandez was arrested this morning, the Patriots announced that they had released the tight end, ending his three-year tenure with the club. They ended the announcement of the release saying that they believed it was "simply the right thing to do." The decisive action could mean that the team also knows that this is about to get a whole lot worse. What a...
The most important takeaway from the Aaron Hernandez murder investigation is that a 27-year-old man lost his life at the hands of a cold-blooded killer. However, the reality of the situation is that Hernandez's arrest will have major implications for the New England Patriots and the NFL. The Patriots' passing attack has taken a major [...]
Two fairly small asides on a case that I really hope I don't feel compelled to discuss too often... First, inde- pendent of the merits of the case involving ex-Patriots tight end and burgeoning murder suspect of everyone Aaron Hernandez... just how little do you have to have going on in your life to go down to a court house to protest the innocence of a celebrity? Honestly...
After arresting Aaron Hernandez and another man in the Odin Lloyd case, police now have issued a wanted release for a third man.
My names Aaron Hernandez and I'm here to say, I've really run a foul of the Patriot way! I smashed my cameras and my phone, Then i had some spanish ladys come and clean my home! Im looking at a sentence of 25 to life, I'll be in higher demand than Rick Reillys wife! Belichick and Kraft just said goodbye, Toss Salad doesnt taste as good as Humble Pie! This poem is a hit go tell...
What happened last night in the sports world? Patrick Kane was on Letterman just a few hours after spraying Blackhawks f…
Patriots News

Delivered to your inbox

You'll also receive Yardbarker's daily Top 10, featuring the best sports stories from around the web. Customize your newsletter to get articles on your favorite sports and teams. And the best part? It's free!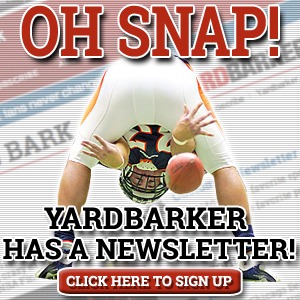 Latest Rumors
Best of Yardbarker

Today's Best Stuff

For Bloggers

Join the Yardbarker Network for more promotion, traffic, and money.

Company Info

Help

What is Yardbarker?

Yardbarker is the largest network of sports blogs and pro athlete blogs on the web. This site is the hub of the Yardbarker Network, where our editors and algorithms curate the best sports content from our network and beyond.