Found November 02, 2012 on Boston's Bettah:
Aqib Talib could be the answer the Patriots have been looking for at cornerback The Patriots traded for (no longer) suspended cornerback Aqib Talib on Thursday, improving their atrocious secondary and getting what could be a shut-down corner. They gave up a 2013 4th rounder, and also received a 2013 7th rounder. Talib has had his fair share of run ins with the law, but we all know how Belicheck can change a players mindset and get the most potential out of him (see: Corey Dillon, Randy Moss). Now before I show you a brief text conversation between my buddy Klaiber and I about two weeks ago, I'd like to warn you and apologize for the incorrect grammar (not really). Me: Dude we shud get Aqib Talib from Tampa Bay. He's a shutdown corner and he's only 26. Klaiber: Yeah didn't he win defensive back of the year a few years ago? I'm sick of McCourty and Arrington forgetting how to turn their head when the ball comes. Its getting old. Me: Don't forget the great Sterling Moore who hasn't made a single play since January. Talib is a bit of a head case, but when has that stopped us? You wanna win you listen to Bill. Klaiber: I wish we could somehow call Kraft and Belicheck and tell them something like this needs to be done because this secondary ain't cuttin' it. Two weeks later, here we are. After getting torched by below average quarterbacks such as Kevin Kolb, Russell Wilson, and Mark Sanchez (worst in the league in my opinion), Belicheck decided that the secondary was in fact not cutting it. This move not only gives the Patriots a potential shut down corner in Talib, but it also opens up the defensive play calling and allows us to rotate a few players in some different positions. If Talib can be that shut down corner type of player, Belicheck and company will finally be able to run some more blitzes and throw some different looks at teams. We hopefully won't have to worry about putting 7 men back in coverage and giving the quarterback all the time in the world to beat us. Now we can send Brandon Spikes at the quarterback on passing situations here and there. The main question as far as what this move means for the rest of the secondary is will Kyle Arrington stay at starting cornerback and Devin McCourty move to safety permanently? I hope the answer is yes, because although Arrington has been an absolutely huge disappointment this season, I still think he has the tools to be a solid cornerback. He has shown it in the past, and this move should surely light a fire up under him. I've also liked what I've seen from McCourty at safety so far. Yes, he struggles at times and is extremely inconsistent, but I think he has brains to make the switch and be successful. His football IQ is high, he just needs to put it all together. Aqib means "the last one" in Arabic. Is it me, or does it seem like Talib is the last one piece the Patriots need to bring home that fourth ring.
Original Story:
http://www.bostonsbettah.com/?p=5346
THE BACKYARD
BEST OF MAXIM
RELATED ARTICLES
The Tampa Buccaneers traded troubled cornerback Aqib Talib to the New England Patriots, the team announced on Twitter at the NFL trading deadline on Thursday. Details of the trade were not immediately made public. Talib, who has 18 career interceptions, joins a Patriots secondary in need of a jolt. New England has the 28th-ranked passing defense, allowing an average 281.1 yards...
The New England Patriots have obtained cornerback Aqib Talib for their shaky secondary from the Tampa Bay Buccaneers. Talib will be eligible to play in the Patriots' next game on Nov. 11 after serving a four-game NFL suspension without pay for violating the league's policy on performance-enhancing substances. The Patriots acquired on Thursday the former first-round draft...
Aqib Talib was traded to the New England Patriots on Thursday, capping what was one of the most quiet trade deadline periods in recent memory. The terms of the deal between the Buccaneers and Patriots were not announced. Talib is serving a four-game suspension for violating the league's performance-enhancing drugs policy. He's already sat out three games, but the Patriots are...
Thursday's delayed trade deadline came and went at 4:00 p.m. EST with little to no action. The only move came from the Patriots, who traded for Buccaneers cornerback Aqib Talib. The Buccaneers surrendered Talib and a seventh-round pick in the 2013 NFL Draft, acquired from the Bears, for Tampa Bay's 2013 fourth-round pick. The change comes as a surprise for the Patriots, but with...
Tampa, FL- Aqib Talib's rollercoaster ride in Tampa Bay is over. After 4 1/2 eventful years, the Tampa Bay Buccaneers gave up on the potentially talented cornerback and shipped him to the New England Patriots as the trade deadline expired on Thursday.  Please Click Here To Read This Story
                          Talib has the talent to be a top 15 cornerback in the NFL, but his attitude has held him back. The Patriots secondary has been pathetic so far this season, and everyone knew something had to be done.  Bill Belichick knew it too, so he went out and traded for troubled Tampa Bay cornerback Aqib Talib.  Talib was selected 20th overall in the...
The Tampa Bay Buccaneers have announced that they've traded cornerback Aqib Talib to the New England Patriots. This is a great move for both teams,since the Patriots need help at cornerback and the Bucs need to move on from Talib with all the off the field problems he's had in his career. If anyone can help Talib fullfill his potential, it's Patriots head coach Bill Belichick...
Tweet The New England Patriots have acquired cornerback Aqib Talib from the Tampa Bay Buccaneers. Terms of the deal were not immediately available. Talib has had multiple run-ins with law enforcement since the Bucs drafted him 20th overall in 2008, but still has a world of talent. Talib has been arrested twice in his young [...]
Trade for Patriots: I absolutely love this trade for the Patriots. They desperately need cornerback help. They have a few young cornerbacks, but none of them are playing well. Tom Brady is 35 so their Super Bowl window is closing. They need a short term solution so they don't have to rely on developmental cornerbacks like Alfonzo Dennard, Kyle Arrington, and the recently released...
The league has yet to hand down an official ruling regarding Eric Wright's possible suspension, which was first reported by FOX's Jay Glazer last Sunday. Today, a source from within the Buccaneers informed The Cave that Wright may not be suspended.  Jay Glazer tweeted that corner back Eric Wright would be suspended for four games for the use of Adderall, same drug Aqib Talib...
The Patriots don't have a game this weekend, but they remain in the headlines thanks to yesterday's deal for troubled Tampa cornerback Aqib Talib. The deal, which cost the Patriots a fourth-round pick in the coming draft (and got them back a 7th rounder) has been the subject of much debate and discussion already, with much of the talk centered around Talib's considerable rap...
The Patriots secondary has clearly been their Achilles heel this season. But Bill Belichick took action to try and correct that issue at the trade deadline. Aqib Talib, a supremely talented and superbly careless cornerback, was traded from the Tampa Buccaneers at the deadline in exchange for a 2013 fourth-round pick on Thursday. The Patriots also received a seventh-round pick...
Patriots News

Delivered to your inbox

You'll also receive Yardbarker's daily Top 10, featuring the best sports stories from around the web. Customize your newsletter to get articles on your favorite sports and teams. And the best part? It's free!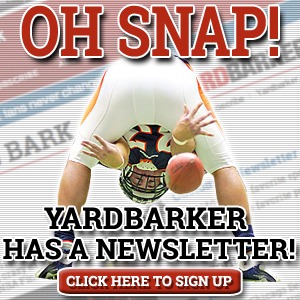 Latest Rumors
Best of Yardbarker

Today's Best Stuff

For Bloggers

Join the Yardbarker Network for more promotion, traffic, and money.

Company Info

Help

What is Yardbarker?

Yardbarker is the largest network of sports blogs and pro athlete blogs on the web. This site is the hub of the Yardbarker Network, where our editors and algorithms curate the best sports content from our network and beyond.