Posted January 14, 2013 on AP on Fox
PLAYERS:
Tom Brady
,
Joe Montana
,
Bill Belichick
,
Gary Kubiak
,
Shane Vereen
,
Danny Woodhead
,
Wes Welker
,
Arian Foster
,
Rob Gronkowski
,
Shayne Graham
,
Stevan Ridley
,
Brandon Lloyd
,
J.J. Watt
,
Rob Ninkovich
,
Danieal Manning
,
Devin McCourty
,
Aaron Hernandez
,
Matt Schaub
,
DeVier Posey
,
Aqib Talib
,
Steve Gregory
TEAMS:
New England Patriots
,
Houston Texans
,
Baltimore Ravens
,
Indianapolis Colts
Tom Brady made history. Now it's his coach's turn. The Patriots' quarterback added to a string of postseason success that stretches back more than a decade, earning his 17th playoff win to break a tie with his boyhood idol, Joe Montana, for most by a quarterback. After New England's 41-28 victory over the Houston Texans on Sunday night, Bill Belichick needs two more playoff wins to match Tom Landry's NFL high of 20. If Belichick gets there this season he'd also tie Chuck Noll for most Super Bowl championships by a coach with four. First, the Baltimore Ravens stand in the way next Sunday in a rematch of last year's AFC title game. ''Right now our focus is just (being) happy to win this game and get on to Baltimore,'' Belichick said. ''We can reflect back on some other years some other time.'' Sunday was Brady's day to reach a milestone. His first postseason win came in the 2001 season, which ended with his first Super Bowl title. Now he's guiding the NFL's most productive offense into his sixth AFC championship game in his 13 seasons. ''He's our leader and we all follow him,'' said Belichick, the team's real leader. ''We all respect him and he led the team today, along with a lot of other guys. But he certainly did his job, as he's done many times before.'' It won't take Belichick long to put Sunday's victory out of his mind, impressive as it was. Brady also is ready to move on to the next challenge. ''I think the two best teams are in the finals,'' he said. ''Baltimore certainly deserves to be here and so do we, so it's fitting.'' The Texans (13-5) certainly don't after losing four of their last six games, starting with a 42-14 rout by the Patriots (13-4) on Dec. 10 on the same field where their season ended. ''There's no good landing in this business unless you're playing a few weeks from now,'' Houston coach Gary Kubiak said. ''Other than that, the landing's a crash.'' Brady threw for three scores and 344 yards and seldom-used running back Shane Vereen, seeing more action because Danny Woodhead hurt his thumb on the Patriots' first offensive play, had three touchdowns. Wes Welker had eight catches for a career postseason-high 131 yards and the defense held Arian Foster to 90 yards rushing, his first sub-100-yard playoff game in the four he's had. The Patriots also overcame the loss of tight end Rob Gronkowski, who broke the left arm he originally broke on Nov. 18 in a 59-24 win over the Indianapolis Colts and needs season-ending surgery, a person with knowledge of the injury told The Associated Press. ''It's a bummer to lose anybody,'' Brady said, ''but someone of Rob's importance or Danny's importance, we need guys to step in and fill the void, whether it's this game or any game after.'' Gronkowski missed the first game against the Texans, one of five he sat out after his first injury, and it didn't matter. The Texans were more competitive on Sunday and trailed only 17-13 at halftime as Foster scored on a 1-yard run and Shayne Graham kicked a 55-yard field goal in the last 1:11 before intermission. But the Patriots scored on two of their first three series in the third quarter on Stevan Ridley's 8-yard run and Brady's 5-yard pass to Brandon Lloyd that made it 31-13. ''We came out in the second half and didn't perform,'' NFL sacks leader J.J. Watt said. ''Losing. I can't stand it. I can't stand any aspect of it. The taste in your mouth is terrible.'' Lloyd scored just six plays after Rob Ninkovich ended a Houston threat with an interception that gave New England the ball at its 37-yard line. The Patriots needed just one play after taking over on downs early in the fourth quarter, scoring on an outstanding over-the-shoulder catch by Vereen for a 33-yard touchdown and a 38-13 advantage. The third-string back finished with 124 total yards - 83 on five receptions and 41 on seven carries. ''I don't come into the game knowing how much anyone is going to play,'' Vereen said. ''I come into the game ready to go.'' The Texans were. On the very first play, Danieal Manning returned the kickoff 94 yards before being hauled down by Devin McCourty at the Patriots 12. But all the Texans could get out of that was a 27-yard field goal by Shayne Graham. ''That was a huge play by Devin to really end up saving (four) points,'' Belichick said. The Patriots punted on their first two series then took the lead for good on Vereen's 1-yard run following Brady's consecutive completions of 13 yards to Ridley, 25 to Vereen and 14 to Aaron Hernandez. The Texans offense got going again in the fourth quarter, but it was too late. Matt Schaub's touchdown passes of 25 yards to DeVier Posey and 1 yard to Foster in the last 12 minutes just made the margin of defeat closer. ''It's difficult to sit here (with) the realization that our season is over,'' Schaub said. The Patriots' season continues against a team it beat in last year's AFC title game 23-20, but lost to in Week 3 this season 31-30 after leading 30-21 with less than 5 minutes left. The Ravens advanced with a 38-35 double-overtime win in Denver and will be on the road again, trying to keep Belichick from tying Don Shula with 19 postseason victories. A win would be the 18th for Brady and Belichick together since the Patriots drafted the quarterback in 2000. It also would put him two up on Montana. ''I grew up a 49ers fan,'' Brady said. ''Joe Montana and Steve Young ... those guys are in another class. ''I love playing, I love competing, I love being a part of this organization,'' he said. ''I think I've just been fortunate to play on some great teams over the years. I never take it for granted.'' NOTES: The Patriots are 14-3 at home in the playoffs, but just 3-2 in their last five games. ... The Texans were eliminated in their second playoff game for the second straight year after going their first nine seasons without a postseason appearance. ... Schaub threw for 343 yards, one less than Brady. ... Defensive backs Aqib Talib and Steve Gregory led the Patriots with 10 tackles each. --- Online: http://pro32.ap.org/poll and http://twitter.com/AP-NFL
Original Story:
http://msn.foxsports.com/nfl/story/Pa...
THE BACKYARD
BEST OF MAXIM
RELATED ARTICLES
There is no argument at this point that Tom Brady of the Patriots is the best QB in the playoffs. The Divisional round did not disappoint,  there were some outstanding games.  The elite quarterbacks were on display and you can see why there is such a premium on quarterbacks in the NFL. This week on my radio show, Football Extra Points, I reviewed the Divisional games...
Ray Lewis' Energy Drink Of Choice A.B. On sale at all local Baltimore retailers.
The New England Patriots are one victory away from going to their sixth Super Bowl in the 12-year period since Tom Brady became the starting quarterback. But standing in the way is one of the Pats' biggest rivals in Baltimore. Here's our first stats-based look at the matchup between the Ravens and Patriots. * The Ravens and Patriots are two of only six NFL teams with a...
They made a great NFL lip reading video over at Bad Lip Reading dot com. Tom Brady admits he's white, Adrian Peterson has a mind boggling interview and someone spits in their friends Gatorade. Check out there website, some pretty funny stuff on there.   Watch More @ BroodSugar.com
Bill Belichick on Aqib Talib: Great game out of Talib and certainly one that bought him some...
It's Tom Brady; It's J.J. Watt; It's Arian Foster vs. Vince Wilfork; It's Matt Schaub against a young, but inexperienced defense. This game is sure to excite the fans, both at Gillette Stadium, as well as across the country!Who will make the highlight reels? Who will put up the points? Touchdowns and big plays on defense, these two teams are ready to put on a show...
On a weekend when Brady etched his name on another page of the NFL history books, the Baltimore Ravens captured the highest winning percentage in history in road playoff games
Those whacky YouTubers Bad Lip Reading - who normally do their best work spoofing on film and politics – take aim at the NFL with their latest, video:
It may seem a bit like dodging a pair of difficult questions, but a Patriots, Falcons Super Bowl makes too much sense to ignore. The simple justification for such a prediction is that those teams are fielding the best quarterbacks this weekend, but really, there's much more to it than that. While Tom Brady and Matt Ryan may be the best passers this weekend, their defenses...
Tom Brady was shaky early on, Wes Welker had an uncharacteristic drop, and Rob Gronkowski was nursing an injury that kept him from making any sort of impact. But Sunday night's Patriots' 41-28 AFC divisional-round victory over the Texans wasn't exactly a carbon copy of last year's heartbreaking Super Bowl loss to the Giants. Quite the contrary, in fact, as the Patriots...
Bill Belichick is 18-7 in the postseason and 5-2 in his career against the Baltimore Ravens.
With our five writers going each 3-1 last week here is your Divisional Playoff Weekend's roundtable discussion with Zach Schotz, Eric Huberman, Jason Weingold, Seth Goldberg, and Patrick Keenehan to give you our insight. 1. Choosing out of just the remaining quarterbacks in the playoffs, who would you want in a win or go home situation? Eric Huberman: In a couple of years this...
NFL News

Delivered to your inbox

You'll also receive Yardbarker's daily Top 10, featuring the best sports stories from around the web. Customize your newsletter to get articles on your favorite sports and teams. And the best part? It's free!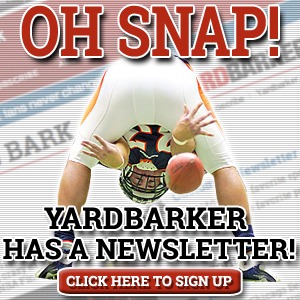 Latest Rumors
The Backyard

Today's Best Stuff

For Bloggers

Join the Yardbarker Network for more promotion, traffic, and money.

Company Info

Help

What is Yardbarker?

Yardbarker is the largest network of sports blogs and pro athlete blogs on the web. This site is the hub of the Yardbarker Network, where our editors and algorithms curate the best sports content from our network and beyond.